Apple stock has needed a fresh catalyst for quite some time, and it's about to get one.
In the first of two related developments, Apple Inc. (Nasdaq: AAPL) has scheduled an event on Tuesday to unveil its new flagship iPhone 5S as well as a lower-cost version, expected to be called the iPhone 5C.
Just 10 hours later, Apple will host an event in China - an extraordinary measure for the Cupertino, CA-based tech giant.
At that event, Apple is widely expected to announce, after years of negotiations, a partnership with China's dominant carrier, China Mobile.
The combination of that deal with the iPhone 5C - a phone many believe is targeted at customers of more modest means in emerging markets like China and India - would indeed put some new sizzle into AAPL stock.
After slumping as much as 45% from its high of $705.07 last year, AAPL stock has recovered to about $497, but is still down 29.5% from that high.
Apple stock has suffered as the iPhone has lost market share to phones powered by Google Inc.'s (Nasdaq: GOOG) Android operating system and built by aggressive companies such as Samsung Electronics (OTC: SSNLF).
With the smartphone market in places like the United States and Europe reaching maturation, the iPhone 5C is the only way the company can arrest the slide in the iPhone's global market share, capture any meaningful growth, and rejuvenate the Apple stock price.
Apple already sells its older models, the iPhone 4 and iPhone 4S, at steep discounts in many countries, but the thinking is that a brand new model tailored to this critical portion of the market will prove far more popular.
"There are different needs in different markets," Wayne Lam, smartphone analyst at IHS Inc. told the Financial Times. "Apple has to have the right product lines to address that."
A Big Opportunity for Apple Stock
To understand how the iPhone 5C and a relationship with China Mobile could drive Apple stock, you need to look at the numbers.
Apple already sells through two Chinese carriers, China Unicom and China Telecom, with a combined subscriber base of about 405 million.
But China Mobile is the largest carrier in the world. Its 740 million subscribers dwarf its competitors, as well as the 100 million of the largest carrier in the United States, Verizon Communications Inc. (NYSE: VZ). China Mobile's customer base is actually more than twice the entire U.S population - every single man, woman, and child.
And the market is still growing rapidly; research firm IDC says unit shipments in China will rise 52% in 2014 to 458 million to account for one out of every three smartphones sold in the world.
But without a device for the middle and low end of the market, and without access to China Mobile's vast number of subscribers, iPhone sales in China declined 14% year over year.
Here's why the iPhone 5C will change all that...
Analysts at UBS estimate that the iPhone 5C will make a huge difference, accounting for 70% of the 17 million iPhones it expects Apple to sell in China in 2014 and 10% of the 170 million Apple will sell worldwide.
That would be enough to reverse the iPhone's slipping global market share as well, from 14% now to 15.5% in 2014. Apple needs to maintain a healthy market share to ensure that developers will keep writing apps for iOS, as the vibrant ecosystem is a key selling feature for the company's mobile line-up of iPhones, iPads, and iPod Touches.
And while some had worried that a less expensive iPhone model would ding margins, those concerns have ebbed lately. Most analysts are raising their assumptions of the iPhone 5C profit margin from the low 30s to the upper 30s, with most above the company average of just under 37%.
In a note to clients, UBS analyst Steven Milunovich pegged the profit margin of a low-cost iPhone at 38%, "making the 5C accretive to earnings."
With the boost from the iPhone 5C, Milunovich raised his earnings target for Apple to $44.65 a share in 2014 and $48.45 a share in 2015.
Applying those earnings per share (EPS) figures to the company's current price/earnings (P/E) ratio of about 12.40 gives a price target for AAPL stock of about $550 for 2014 and $600 for 2015.
That's a 20% return, which is not too bad for a maturing tech company - and that doesn't include the 2.5% dividend yield.
But it's also very possible that Apple stock will soar far beyond $600 and get there much sooner than UBS estimates.
How AAPL Stock Could Rise Even Faster
While the iPhone 5C in China alone will help stabilize Apple stock and gradually push it higher over the next two years, other factors could speed up the timetable and possibly get AAPL back to its all-time highs.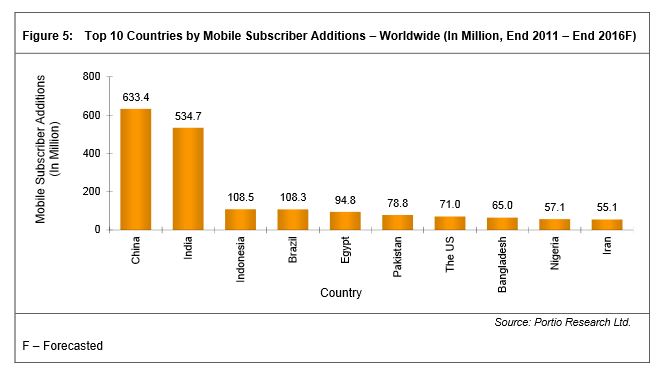 For one thing, the iPhone 5C won't just help grow sales in China, but in other emerging markets as well. India in particular will be adding nearly as many new mobile subscriptions as China over the next several years (see chart).
Then there's the possibility that the iPhone 5C is just the beginning of a diversification of the iPhone line.
The Wall Street Journal reported this week that Apple has been testing new iPhone form factors with screen sizes ranging from 4.8 inches to 6 inches. (The iPhone 5 has a 4-inch screen.)
Such a move would make sense, echoing a similar evolution in the iPod product line over the years to appeal to different customer needs at different price levels, a strategy that could really jolt iPhone sales and AAPL stock.
Finally, there's the potential of Apple unleashing some completely new product in the next few months.
Whether it's the long-rumored Apple television, or an iWatch, or something else entirely, the company is overdue for a major new product initiative. Such a new product could add several dollars more to Apple's EPS over the next couple of years, which would give Apple stock yet another positive jolt.
Cantor Fitzgerald Analyst Brian White told CNBC last week that he had initiated coverage of AAPL stock with a "Buy" rating and based his lofty target price of $777 - 56% above current levels - partly on the expectation that Apple has something insanely great up its sleeve.
"After a year to forget, we believe Apple is poised for liftoff in [fiscal year] 2014," White wrote in a note to clients. "The past year was extremely challenging for Apple stock, as the higher-end smartphone market hit a wall and the ramp of new product categories did not come to fruition... however, we believe innovation at Apple has not stood still and that the fruits of the company's labor will begin to show up in a major new product cycle over the next 12 months to 18 months. We believe the challenges over the past year will prove to be a blip in a longer-term positive trend at Apple."
Money Morning Capital Wave Strategist Shah Gilani has his own reasons to think that Apple stock is a buy right now. Don't miss his take on why he likes AAPL - with or without the iPhone 5C.
Related Articles: