Recent liquefied natural gas (LNG) stock news highlights how this global gas revolution is finally gaining traction...
In December, for example, Cheniere Energy Inc. (NYSE: LNG) announced two contracts collectively worth $9.5 billion with Bechtel Oil, Gas & Chemicals to construct LNG trains and facilities in Corpus Christi, Texas.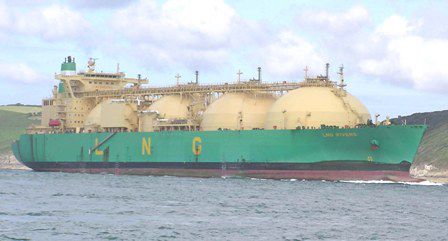 Under the terms of the deal, Bethel will build three LNG trains, three LNG tanks, and two berths able to accommodate vessels with a capacity of up to 267,000 cubic meters. Construction is expected to begin in 2014, and Cheniere forecasts it will be up and running by 2018.
This deal is part of an increasing number of plans that have been proposed to produce and ship LNG to the energy-hungry nations of Asia and elsewhere.
Why? Simple economics.
Natural gas in the United States is currently selling around $4.25 per million BTU. Liquefaction, shipping, and regasification costs will add approximately $6 per million BTU, according to an estimate from consultancy Ernst & Young and reported by the Financial Times.
That brings the overall cost to roughly $10 per million BTU. Still a very attractive proposition when LNG is selling for $15 to $16 per million BTU in Asia today. Especially when one considers that the number of countries around the world buying LNG jumped from 11 in the year 2000 to 27 currently, and will hit 40 in 2020.
And this has been incredibly bullish news for LNG stocks...
LNG Stock News Picks Up Speed in U.S.
Foremost among the LNG projects moving ahead are some right here in the United States.
Cheniere was the first LNG stock to report major export news when it was granted approval for Louisiana's Sabine Pass project in 2011.
The Obama administration finally granted approvals for three additional LNG projects in 2013 after the president signaled in May that he approved of increased natural gas exports.
U.S. projects given the green light in 2013 included Cove Point, Md. - owned by Dominion Resources (NYSE: D); Lake Charles, La. - controlled by BG Group PLC ADR (OTC: BRGYY) and Energy Transfer Partners LP (NYSE: ETP); and Freeport LNG in Freeport, Texas - a partnership between Michael S. Smith and ConocoPhillips (NYSE: COP).
While the biggest LNG stock news has come out of the United States, there are global projects trying to join the export race...
Global LNG Projects: One Step Forward, Two Steps Back
Other areas of the globe that have the potential to become large LNG exporters include Canada, Australia, and the east African countries of Mozambique and Tanzania.
In this decade, in fact, the largest source of new LNG supplies will be Australia.
But it faces strong headwinds going forward - namely a too-strong Australian dollar, rapidly rising labor costs, and also infrastructure bottlenecks. These are combining to raise the cost of future planned LNG projects out of control.
The potential of east African offshore regions to produce a lot of natural gas is almost undeniable.
The problems here though are a lack of infrastructure in the area and a lack of experience in developing expensive LNG projects by the companies involved.
For example, Anadarko Petroleum Corp. (NYSE: APC) is heavily involved in east Africa. But the exploration and development company has never tried to take on such a complex task before.
When some of the major players with experience in LNG move in, that area may become a major exporter of LNG in the next decade.
Then there is Canada.
There are currently eight LNG project proposals awaiting government approval.
Many of the proposals will get the nod, but there is one stumbling block to Canada moving forward rapidly with the projects.
Surprisingly, it is infrastructure. Not only do LNG terminals have to be built, but pipelines and even roads have to be built to access the natural gas located in remote areas of Alberta and other provinces.
That leaves the United States in the enviable pole position, if politics does not get in the way.
LNG Stock News to Watch for in 2014
Our Global Energy Strategist Dr. Kent Moors touched on this in an August article.
The United States has a big leg up with all the energy infrastructure (pipelines, LNG terminals, etc.) in place already to become a major player in LNG exports.
Moors forecast that the United States will export from 8% to 12% of the world's LNG by 2020.
There are another 20 or so LNG export projects awaiting the nod from the Obama administration. A complete list of projects awaiting the government thumbs up can be seen in this Energy Department document.
The number of approvals to be given in 2014 by the Energy Department is unknown, but the Obama administration's willingness to speed approvals of LNG export licenses would open the door for more bullish LNG stock news to come.
Here's why politics will guide the success of LNG stocks in 2014: The Political Plot Thickens in LNG Exports
Related Articles: