When Bitcoin prices fell sharply last month, I explained why I'm still bullish about this extraordinary new investment vehicle.
Back in December, I noted that Bitcoin prices had recently fallen as low as $455. From there prices rallied quickly and stabilized, finding key support in the $550 range.
Not only did I reiterate my optimistic long-term support for this new digital currency, I said the market for investing in Bitcoin still looked great and that it isn't going away any time soon.
I also said:
Bitcoin's challenge to central banks and governments around the world means it will come under pressure from time to time.

This is exciting new technology that is sweeping the globe. But since the market is still in its very early stages, Bitcoin is likely to remain volatile for a while.

For that reason, I remind investors not to bet the farm on Bitcoin. You don't want to miss out on this tremendous opportunity but you should invest only what you can truly afford to lose.
Here, a few weeks later, I'm happy to tell you that Bitcoin prices have substantially recovered.
Indeed, they zoomed all the way to $1,044 on Mt. Gox, one of the world's leading exchanges, before settling back in the $920 range.
This new trading band is crucial for the health of the market. If you look at the attached chart, you'll see that Bitcoin prices are once again trading above the 50-day moving average, an important sign of bullish support.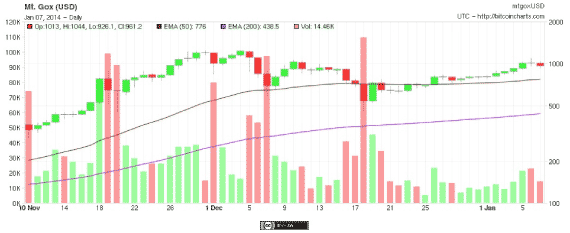 Right now, it looks like $1,000 remains the key resistance point. The chart shows the price bouncing around that pivot point.
The Resilience of Bitcoin Prices Shows Why It's Here to Stay
As I see it, a $1,000 Bitcoin is a major psychological test of the market. And the reason is simple.
Last November, the minute Bitcoin prices hit $1,000, the mainstream media jumped all over the story. Of course, they just couldn't resist talk of a "Bitcoin bubble."
But what was rubbish then is rubbish now...
The way I see it, resurgent Bitcoin prices show that this new digital payment system is strong enough to shrug off the kinds of challenges that might have crushed some fiat currencies.
The most recent test of support came from India over the Christmas holidays. That country's central bank warned citizens against investing in Bitcoin.
Following that, a unit of the Indian finance ministry began raiding and shutting down local exchanges.
So, if Bitcoin were just a flash in the pan, we should have seen prices crumble.
However, as the chart illustrates, just the opposite has occurred - Bitcoin prices have rallied.
And consider this: Each time that the governments of the world's largest developing economies - China and India - have attacked Bitcoin publicly, the price of the digital currency has recovered.
If that's not evidence of a strong market, I don't what is...
Again, understand that because the concept of an independent digital currency is new and poses a threat to global governments, we will continue to see volatility in Bitcoin prices.
But its resilience is proof of its staying power.  As I see it, the future still looks great for Bitcoin.

Michael Robinson, a Silicon Valley venture capitalist, has uncovered a historic opportunity in Bitcoin, which could make you the next millionaire from this controversial currency. You have to see this powerful interview. Click here for the full story!