3D Systems Corp. (NYSE: DDD) stock slumped as much as 28% Wednesday in reaction to disappointing preliminary 2013 earnings - a move Money Morning readers were prepared for.
3D Systems cut its 2013 profit estimate to $0.83 to $0.87 per share, down from $0.93 to $1.03 per share. The company cited softer demand than expected for its consumer printers - even though demand for professional printers was stronger than expected.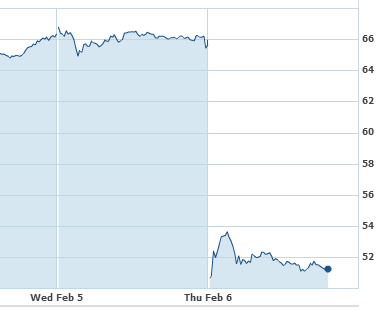 The Rock Hill, S.C.-based company also said profit was weighed by higher spending on research and development.
DDD lightened expectations for its full-year adjusted earnings per share (EPS) to $0.73 to $0.85 on revenue of $680 million to $720 million. This is down from analysts' expectations for full-year EPS to hit $1.27 on revenue of $671.3 million, according to Thomson Reuters.
Even though the long-term outlook for DDD remains solid, our Chief Investment Strategist Keith Fitz-Gerald forecast this steep plunge at the start of the year.
In his 2014 Market Forecast released Jan. 6, Fitz-Gerald noted DDD's soaring share price of $94. He even pointed readers to a short-term profit opportunity:
"I love the products and love the potential, but 3D Systems has been bid up to amazingly high levels. It looks like a great short to me," Fitz-Gerald said. "Practically speaking, even though the company's products are at office supply stores and in catalogues, the average consumer hasn't gotten the bug yet so they aren't selling through. With a P/E of 200.89, I think it's ripe for a reversal just on a technical basis."
This short offered gains of as much as 30% as DDD stock plummeted as low as $55 Wednesday.
Going forward, this stock-price plunge is not a bearish signal for DDD in 2014. Here's why: As Fitz-Gerald said, the long-term potential for 3D Systems remains strong.
3D Systems: Leader in an Innovative Market
3D Systems has positioned itself to lead the 3D printing industry, which is expected to double in size to $4 billion by 2015.
Industry consultants Wohlers Associates estimate the sale of 3D printing products and services will near $6 billion globally by 2017 and $10.8 billion by 2021.
3D Systems is already showing signs of benefiting from this growth...
Demand for its professional-level 3D printers and materials was higher than expected in the fourth quarter.
President and Chief Executive Officer Avi Reichental said the company will soon see the payoff of increased R&D investment.
"We firmly believe that these accelerated investments that already resulted in the announcement of 24 new products over the past nine weeks position the company to double its revenue over the next couple years on organic growth of at least 30% going forward and to achieve greater earnings power and profitability over the long term," Reichental said today.
Maintaining a "Buy" rating on DDD, Jefferies analyst Peter Misek wrote in a note to clients that 3D Systems' opportunity in the professional and industrial markets is "only just beginning."
Additionally, he noted his research suggests the 3D printer maker is likely to announce deals with a least three major companies this year: healthcare giants Stryker Corp. (NYSE: SYK) and Johnson & Johnson (NYSE: JNJ), and conglomerate General Electric Co. (NYSE: GE).
3D Systems already announced a collaboration with Hershey Co. (NYSE: HSY) in January to develop ways to use 3D printing technology to produce food.
"It's a first of its kind deal and an only of its kind deal," a 3D Systems spokesperson told The Wall Street Journal.
3D Systems will report final Q4 and full-year 2013 results on Feb. 28.
3D Systems (DDD) trimmed earlier losses to close down 15% Wednesday. Shares were up 1.65% Thursday afternoon to $65.16.
Just-Released Profit Alert: Huge Gains Are at the End of This "Acquisition Trail"
Related Articles: