It wasn't hard for investors to find gains in 2013. This year is different - unless you're invested in one or more companies on this growing hot penny stocks list boasting huge year-to-date gains.
Leading the pack of 2014's surging low-priced stocks are biotech companies with promising new treatments in their pipeline. Also near the top are technology companies offering cutting edge products and solutions.
In mid-January, shares of Chelsea Therapeutics International Ltd (Nasdaq: CHTP) enjoyed a 91.74% one day surge to $4.49, skyrocketing as much as 120% intraday. The reason for the pop: An independent panel found the company's drug to treat a rare form of low blood pressure effective enough to warrant regulatory approval.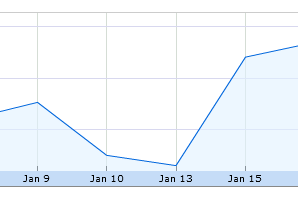 Shares traded as high $5.63 Friday as the Charlotte, N.C.-headquartered biotech company awaited word of the FDA's approval.
Another small-cap mover this year is Plug Power (Nasdaq: PLUG). Shares of this alternative energy provider jumped 68% to a 52-week high of $4.90 last month after inking a deal with FedEx Corp (NYSE: FDX) to develop hydrogen fuel cell extenders for 20 FedEx trucks.
PLUG shares have given up some gains on profit taking, but they added 20.97% to $3.79 on Feb. 10 after winning a major contract from leading retailer GenKey. Under the agreement, PLUG will launch its turnkey hydrogen fuel cell system solutions at six North America GenKey distribution centers. The first site is expected to be ready in Q2. This multi-site GenKey order helps PLUG shore-up its position as the premiere global proton exchange membrane fuel cell solution provider.
Those are just two micro-cap stocks Money Morning recently featured; following are five of the "hottest" penny stocks today.
Penny Stocks List: Five Hot Ones for 2014
Smart Technologies Inc. (Nasdaq: SMT) shares hit a one-year high of $3.65 last week, surging some 28.15%. The gains followed much better-than-expected earnings per share of $0.08 for its December quarter. That was eight times forecasts for the maker of whiteboard and other display technology. The company also announced it's getting out of the waning PC business. Amid some profit taking, shares ended Friday at $3.04, up 3.05%. The company's outlook remains bright thanks to a positive uptrend in earnings estimates and solid share momentum. Investors have taken note. Volume remains brisk and shares are up 51% over the last month.
InfoSonics Corp. (Nasdaq: IFON) shares rallied 20% in early February after announcing the launch of its new "verykool" 7" tablet with Wi-Fi and 3G capabilities. The full featured tablet, equipped with a speedy 1.3-GHz dual-core processor and the Android 4.2 operating system, will retail for a very reasonable $149. Friday, the phone accessory maker finished at $3.15 after trading as high as $3.40. Year to date, the San Diego-based firm's shares are up a whopping 114.4%.
You On Demand Holdings Inc. (Nasdaq: YOD) shares surged more than 70% on heavy volume earlier this month after an online article pegged the New York City headquartered business as China's Netflix. The company delivers pay-per-view, video on demand, and enhanced premium content for cable providers in the Asian nation. It also provides Internet services, related equipment rentals and sales, and maintenance. In January, YOD announced it will feature Disney films. In the past one-month timeframe, shares have ranged between $2.47 and $5.62. Shares ended Friday nearly flat at $5.75.
Pernix Therapeutics Holdings Inc. (Nasdaq: PTX) rallied some 70% last week after announcing a $65 million institutional investment led by Athyrium Capital Management and the appointment of Doug Drysdale, a high profile healthcare veteran, as its new chief executive officer. The Woodlands, Texas-based company, with a focus on developing, manufacturing, and selling branded and generic treatments for ailments including bronchitis, middle ear infections, head lice, and asthma, also settled a pending legal matter. Shares have traded as low as $1.69 and as high as $7.70 over the last year. Shares were last changing hands at $2.77.
Zynga Inc. (Nasdaq: ZNGA) shares soared 40% over three days following the online social game operator's late January Q4 better-than-expected earnings report. Investors applauded CEO Don Mattrick's turnaround tactics, including steep cost cutting and the $527 million acquisition of gamer NaturalMotion. UBS AG (NYSE: UBS) recently upgraded the stock to Buy from Neutral and raised its price target from $4 to $6. Shares of ZNGA hit a 52-week high of $5.06 Friday, finishing the session up 2.31% at $4.87.
Investors: Bypass These Pitfalls to (Major) Profits in Bioscience