Editor's Note: We're giving you special access to Bill's Private Briefing because spin-offs and deal making are minting new millionaires weekly. Companies are going out to buy growth, and they're bringing trillions of dollars off the sidelines as this niche explodes. Here's Bill...
We love spin-offs.
And it's not just because you were able to cash in on our recommendation of Abbott Laboratories Inc. (NYSE: ABT), whose subsequent breakup into two companies has so far resulted in gains of 27% and 47%.
We love spin-offs because, as a group, they offer high-probability opportunities for market-beating profits. Since the Abbott pick, we've issued reports on several other spin-off opportunities.
Our goal: To help you assemble a portfolio of these "special-situation" profit plays.
Here's the portfolio...
Given the number of spin-off plays that we've recommended already - and some others that we're "scouting out" for you - we're actually putting together one of our periodic "special reports" that come to you free as part of your ongoing subscription.
In the meantime, though, we've found another spin-off play that we didn't want to wait to recommend. And we're adding a new spin-off pick today - a play on the hot security sector that gained its freedom from its parent.
The company: Allegion PLC (NYSE: ALLE), the residential-and-commercial security-products company that was created by the early-December spin-off from Ingersoll-Rand PLC (NYSE: IR).
We typically make our recommendations before the separation transactions take place. But we like Allegion's makeup - and potential upside - so much that we decided to make this recommendation despite the spin-off having taken place.
The Dublin, Ireland-based Allegion describes itself as a company that "helps keep people safe where they live, work and visit."
The firm says that it specializes "in security around the doorway and beyond: Everything from residential and commercial locks, door closers and exit devices, steel doors and frames, to access-control and work-force productivity systems."
In other words, Allegion's offerings range from low-tech - steel doors and conventional locks - to high tech: automated-access and security systems, video monitoring, and systems integration. Its 23 business brands include:
Interflex Datensysteme GmbH & Co. KG, which offers such workforce-management systems as time accounting and automated scheduling, as well as security systems that include ID and access-card production, closed-circuit (CCTV) video surveillance, and biometrics.
CISA, a security pioneer that patented the first electrically controlled lock - back in 1926. It is also the first brand in the world to develop smart-card locks, which are used as electronic keys to safely and efficiently manage gates and entrances. CISA today develops and markets cylinders and locks for any kind of door, including electronic locks, panic bars, door closers, safes, and padlocks.
aptiQ Smart Technology, which uses an "open-architecture" to design readers, credentials, and smartphone-based security applications. The aptiQ portfolio includes easy-to-use readers that can accommodate most magnetic-stripe cards. This product line also allows for the creation and use of proximity cards, aptiQ "smartcards," and the latest in so-called "near-field communications" (NFC) technology - the know-how behind our May 2012 recommendation of NXP Semiconductors NV (Nasdaq: NXPI), a stock that has more than doubled. (Coincidentally, NXP is a 2006 spinoff from Koninklijke Philips Electronics NV (NYSE ADR: PHG) - which underscores, again, the profit potential of "spin-off investing.")
Bocom Systems, which specializes in video monitoring solutions for city and highway traffic, as well as for airports, government buildings, and general surveillance. That business unit designs, engineers, and installs both security alarm systems and more-complex closed-circuit-based security networks.
And Schlage, a 90-year-old company that's one of the top names in lock technology. This business unit creates conventional key locks, as well as advanced electronic and biometric lock systems.
Real Growth Potential
Although cybersecurity gets the big headlines these days - and rightly so, thanks to stories about China stealing our weapons-system designs and retailers giving away our credit-card numbers - the heightened focus on security extends to the "physical" space, including our homes and where we work.
According to several analyses that I read, the worldwide home-security-solutions market is benefitting from such technology segments as wireless communications, "wired" broadband, and the emergent sensors sector. Product segments include electronic locks, panic buttons, security cameras, sensors, and alarm systems. Electronic locks and sensors are the most popular.
Services include system design, integration (which often involves adding new components to an existing system - often one designed by a different company), maintenance, and monitoring.
With its array of products and capabilities, Allegion figures to be a strong player in this market.
Brian Leland, a product manager at Interlogix, a unit of United Technologies Corp. (NYSE: UTX), says interactive services are more affordable now than ever before. And that means the industry has a chance to boost the U.S. residential security system penetration rate from the stagnant 18% to 20% of the past decade.
"Home automation has become much more mainstream in the security channel," he told SecurityInfoWatch.com recently. "Consumers are looking for something that takes care of their home. For (manufacturers) as we talk about product development, it's part of our core."
In fact, U.S. demand for private contracted security services is forecast to rise at a 5.4% annual pace between now and 2016, when it will reach $64.5 billion, says The Freedonia Group, a Cleveland-based researcher. That will drive revenue growth in several subsectors. Security consulting will lead gains, followed closely by systems-integration and management. Alarm monitoring and correctional facilities management will also do well.
And while the commercial market is larger, the growth in the residential market will be greater, the study says.
Allegion will not only benefit from all this growth - we believe it will advance at a faster rate than the market... for four key reasons:
A Tighter Strategic Focus: Companies like Abbott or Ingersoll-Rand break themselves up for several reasons. But a key one is strategic focus. As an independent entity, Allegion will be able to make long-term decisions that provide maximum benefits to itself - instead of having to craft strategies that also benefit the "parent." The newly independent firm can devote more money to research and development, to marketing, and to purchases of technology or product lines. For spin-off companies, this new reality generally leads to a tighter, value-maximizing focus - and faster growth than would otherwise have been possible.
More Attention to Shareholders: Allegion will improve its strategic focus as a result of the spin-off. And it will be free to focus on its shareholders, too. The company already announced a $200 million stock buyback and has established a modest dividend. Expect more of the same as the company grows in both size and stature.
A Less-Confusing Competitive Situation: When Google Inc. (Nasdaq: GOOG) announced it was dumping its Motorola handset business in a deal with China's Lenovo Inc. (OTC ADR: LNVGY) last month, it was partly because the search giant didn't want to be in the manufacturing business. But there was another reality at play here: By selling handsets, Google was actually competing with the same companies that use its Android operating system. In other words, it was competing with some of its customers. That's why a spin-off firm often benefits from additional business once it's freed from its parent: Once independent, it's much easier to grab business from rivals of its former parent. You can bet that Allegion will see some incremental growth for this very same reason.
Building Through Buyouts: Now freed from Ingersoll-Rand, Allegion will be free to do deals - for product lines, as we mentioned above, or for entire companies. In fact, this is already happening. Earlier this month, Allegion announced a $12 million deal to acquire key assets of Schlage Lock de Colombia SA, a privately held firm that's the No. 2 mechanical-lock maker in that South American country. Allegion CEO Dave Petratis has said his company will use its strong cash flow to finance strategic acquisitions - especially in emerging markets. And this deal "is an excellent first step in implementing our growth strategy," Petratis said, noting that his company will be looking to do additional deals.
It's early, but Allegion's newfound freedom is already bearing fruit for shareholders.
Last Thursday, Allegion shares surged 7% over the two final trading sessions of last week after the company reported slightly lower-than-expected fourth quarter earnings - but gave analysts an upbeat forecast for 2014. Wall Streeters had been projecting earnings of $2.27 a share for this year; Allegion forecast a profit range of $2.25 a share to $2.40 a share. The company said it had a "solid operating performance in 2013, despite significant organizational change during the year," and added that it sees itself as well-positioned for growth in 2014.
Wall Street's "Smart Money" Likes Allegion
It usually takes time for the investment pros to warm up to a spin-off stock. With Allegion, however, that process appears to be happening faster than usual.
After attending Allegion's "analyst day" late last week, MKM Partners maintained its "Buy" rating on the stock, but boosted its target price on the security player from $54 a share to $60 a share. The stock closed Friday, the day of MKM's recommendation, at $52.37.
A stock price of $60 would represent a gain of 15% from Friday's close - not bad in a potentially "toppish" market.
And that's just the start. As this company capitalizes on its newfound independence, its upside potential will only increase.
We always counsel you folks to watch the "smart money" - especially insiders. And there's some smart money that seems to like Allegion's prospects.
Let's be clear: We don't believe that there's a lot of "smart money" on Wall Street.
But one exception might be the hedge funds, which can operate more effectively since they huddle in the financial market's shadows. And as an accompanying chart shows, these pros have taken some big stakes in Allegion, following its late-2013 spin-off from Ingersoll-Rand.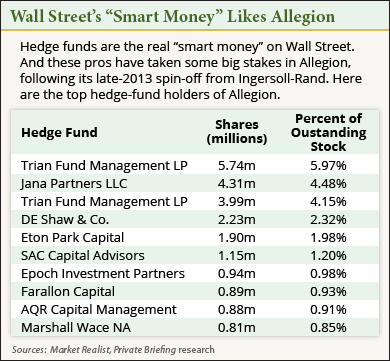 Clearly, these hedge-fund managers understand - as we do - that spin-off plays can offer big upsides. Indeed, as we explained again last week, spin-off investing is typically a high-return, low-risk way to invest in stocks.
That's why we've recommended such companies as Occidental Petroleum Corp. (NYSE: OXY), General Electric Co. (NYSE: GE), and E I Du Pont De Nemours & Co. (NYSE: DD).
It's a strategy that works.
As we said at the start of today's report, back in June 2012, we recommended that you pick up shares of Big Pharma player Abbott Laboratories. Because the company was planning to split in two at the end of the year, investors who followed our recommendation would end up with two companies for the price of one.
And the two companies operating independently, we predicted, would deliver a much bigger profit punch than if they'd remained as one.
That's just how it worked out.
At the start of 2013, the company broke into two businesses - Abbott, now a healthcare-products company, and AbbVie Inc. (NYSE: ABBV), a research-based pharmaceuticals firm whose drugs include the arthritis treatment HUMIRA.
The split delivered the hefty gains we mentioned at the top of this column.
Gains of this magnitude are common with spin-offs, which is why we like them so much.
And spin-off plays often pay dividends. AbbVie has a dividend yield of 3.3%, and Abbott 2.26%. (Abbott in October pleasantly surprised investors with a bigger-than-anticipated 57% increase in its quarterly payout - now 22 cents a share. AbbVie last week boosted its quarterly payout from 40 cents a share to 42 cents.)
A number of institutional and academic research studies show that spin-off stocks trounce the general market averages for as long as three years after the transaction. For instance, a Lehman Bros. study found that spin-off companies beat the market by 40% in the first two years, while a Penn State University study found a three-year return of 76% - enough to beat the market by 31%.
Here's the coup de grace: Many spin-off companies are ultimately taken over at hefty premiums to their market price.
In recent months, we've recommended several other spin-off plays. And we're always on the lookout for more.
Because any time we see easy money that's just sitting there for the taking, you can bet you'll be the first folks we tell.
And you can decide whether or not you want to pick it up.
Inovio Zooms: We recommended biotech Inovio Inc. (NYSE: INO) at 71 cents a share back on Feb. 1, 2013, and have re-recommended it a number of times since. With their 15.2% gain yesterday, the shares are now at $3.71, up 414% from where we first told you about them - and we believe there's more to come. In fact, we'll be bringing you an interesting update on this company very soon. Inovio is one of 24 recommendations that have doubled or better since we launched Private Briefing back in August 2011.
Chipmaker Surges: We urged you buy shares of RF Micro Devices Inc. (Nasdaq: RFMD) in a report back on Dec. 26, reasoning that the maker of the so-called "radio-frequency" chips used in smartphones and other devices was poised for a rebound.
The stock was savaged in late October after reporting strong fiscal-second-quarter results - and forward-looking guidance that disappointed Wall Street.
But we explained that an Apple Inc. (Nasdaq: AAPL) deal that opened up the China market would accelerate RF Micro's resurgence - making this a speculative "Buy" that was well-worth the risk.
RF Micro shares jumped 21% yesterday after the Greensboro, N.C.-based company agreed to buy rival TriQuint Semiconductor Inc. (Nasdaq: TQNT) for $1.59 billion, a so-called "merger of equals" that should return the company to profitability.
Shares of RF Micro are now up 36%, with more to come.
RF Micro and TriQuint get most of their revenue from the components that allow mobile phones to "talk" to wireless networks. But both lost money last year. The rationale behind the merger was a simple one: By combining the two, the number of industry suppliers gets reduced, and a larger supplier is created that can hold the line against the famous arm-twisting that Apple and other smartphone makers engage in with vendors.
"This has been something that a lot of people were hoping would happen in the space," Mike Burton, an analyst at Brean Capital LLC, told Bloomberg BusinessWeek." Pricing becomes a lot more rational."
Burton has a "Buy" on RF Micro shares.