SPDR GOLD TRUST ETF
Price: 117.09 | Ch: -0.69 (-0.6%)
Gold prices today (Monday) hit a four-month high, surging over 2% on fallout from the Ukraine-Russia conflict; silver prices climbed alongside.
The yellow metal lost 28% in 2013, logging its first annual loss in 13 years. Behind the plunge was the U.S. Federal Reserve's decision to scale back its bond-buying program; however, gold has begun to steady since.
Gold has rebounded 13% so far this year, earning bullion the title of the third-biggest gainer in 2014 behind coffee and lean hogs, according to the Standard & Poor's GSCI Spot Index of 24 commodities.
In the week ending Feb. 25, hedge funds and other money managers upped their net-long positions on gold to 113,911 contracts - a 25% increase - marking the highest since December 2012, according to data by the U.S. Commodity Futures Trading Commission.
And today, the precious metal is headed for its biggest daily gain since Jan. 23.
Gold futures for April delivery rose 2.4% to $1,353.80 an ounce on the COMEX division of the New York Mercantile Exchange.
Gold prices hit $1,355 an ounce - the highest for a most-active contract since Oct. 30.
Behind today's gains were tensions that heavily mounted over the weekend between Russia and Ukraine. Here's why the conflict is having such a significant impact on gold prices today...
Ukraine Conflict Lifts Gold Prices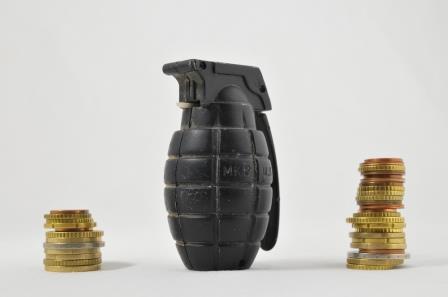 On Sunday, Ukrainian Prime Minister Arseniy Yatsenyuk said his country was "on the brink of disaster" after the Russian parliament approved use of military force in the country.
Russian forces are already on Ukrainian soil. This morning, the Ukrainian State Border Service said that "the pressure from the Russian military" has significantly increased and that Russia is massing armored military vehicles on its side of a narrow sea crossing close to eastern Crimea.
In response, the United States and other major nations are considering imposing sanctions, according to Secretary of State John Kerry on Sunday. U.S. President Barack Obama warned Russia not to intervene, stating that the United States stands by Ukraine.
Gold prices are reacting on the news as investors look to gold's staying power in times of economic crisis. Unlike currencies, precious metals supersede country and governmental boundaries.
And currencies are indeed suffering at the hands of the Ukraine-Russia conflict today. Stock futures are looking grim, with the Dow Jones Industrial Average dropping 1.10% (179.81 points) so far on the day, the S&P 500 down 0.72% (13.43 points), and the Nasdaq Composite down 0.88% (38.03 points).
"The uncertainty surrounding Ukraine could push gold prices higher in the next few weeks... although diplomatic and political solutions are going to be sought... a lot will also depend on investor positioning," Societe Generale analyst Robin Bhar said to Reuters.
Gold prices today aren't the only safe-haven investment getting a boost from the conflict. Look at these other noteworthy increases...
Today's Other Safe-Haven Investment Gains
Besides bolstering gold, silver prices have also gone up. Silver for May delivery rose 1.7% to $21.61 an ounce on the Comex.
Palladium futures for June delivery climbed 0.6% to $748.75 an ounce on the New York Mercantile Exchange. Prices hit their highest since Jan. 22, reaching $749.60.
Even platinum gained, its futures for April delivery adding 1% to $1,461.10 an ounce. The metal reached $1,464.90, its best since Jan. 23.
Additionally, investors snapped up U.S. government bonds today. The yield on the benchmark 10-year Treasury note dropped to 2.61%, from 2.64% Friday, and from 3.03% at the end of 2013.
"Risk aversion has returned as tensions mount in the Crimea," Barclays told clients in a pre-market research note, according to USA Today. "Safe havens continue to rally."
Later today, U.S. economic data is set for release regarding personal spending and manufacturing activity and will provide an updated perspective.
Talk #Gold with us on Twitter @moneymorning, and join the conversation on our Facebook page.
NOW: The plan to raid your savings - and what you can do about it...
Related Articles: