U.S. equities jumped up right out of the gate Tuesday, with all three benchmarks up better than 1% just before noon. The S&P 500 Index hit yet another record high. European markets, also hammered on Monday, recovered most of what they lost in Tuesday's session.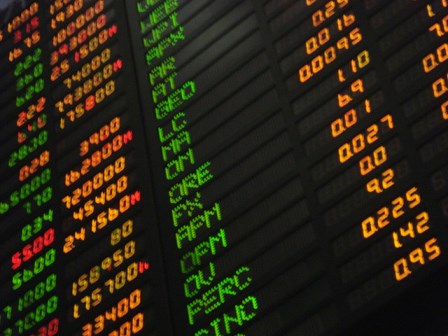 While the gains were broad-based as stocks rebounded from Monday's rout, there were a number of equities moving higher on company developments, industry news, earnings, and deal making. Following are 12 of today's hot stocks to watch.
Today's Hot Stocks List
Apple Inc. (Nasdaq: AAPL) shares edged up roughly 1% after the company announced it will bring its mobile operating system to automobiles by the end of 2014. The company said a vehicle's in-dash display will be connected with an iPhone via a new CarPlay system. This will allow drivers to access maps, music, and messages on their iPhone using voice commands or steering wheel buttons. Also in Apple news, Chief Financial Officer Peter Oppenheimer said he would retire in September after 18 years with Apple.
Bank of America Corp. (NYSE: BAC) shares rose 1.5% to $16.55. The Charlotte, N.C.-based bank got a boost after iconic investor Warren Buffett said in his Berkshire Hathaway Inc. (NYSE: BRK.A) annual shareholder letter dated March 1 that he will probably increase his position in BAC. The Oracle of Omaha said he will likely exercise options to buy 700 million additional shares prior to 2021. Buffett took a stake in BAC in August 2011. The warrants allow him to purchase BAC shares at $7.14 (about where the stock was trading at the time). Since then, the stock has more than doubled, increasing the value of Buffett's position.
CME Group Inc. (NYSE: CME) shares rose 2% to $75.75 after Argus raised its rating on the futures exchange firm to "Buy" with an $84 price target. CME shares are up nearly 25% over the last year as trading volume grew with both institutional and retail investors' trading appetite returning.
J.C. Penney Co. Inc. (NYSE: JCP) shares jumped 5.5% after Standard & Poor's raised its outlook on the retailer's credit rating to Stable from Negative. The rating agency cited a recent stabilization in the company's performance and prospects for further modest improvement over the next year.
Lorillard Inc. (NYSE: LO) rose 5.32% to $56.85 after reports surfaced Reynolds American Inc. (NYSE: RAI), up 2%, may make a bid for the company. A deal could value the target tobacco company at $20 billion.
MBIA Inc. (NYSE: MBIA) shares climbed nearly 10% to $14.71 after comfortably beating Q4 earnings estimates. The insurance company posted earnings per share (EPS) of $0.68, a whopping $0.62 higher than forecasts of $0.06. Revenue came in at $109 million, beating estimates of $102.2 million. Propelled by strong earnings growth of 1575%, MBIA shares have surged 34.36% over the past year, outperforming the 32% rise in the S&P 500 during the same period.
Micron Technology Inc. (Nasdaq: MU) gained 2.02% after analysts at Thomson Reuters/Verus upgraded the stock to "Buy" from "Hold." MU also just took over the No. 170 spot in the S&P 500 order of largest market cap stocks. Market capitalization is a key data point because it gives a true comparison of the value attributed by the stock market to a company's stock.
Oxygen Biotherapeutics Inc. (Nasdaq: OXBT) shares surged 35% to $8.50 after the pharmaceutical giant said the U.S. Food and Drug Administration has allowed it to go ahead with testing of its experimental brain drug Oxycyte, which had been on clinical hold.
Plug Power Inc. (Nasdaq: PLUG), a name featured here at Money Morning several times since the start of the year, soared some 20% to a fresh 52-week high of $7.02. PLUG is a tiny manufacturer of hydrogen fuel cells to power electric forklifts. Shares are now up 4,077% from its $0.14 per share 52-week low hit on March 4, 2013. The stock starting surging earlier this year on contracts from FedEx and Wal-Mart. Shares got an additional boost Monday after Cowen & Co raised its price target to $5.50 from $5. Rising in tandem Tuesday were fellow fuel cell manufacturers, whose shares also hit 52-week highs: Ballard Power Systems Inc. (Nasdaq: BLDP), up 25% to $5.30, and Fuel Cell Energy Inc. (Nasdaq: FCEL), up 25% to $2.70.
Sunedison Inc. (NYSE: SUNE) shares soared 10% to $20.66 following a Morgan Stanley upgrade. The investment firm boosted its rating on the semiconductor company to Overweight with a $24 price target. Morgan Stanley cited SUNE's large and growing commercial device intelligence chip market, used in smartphones, TVs, gaming devices, music players, and appliances, for the upgrade.
Tesla Motors Inc. (Nasdaq: TSLA) shares rose 2.7% to $260 after the electric car company announced expansion plans in Europe. Morgan Stanley, with an Overweight rating on shares, upped its price target last week on TSLA to $320.
Vipshop Holdings Ltd ADR (NYSE ADR: VIPS) surged nearly 40% intraday to a new 52-week high of $182.00. Behind the gains were strong Q4 numbers thanks to a more than two-fold growth in sales. Released Monday after the close, EPS beat by 8 cents and net income for various discount brands in China increased by 300%. Moreover, the Guangzhou-based company gave an upbeat outlook for Q1.
Today's Top Story for Investors: Double Your Money with Our "High-Tech" GPS