With the Alibaba IPO on the horizon, the Chinese e-commerce giant took another big swing at the competition this week when it purchased a 60% stake in ChinaVision Media Group Ltd.
Alibaba spent approximately $804 million on the deal. ChinaVision is a television and film production company, and the acquisition will allow Alibaba to offer additional entertainment content to its customers.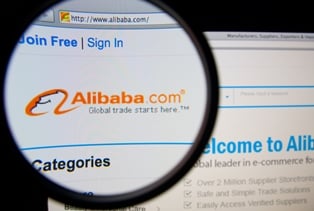 Alibaba and ChinaVision will reportedly form a strategic committee that will explore the companies' combined opportunities in online entertainment and media-related fields. ChinaVision stock, which trades in Hong Kong, more than tripled following the announcement.
The purchase is another on the long list Alibaba has made in the months preceding its highly publicized initial public offering.
It's also another attempt for Alibaba to separate itself from its biggest competition in China - social media and gaming company Tencent.
Why Alibaba Needs to Fight Off Tencent
On Monday, Tencent spent $215 million for a 15% stake in JD.com - China's second-largest e-commerce company behind Alibaba.
Because it has primarily operated as a social media and gaming company, Tencent has a much stronger hold in the mobile market than Alibaba. The mobile industry is growing rapidly in China, and according to research firm Analysys International, mobile commerce expanded by 800% in China in 2013 to a total of $212.2 billion.
But Tencent fired a direct shot at Alibaba with its move into the e-commerce world.
The fact that the mobile-established Tencent is now moving into e-commerce has to worry Alibaba officials, whether they'll admit it or not.
Mobile has been viewed as a weakness of Alibaba's, and last week the company launched a massive mobile-only, one-day sale titled "Mobile Taobao 3.8 Life Festival" in an attempt to supercharge mobile purchases. The event didn't create as much buzz as Alibaba had hoped, but company officials were pleased with the results (but did not release specific numbers).
The fact that both companies continue making purchases to compete with one another is a great sign for investors looking to play Alibaba's IPO...
Alibaba's IPO Value on the Rise
Alibaba owns a network of websites in China that operate in various ways. One acts like Amazon.com Inc. (Nasdaq: AMZN), one like eBay Inc. (Nasdaq: EBAY), and another like PayPal.
It's the largest e-commerce company in China, which is the second largest e-commerce market in the world. The research firm McKinsey & Co. has estimated that the Chinese e-commerce market could reach $420 billion by 2020.
So when Alibaba first mentioned its plan for an initial public offering, analysts projected the company could be worth up to $100 billion.
Since then, Alibaba has been on a spending spree. In February, Alibaba purchased a U.S.-based boutique website, helping to expand its brand in the United States.
But that's just the beginning.
In the past year, Alibaba has purchased either full or part ownership of more than 10 companies. The price tag for those expenditures is more than $2 billion.
And in doing so, Alibaba's valuation ahead of its IPO continues to grow. Reuters conducted a poll of eight analysts in February, and they estimated the company would be valued as high as $140 billion.
When analysts update their estimations of Alibaba's value, it's highly likely that the figure will top $150 billion.
For potential Alibaba shareholders, the more competition the better - if it leads to more acquisitions. As Alibaba's acquisitions continue to pile up, the company's value will continue higher.
Have you been following the Alibaba IPO? Is Alibaba a company you'd want to invest in? Follow us on Twitter @moneymorning and let us know using #Alibaba.
Canada isn't just a market for mining stocks anymore. Here's how to make serious profits in Canada's burgeoning tech industry...
Related Articles: