Yesterday (Tuesday), Google Inc.(Nasdaq: GOOG) announced "Android Wear," an extension of its mobile Android operating system (OS) designed to power wearable gadgets - and it's going to be awesome.
Google said it will make its initial push in smartwatches, but that Android Wear won't end there.
"We're just getting started. The possibilities with devices that you wear on your body are endless," Android Director of Engineering David Singleton said in a preview video released along with the announcement.
Here are the features of the Android Wear smartwatch that have us so excited about Google's latest wearable tech...
How Google's "Android Wear" Works
Google's Android Wear smartwatches are centered on voice control and contextual information that's highly reactive to the user's surroundings, making the device quick and intuitive enough so it's actually useful to the wearer.
"We put a lot of thought into how simple this has to be - it needs to be incredibly fast and incredibly glanceable," Android Designer Alex Faaborg said. "There's really only two components: the information that's most relevant to you, and the ability to speak to it and do a quick command."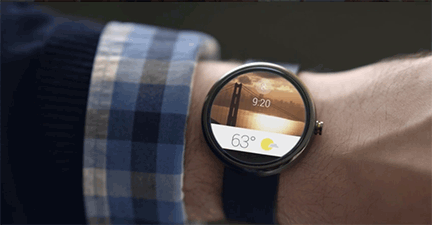 Users can, of course, glance at the watch for time and weather. A flick of the finger will reveal the latest sports scores, the time of your next meeting, and how long it will take to travel there from your current location.
Text messages and emails will appear right on the watch's face, and the user can verbally respond and direct the smartwatch to reply. The wearer can ask for nearby restaurant recommendations, media play, or GPS driving directions to the airport.
The interface is designed to be extremely responsive, delivering information quickly; the voice recognition, which initiates on the command, "OK Google," seems impressively accurate in the preview video.
As far as aesthetics, Google said its Android Wear smartwatch will be available in several styles, shapes, and sizes. It's working with consumer electronics manufacturers Asus, HTC, Motorola, LG, Samsung, and fashion brands like watchmaker Fossil Group Inc. (Nasdaq: FOSL). It's additionally working with chip makers Broadcom Corp. (Nasdaq: BRCM), Imagination Technologies Group Plc (LON: IMG), Intel Corp. (Nasdaq: INTC), MediaTek, and Qualcomm Inc. (Nasdaq: QCOM).
The first Google-powered smartwatch will be available starting this summer, when Motorola launches its "Moto 360." In Q2 2014, LG said it will also be introducing its Android-based smart "G Watch."
The best part about Android-powered wearables is that Google is doing something different from industry competitors that ensures the company will end up on top...
What Sets Google-Powered Smartwatches Above the Rest
Unlike competitors, Google has opened the doors of Android Wear to Android app developers. That means developers have the ability to fully extend their Android apps to the smartwatch.
Google made existing Android APIs - what controls how apps operate within the Android system - available so that developers can customize how their Android OS phone apps behave and appear on the watch, including the use of voice input, since voice is king as an input mode on smartwatches.
That's huge for users - they will be able to enjoy their favorite Android apps on the smartwatch. For instance, Google has already promised that users' "favorite fitness apps" will offer real-time speed and distance tracking.
Compare this to Pebble Technology's 2013 release, the "Pebble watch," which has limited functionality and available apps, or to Samsung's Galaxy Gear, which has restricted compatibility with only a few phones, all Samsung.
"With today's announcement, we do have a sense of Google's vision for wearable devices. It's not a major departure from the company's efforts with Google Glass - and maybe that was Glass's bigger goal all along - but it's altogether less creepy and better thought out than any other wearable software we've seen yet," Time reviewer Jared Newman said.
NOW: Here's a tech stock pick that's the best play you can make in this volatile market...
Related Articles: