U.S. stocks jumped right out of the gate Tuesday, hoping to break a two-day losing streak - and this makes for a long list of hot stocks to watch today.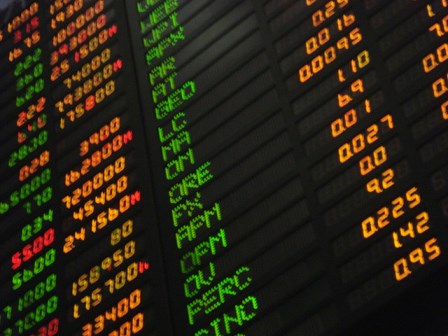 All three major benchmarks were comfortably in the green in morning trading, with the Dow Jones Industrial Average up more than 110 points just minutes after the opening bell.
There were plenty of stocks moving sharply higher on company news, industry developments, analysts' actions, and earnings. Following are 12 of Tuesday's hot stocks to watch.
Today's Hot Stocks List
BG Medicine Inc. (Nasdaq: BGMD) shares surged more than 35% to a fresh 52-week high of $2.41 intraday. Just before noon, more than 10 million shares had changed hands, almost 10 times BGMD's average daily volume. Shares of the 14-year-old Waltham, Mass.- based company rose after positive results of large-scale multicenter research trials in the United States and Europe were published in the American Heart Journal. The trials included 902 heart failure patients and demonstrated that elevations of galectin-3 levels in blood, as measured using the BGM Galectin 3 Test, were significantly predictive of re-hospitalization for heart failure as early as within the first 30 days after discharge from an initial hospital stay.
CSX Corp. (NYSE: CSX) rose 1.7% to a new 52-week high of $29.45 after receiving a boost from Bank of America Merrill Lynch. BofA reiterated its CSX rating of "Buy" and $32 price target, but the railroad operator was added to the firm's key US 1 list and named one of its top picks for 2014.
Dyax Corp. (Nasdaq: DYAX) shares jumped 7% to $9.48 after RBC Capital Markets initiated coverage of the Burlington, Mass. company with an "Outperform" rating and a $15 price target. Founded in 1989, DYAX is a global biopharmaceutical firm that develops treatments for a number of rare diseases.
Galectin Therapeutics Inc. (Nasdaq: GALT) shares surged some 25% to $18.60 intraday on heavy volume. A leading developer of therapies that target galectin proteins to treat fibrosis and cancer, the company announced it will report results from its phase 1 clinical trials for GR-MD-02 in fatty liver disease with advanced fibrosis on March 31. Preclinical data has shown that GR-MD-02 has robust treatment effectiveness in reversing fibrosis and cirrhosis.
Google Inc. (Nasdaq: GOOG) jumped 12 points, or 1%, to $1,169.84 intraday after reports surfaced that the Internet behemoth has teamed up with eyeglass giant Luxottica Group SpA ADR (NYSE: LUX) for designing, developing, and distributing Google Glass. Luxottica, best known as the maker of Ray-Ban, Oakley, and Diane Von Furstenberg frames, rose 3.3% to $55.63.
Hewlett-Packard Co. (NYSE: HPQ) shares climbed nearly 2% to $32.20 after news the company will release a 3D printer by Oct. 31.
McCormick & Co. Inc. (NYSE: MKC) shares rose 6% to $71.60 following better than expected Q1 earnings. The spice maker posted earnings per share (EPS) of $0.62, $0.04 ahead of forecasts, and reaffirmed its full-year fiscal guidance.
PACCAR Inc. (Nasdaq: PCAR) shares climbed 2% to a new 52-week high of $68.81 intraday on a bullish upgrade from Goldman Sachs. The investment bank upgraded the trucking giant to "Buy" from "Neutral" and upped its price target to $80 from $74.
Safeway Inc. (NYSE: SWY) shares rose nearly 1% to $38.14 after declaring a special stock dividend through which it will distribute most of its holdings in Blackhawk Network Holdings Inc. (Nasdaq: HAWK), the gift card company it took public last year. Shareholders of the grocery chain will receive approximately 0.16 shares of HAWK per each SWY share. HAWK shares rose 1% to $27.50.
Sonic Corp. (Nasdaq: SONC) shares soared 11% to $23.39 after reporting Q2 EPS of $0.07 a share, a penny ahead of expectations. Revenue for the quick-service drive-in restaurant chain operator was in line with expectations. The Oklahoma City, Okla. company also reaffirmed full fiscal 2014 guidance.
Walgreen Co. (NYSE: WAG) shares climbed nearly 5% after the drug store chain reported adjusted Q2 EPS of $0.91. That was down from $0.96 a year ago and $0.02 shy of expectations. But net sales rose 5.1% to $19.61 billion from $18.65 billion year over year. Additionally, WAG said it will close 76 underperforming stores.
Walt Disney Co. (NYSE: DIS) rose 1% to $80.35 after announcing it has agreed to acquire Maker Studios, which creates content for YouTube, for $500 million. Disney said it will pay an additional $450 million in bonuses if the network meets targets. The deal will help Disney gain ownership of more than 55,000 channels created by Maker, 380 million subscribers with 5.5 billion views, and a clearer path toward creating short-form online content. It marks Disney's biggest acquisition since its $4 billion purchase of Lucasfilm in 2012.
Don't Miss Today's Top Story: The Huge Economic Indicator Everyone Misses