The roller-coaster ride in Plug Power (Nasdaq: PLUG) stock continues....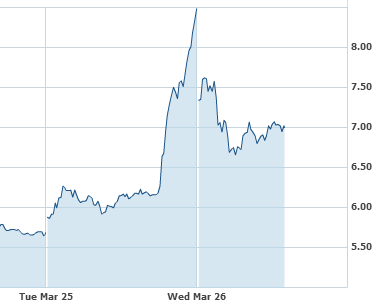 Shares of the fuel cell system provider surged 49.03% to $8.48 Tuesday on extremely heavy volume of 137.02 million shares. Sending the stock soaring was a MarketWatch piece noting the company's chief executive officer disclosed he was set to announce a major deal in the next few weeks.
"We signed an additional order in North American with a global automaker," MarketWatch reported PLUG CEO Andy Marsh said in a telephone interview Tuesday.
Tuesday's gains, however, were short-lived.
Wednesday morning, PLUG stock swooned 20.43%, or 1.74 points, to $6.74 after Marsh said comments about a "major order" were misconstrued and that the deal had already been discussed in March.
"I didn't tell them anything new," Marsh told Bloomberg Wednesday by phone, referring to the MarketWatch discussion reported Tuesday. "This is the same order I referred to on March 13."
Marsh went on to say the Latham, N.Y.-headquartered company plans to continue its focus of supplying fuel cell systems for electric forklifts used in factories and warehouses. He also said the company has no immediate plans to produce fuel cell systems for automobiles, clarifying the report that suggested PLUG was anticipating a sizable order from a car maker.
"It's beneficial that Hyundai and Honda and other car makers are raising awareness of fuel cells," Marsh added. "Any help building out the hydrogen infrastructure that we need will benefit all of us."
As for future plans, the company did say in mid-March it hopes to have news "soon" on its efforts to partner in China.
PLUG Stock's 2014 Roller-Coaster Ride
Less than three months into 2014, it has already been quite a year for PLUG and one heck of a roller-coaster ride for shareholders.
Shares started their ascent in January with a deal to develop hydrogen fuel cell extenders for 20 FedEx Corp. (NYSE: FDX) electric trucks. The news sent shares surging a whopping 68% to $4.90.
Note: The Fed's 2014 taper means volatility ahead. So we've outlined how to find profits in a volatile market - like triple-digit gains in just days - if you start with this strategy...
In late February, PLUG inked a huge deal with Wal-Mart Stores Inc. (NYSE: WMT). The world's largest retailer had already been using PLUG's hydrogen fuel cells at two refrigerated distribution centers. The February order was for 1,738 more of PLUG's signature GenDrive fuel cell units. Plus, Wal-Mart selected PLUG to supply the hydrogen needed to drive the units and also signed a six-year contract. That news sent shares up 15% to $6.99.
Then on Friday, March 7, following an appearance on CNBC, PLUG shares climbed 30.03% to $8.27. Momentum continued into the following Monday, with shares spiking 24.67% to $10.36. That put year-to-date gains at a blistering 565.15%.
That's where gains came to an abrupt halt.
After soaring to a stratospheric $11.72 on Tuesday, March 11, shares tumbled after Citron Research said PLUG's fair value was 50 cents. Run by renowned activist short-seller, editor, and author Andrew Edward Left, Citron called PLUG a "casino stock" and "the lowest form of speculative moonshot." Shares ended the volatile session down 35.5% to $6.68.
PLUG got a shot at vindication when it posted better than expected Q4 and full-fiscal 2013 earnings on March 13. While the company still reported a loss, revenue was up both quarter over quarter and year over year. Moreover, sales showed marked improvement. PLUG shares spiked 18% to $8.48 intraday following the report.
Yesterday's sharp gains were the biggest since Jan. 2 and underscore the frenzied interest in shares and the company.
Year to date, PLUG stock is still up more than 350%. That follows gains of 210% in 2013.
When it comes to trading small-cap stocks, risk-management strategies are imperative. They allow you to seize massive gains, but without losing any sleep...
Related Articles: