As Bitcoin use grows, more and more companies are springing up to exploit the unique capabilities of the digital currency, and that means we're seeing more cheap Bitcoin stocks coming to market.
In fact, pretty much all the Bitcoin stocks that have appeared so far are penny stocks. Larger start-ups, like Bitcoin ATM companies Robocoin and Lamassu, may go public at some point, but until then we're left with the Bitcoin penny stocks.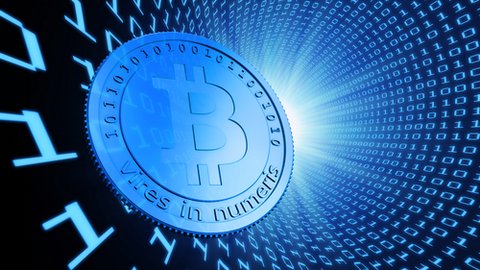 Most of the micro-cap companies involved with Bitcoin have businesses focused on forms of payment, and some are promising.
But if you're thinking of investing in Bitcoin penny stocks, it's important to keep in mind all the caveats that apply to penny stocks in general.
Such as: Penny stocks typically are not very liquid, meaning the volume of shares traded every day is fairly low. That means it can be hard to exit a stock when things turn against you, which can lead to even bigger losses.
That low volume, coupled with their extremely low prices, can make penny stocks subject to wild price swings. And that leaves them vulnerable to manipulation by unscrupulous "pump-and-dump" operators.
Plus, most are lightly regulated because they trade "over the counter" (OTC) as opposed to on a major exchange such as the New York Stock Exchange. That means fewer required public filings, which gives investors less information.
[To learn more about these wild-moving investments, read What Are Penny Stocks?]
Adding Bitcoin to mix doesn't help. Bitcoin penny stocks carry the additional risk of getting hammered by bad Bitcoin news, such as the Mt. Gox bankruptcy.
And yet along with the high risk comes the potential for huge rewards. A Bitcoin penny stock, if it succeeds, could rise 200% or 300%.
Of course, many Bitcoin penny stocks will go under. It's just the nature of the beast. So if you're planning on investing in Bitcoin penny stocks, make sure you allocate only a tiny portion of your portfolio - money you're comfortable losing entirely.
That said, let's take a look at a few Bitcoin penny stocks that people are talking about...
Cheap Bitcoin Stocks - More Than You'd Think
With the Bitcoin protocol itself only about five years old, and the fact that it only became widely known about a year ago, there hasn't been much time for Bitcoin penny stocks to emerge. But we found more than a dozen.
Here's a snapshot of what's out there:
WPCS International Inc. (Nasdaq: WPCS): WPCS, based in Exton, Pa., is a company that focuses mainly on wireless networks and services. It is involved in Bitcoin through its BTX Trader platform, which it recently expanded to mobile devices. Over the past year, WPCS has ranged from $5.27 to $1.32 and currently trades at $1.50.
Bitcoin Shop Inc. (OTC: BTCS): Bitcoin Shop, based in Silver Spring, Md., is an online marketplace that accepts digital currencies such as Bitcoin for payment. Its fortunes have fallen lately with the waves of Bitcoin news about Mt. Gox and the crackdown of China's central bank on exchanges there. BTCS hit a high of $4.57 in February, but has slumped since and now trades at about $0.25 a share.
Bayside Corp. (OTC: BYSD): Up until last summer, Dallas-based Bayside was an oil and gas venture. Then they said they planned to spin that off and promptly launched a new subsidiary, Bitcoinz USA, an automated Bitcoin exchange. Talk about an identity crisis. Bayside trades in fractions of a penny, with a 52-week high of $0.015 and a low of $0 (yes, $0). It currently trades at $0.0016.
Cephas Holding Corp. (OTC: CEHC): Phoenix, Ariz.-based Cephas dipped its toe into Bitcoin last year when it started accepting the digital currency as payment in its education subsidiary. Cephas recently announced plans to operate a Bitcoin ATM network, is developing a Bitcoin gaming website (BTCVegas), and is looking for other Bitcoin businesses in which to invest. In the past year, Cephas reached a high of $0.063 and a low of $0.001. CEHC currently trades at $0.0035.
First Bitcoin Capital Corp. (OTC: BITCF): Formerly known as Grand Pacaraima Gold, the company changed its name to First Bitcoin Capital as of March 5. The Vancouver-based company apparently wants to create a dual currency of Bitcoin based on gold. First Bitcoin Capital is looking to acquire Bitcoin startups and recently announced that it had signed a contract to place Bitcoin ATMs throughout California. BITCF hit a high of $0.089 on Jan. 10 and is currently trading at $0.030.
Myriad Interactive (OTC: MYRY): Myriad, based in Toronto, is an interactive marketing and development firm that has been branching out into Bitcoin. Most notable is its Cryptocafe.com project, which essentially is a marketplace where people can buy and sell goods using Bitcoin. MYRY peaked at $0.06 in January and is currently trading at $0.021.
Would you want to to invest in Bitcoin penny stocks? Do you see any winners among those listed here? Share your thoughts on Twitter @moneymorning or Facebook using #bitcoinpennystocks.
As the rumors of a crackdown by the People's Bank of China have solidified over the past few days, Bitcoin prices have been hit hard. Here's what this latest development means for the future of Bitcoin...