Global central banks and geopolitical concerns guided gold prices this week - mostly lower. Yellow metal prices bucked the trend Friday and were modestly higher in morning trading.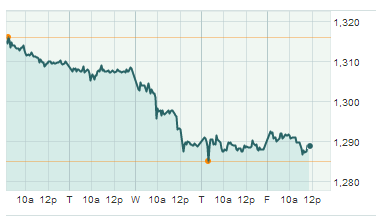 As has been the case over the last several weeks, precious metal traders took long positions ahead of what could be a volatile weekend in Ukraine. At last check, June gold was quoted higher by $5.50 at $1,293.30 an ounce. Spot gold was up $1.80 to $1,292.60.
Should gold prices finish higher today (Friday), it would be the first positive session for the yellow metal in the last four trading days.
The week didn't start out too punishing for gold, with prices slipping just $0.70 to $1,308.30 on Tuesday. But, selling gained momentum Wednesday, thanks to U.S. Federal Reserve Chair Janet Yellen.
Gold Prices React to Fed - Again
The mid-week slide came as Yellen presented an overall optimistic assessment of the U.S. economy in her testimony to Congress. The Fed Chief also reaffirmed the central bank's commitment to continue winding down quantitative easing (QE) measures, which have been a catalyst for gold prices since 2008.
"As long as we continue to see improvement in the labor market and we believe the outlook is for continued progress, and as long as we continue to believe and see evidence that inflation will move back up over time to our 2% longer-run objective, we anticipate continuing to reduce the pace of our asset purchases in measured steps," Yellen said.
Following Yellen's comments that economic data suggests a rebound in consumer spending and business production, "putting the overall economy on track for solid growth in the current quarter," the gold price fell below the key $1,300 level and stocks (risk-on trades) ticked higher.
June gold, the most active yellow metal contract, dropped $19.70, or 1.5%, to $1,288.90 an ounce Wednesday.
Gold prices have been pressured over the last several weeks amid the ongoing taper, which sets the stage for an eventual interest rate increase sometime next year.
Gold, an alternative asset, struggles when interest rates rise and interest-bearing investments are more appealing to income seekers.
That pressure hung around Thursday, with gold futures ending lower for a third consecutive session. After trading as high as $1,295.50, and as low as $1,284. 80, gold for June delivery finished Thursday's session in New York down $1.20, or 0.1%, to $1,287.70 an ounce.
Weighing on gold prices Thursday were comments from European Central Bank President Mario Draghi that a "moderate recovery" is continuing in the euro area. Real gross domestic product rose 0.2% in the region's 2013 final quarter, marking the third consecutive quarter of increases. Moreover, recent indicators suggest the recovery continued in Q1 of 2014 and the start of this year's second quarter.
As a result, the ECB left its benchmark interest rate unchanged at 0.25%. There had been speculation the central bank was going to trim rates or announce a round of bond buying with inflation tame (0.7% in April) and the euro rising. Either move would have been bullish for gold.
Standard practice to keep a lid on inflation is to raise interest rates. With Europe however facing deflation, not inflation, one solution could be big purchases of government bonds or other assets. Last month, Draghi said the ECB was prepared to engage in assets purchases, akin to QE.
"The strengthening of the euro in context of low inflation and still low levels of economic activity is a cause for serious concern in the view of the governing council," Draghi said Thursday. He added "the governing council is comfortable acting next time," but didn't say what action might be taken at the next policy meeting on June 5.
Also taking some of the shine out of the gold price this week is a somewhat calmer, yet still simmering, situation in Ukraine.
In a meeting in Moscow on Wednesday with Swiss President Didier Burkhalter, Russian President Vladimir Putin said Russian troops have been pulled back. But, Putin noted they've been yanked back to training grounds and secure locations for "regular exercises."
Tensions in the region heated up some Thursday when pro-Russian militants in eastern Ukraine opted to go ahead with Sunday's referendum on autonomy, in spite of Putin's call for a postponement. In response to defying the request, Putin presided over military exercises that Russian news agencies said "replicated a massive retaliatory nuclear strike in response to an enemy attack."
Friday, Putin arrived in Crimea as the key Ukrainian city held its first Victory Day commemorations since Russia's takeover in late March.
Gold's safe-haven status is likely to pick up over the next several weeks with Ukraine's presidential election set for May 25. The presidential vote is vital for national reconciliation after former President Viktor Yanukovych, a Kremlin ally, was toppled in February by pro-Western protesters.
There's another, bigger factor that will move gold prices higher in 2014: China. Go here for the details, outlined by guest writer and U.S. Global Investors CEO Frank Holmes.
Related Articles: