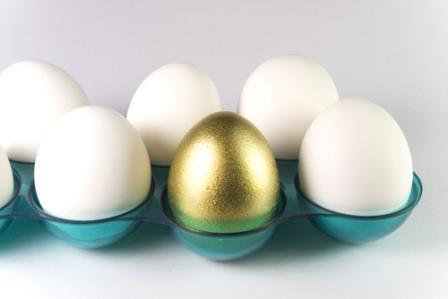 Gold mutual funds are gaining attention as a safe-haven investment to hedge against the market volatility 2014 has brought so far.
These types of investments are managed by professionals who analyze and monitor the movement of gold and invest accordingly in bullion and equities. Through a gold mutual fund, investors can target companies involved with the mining, exploration, distribution, and/or processing of the yellow metal.
Here we examine one method for how to invest in gold, using gold mutual funds - plus we've highlighted a few to get you started today.
Deciding Whether Gold Mutual Funds Are the Right Investment Tool for You
There are four notable advantages to investing in gold mutual funds.
One is that, in purchasing shares of a gold mutual fund, an investor is automatically gaining portfolio diversity, when compared to purchasing shares in a single company.
Another advantage is ease of use. Because of fund managers' oversight - which is the case for all gold mutual funds - an investor will not have to constantly track this investment. Instead, all the investor need do is select and invest in a mutual fund of choice. The rest of the research and monitoring is done by the fund managers. A single call will provide detailed information on the status of your funds, and assistance will be provided by your fund managers in buying or selling your fund units.
Yet another plus is that gold mutual funds allow investors to get involved with the yellow metal without the risks and challenges of storing tangible gold coins or bullion.
And finally, as opposed to investment tools like exchange-traded funds (ETFs), for which each transaction costs a brokerage fee, there is no such fee charged for gold mutual funds.
However, this advantage brings up the one factor of gold mutual funds that turns off investors looking for a short-term profit...
Though there are no transaction costs, investors must pay much higher management costs compared to an ETF to compensate their fund managers' work. The other notable weakness is that gold mutual funds are more complicated in terms of quickly reacting to gold prices compared to ETFs.
Because of these two factors, gold mutual funds are much better suited for the long-term gold investor and not for fast-paced, reactive day traders.
Gold Mutual Funds to Help Get You Started
Many investors choose investment funds with a long-term year-to-date appreciation term and that have a healthy outlook and a low expense ratio.
Here are five gold mutual funds to get you started right now:
Vanguard Precious Metals and Mining (MUTF: VGPMX): Assets are invested in foreign and domestic companies that are involved in precious metal exploration, mining, and distribution. The funds have an expense ratio of 0.25% and a year-to-date return of 4.16%. Morningstar rates VGPMX as a four-out-of-five-star investment.
Tocqueville Gold Fund (MUTF: TGLDX): Assets are invested in gold mining and processing in domestic and foreign companies. There is an expense ratio of 1.34% and a year-to-date return of 13.8%. Morningstar rates Tocqueville as a four-out-of-five-star investment.
American Century Gold (MUTF: BGEIX): This fund has assets in securities related to the mining and processing of gold, as well as the distribution of precious metals. Funds have an expense ratio of 0.68% and a year-to-date return of 6.4%. Morningstar rates BGEIX as a two-out-of-five-star investment.
First Eagle Gold (MUTF: SGGDX): Assets for this fund are in gold securities of mining finance companies and processing companies. The funds have an expense ratio of 1.25% and a year-to-date return of 10.06%. Morningstar rates SGGDX as a five-out-of-five-star investment.
Oppenheimer Gold & Special Minerals B (MUTF: OGMBX): Investments for this fund are in domestic and foreign gold mining and processing companies. It has the higher expense ratio of 2.09% (average expense ratios are 1.40%). The year-to-date return is 0.78%, and Morningstar has rated this gold mutual fund at two out of five stars.
Money Morning recently detailed for our Members the importance of owning gold now - and delivered a two-part "cheat sheet" that outlines the right amount of gold for your portfolio. You can get that gold investing guide - for free - here.
Related Articles: