Venture capitalists are stepping up the pace at which they are investing in Bitcoin, a powerful sign that the digital currency is on track to fulfill its promise of being the most innovative and disruptive force since the Internet.
According to a running tally on the CoinDesk website, venture capital Bitcoin investments in May alone totaled $56 million, which was nearly as much as the 2014 total through the first four months, $57.24 million.
And just today (Monday), Bitcoin security startup BitGo announced it had raised $12 million in Series A financing from Redpoint Ventures.
That puts the year-to-date venture capital Bitcoin investment figure at $125.24 million. If investing in Bitcoin maintains the current pace, total investments will eclipse $250 million for the year.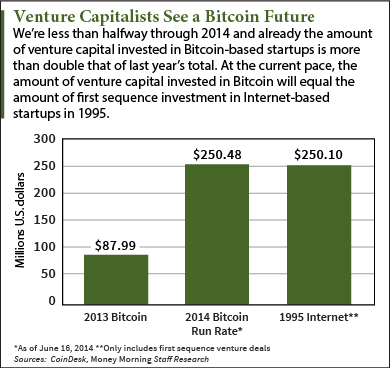 Some may be tempted to dismiss $250 million as insignificant, given that venture capital investments totaled $29.4 billion last year, according to PricewaterhouseCoopers.
But what's key here is the rapid acceleration.
A total of $250 million would be nearly three times the Bitcoin investments from venture capitalists in 2013.
"We're still in the very early innings of the bitcoin industry as a whole. If you compare it to the Internet industry, we're probably back in 1995 or 1996 and right now it's all about infrastructure," Pamir Gelenbe, a venture partner at Hummingbird Ventures, told MarketWatch.
In fact, $250 million is about equal to the first-sequence venture capital investments made in Internet-based startups in 1995. (Almost all the investments in Bitcoin startups to date have been early round.)
This is a point that Marc Andreessen, one of the co-founders of venture capital firm Andreessen Horowitz, has made often. Andreessen Horowitz has already invested $50 million in Bitcoin startups and is intent on investing "hundreds of millions" more.
"In 1994, as a venture capital firm, it would have been a good idea to take the Internet seriously and it would have been a good idea to invest in a cross section of [Internet] companies [...] the venture firms that did do that did extremely well," Andreessen said at a Bitcoin event in March.
Of course, not everyone is convinced. It's not hard to find opinions on Bitcoin that deride the digital currency as a bubble or worse, a scam.
So what are venture capitalists seeing that has convinced them to pour ever-increasing amounts of money into Bitcoin? Take a look...
Why Investing in Bitcoin Looks Good to Venture Capitalists
At this point in Bitcoin's history, it's almost impossible for most people to see its full potential. But that's what venture capitalists do for a living, and they fully expect Bitcoin to change the way people use money as much as the Internet transformed how we communicate and use information.
The key to understanding Bitcoin's potential, you see, is to realize that's it's not just another way to pay for things like checks or credit cards. The "blockchain" - the digital record of every Bitcoin transaction - bestows many other properties on the digital currency.
So while it's clear to many that Bitcoin will have some impact on financial services, few suspect just how comprehensive that impact could be, thanks to the blockchain.
"Although payment transaction fees are the most obvious fees that could be reduced by using bitcoin technology, we believe the use of the blockchain asset ledger and bitcoin protocol could also challenge financial services fees such as deposit fees, foreign exchange fees, escrow, trust management fees, collections fees, etc.," Wedbush Securities wrote in a report last month on Bitcoin.
But Bitcoin is enticing more and more venture capital because it has potential to disrupt industries outside of financial services.
One area that Wedbush identified in its report was the Internet of Things. That's the idea that all of our electronic devices - including thermostats, autos, and wearable tech like wristbands - will communicate wirelessly with each other, creating a treasure trove of useful data.
Among the major concerns with all that data is privacy and security, but those are problems Bitcoin's architecture can solve.
In an earlier report on Bitcoin, Wedbush also suggested that Bitcoin's blockchain could "decentralize trust" providing a new way to verify such things as selling property, buying stocks, enforcing legal documents, and placing bets.
"If the contract is in the blockchain and can be triggered by data feeds there is less need for lawyers, debt collectors etc.," explained Wedbush analyst Gil Luria in the report. "If the ownership and financing terms of a car is on the blockchain, and the car can only be started by the rightful owner, you don't need debt collectors. The car will not let the driver operate it if they have not paid their car payment."
In short, Bitcoin has almost unlimited application far beyond the current perception of it as merely a form of money, with the limit being only the imaginations of entrepreneurs.
It's no surprise, then, that venture capitalists are starting to pile into Bitcoin investments this year.
"The take-away from 2013 for many venture capitalists was the need to establish a Bitcoin strategy," Matthew Roszak, co-founder of the venture capital firm SilkRoad Equity, told MarketWatch. It was "the wake up and smell the Bitcoin moment for them."
Share this article on Twitter and follow us @moneymorning
More on Bitcoin: At first blush, a Bitcoin fund might appear too risky for a retirement account. But many retirement advisors now advocate setting aside up to 10% of a portfolio for "alternative" investments. Here's how a Bitcoin fund could play a role in your retirement planning...
Related Articles: