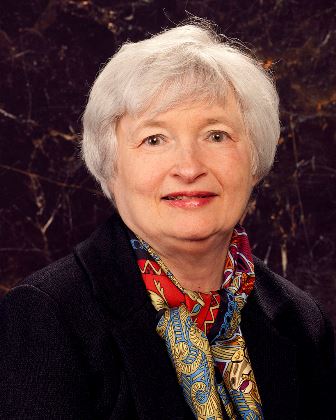 The U.S. Federal Reserve will convene its two-day Federal Open Market Committee (FOMC) meeting today (Tuesday), its fourth of the year and the third with Fed Chairwoman Janet Yellen in charge.  The FOMC is expected to announce a further reduction in the Fed's ongoing asset-buying program, but the real question is where short-term interest rates are headed.
After March's FOMC meeting, the Fed reaffirmed its commitment to keeping the federal funds target rate within the 0% to 0.25% window - where it has been since December 2008 - for a "considerable" period, but in the following press conference Yellen indicated that rate hikes could happen just six months after the end of this period of monetary easing.  
This would establish an earlier timetable for rate hikes than what many investors had anticipated, as evidenced by the market drops on that day. The Dow Jones Industrial Average lost 114.02 points on the day, while the S&P 500 Index lost 11.48 points and the Nasdaq dropped 25.71 points.
Further fueling interest rate concerns after the March FOMC meeting was Fed observers' fixation on the "dot plot" - a scatter plot displaying FOMC participants' expectations (scroll to page 3 here for plotted data). The graph showed a slight shift in the projections for the Fed funds rate, with more FOMC participants expecting larger rate increases in 2015 compared to what they expected in earlier meetings.
At the March post-FOMC meeting press conference, Yellen dismissed concerns over the shift in the dot plot.
"There is only very limited upward drift," Yellen said.  "I think that one should not look to the dot plot, so to speak, as the primary way in which the Committee wants to or is speaking about policy to the public at large."
Yellen added that the shift could be explained by faster labor market improvements than expected. This jobs market has been the story recently, as reports indicate the economy has added more than 200,000 jobs in each of the last two months while the unemployment rate dropped to 6.3%.
But, recent developments make the dot-plot projections seem obsolete ...
The International Monetary Fund (IMF) tempered economic optimism Monday when it revised U.S. growth projections to 2% from an earlier prediction of 2.8%.
The IMF's growth forecasts are in line with those of Money Morning Chief Investment Strategist Keith Fitz-Gerald, who has been skeptical that stimulus policies would help the United States come close to the elusive 3% growth figure.
"As I said years ago, the U.S. would be lucky to do 3% even with trillions of dollars in stimulus, noting all the things that the IMF has apparently just figured out - a loss of economic momentum, a sluggish housing market, and a stubborn jobs market," Fitz-Gerald said Monday.
Fitz-Gerald said he sees this downward revision providing fodder for a dovish policy on interest rates.
"I've got to believe that Yellen will make a statement or statements in the next few months now that she has a growing body of supposedly 'independent' research to fall back on in addition to her own team's half-baked economic data," Fitz-Gerald said.
FOMC Meetings Fail to Bring Interest Rate Clarity
Following the last meeting, Yellen rolled back previous statements made by the Fed in December 2012, when the Fed anticipated low rates would remain low as long as unemployment remained above 6.5%. That threshold has since been reached with little clarity on the interest rate outlook.
Labor market improvements have prompted the Federal Reserve to taper its asset-purchasing program, which came out of an FOMC meeting in September 2012 as a way to push down long-term interest rates through monthly Fed purchases of long-term Treasurys and mortgage-backed securities to the tune of $85 billion a month.
In every FOMC meeting since December, the Fed has announced a $10 billion reduction in its purchase of these securities. Fed observers expect that to continue with this next round of FOMC meetings, which would further reduce the pace of the bond-buying program from $45 billion a month to $35 billion a month.
Now as the taper continues and quantitative easing winds down, observers have also begun to wonder when and how the Fed will offload its $4.34 trillion - and growing -  balance sheet.
As Fitz-Gerald pointed out earlier this year, the Fed is probably wondering, too.
"Fundamentally, there are significant cracks in the system," said Fitz-Gerald in January. "There is no 'Plan B', and the Fed is making it up as it goes along."
By 1:30 p.m., the markets remained relatively flat as the Dow Jones Industrial Average advanced slightly by a little above 9 points ahead of today's FOMC meeting. The Nasdaq rose a little north of 18 points, and the S&P 500 advanced around 2.5 points.
Today's Top Story: Even though the government is telling us that inflation is low, product prices continue to rise at an inexorable rate. And this "hidden" inflation could wipe out your small returns...