Stocks to watch: Nuance Communications Inc. (Nasdaq: NUAN) stock continues its climb today, rewarding investors with 12% gains in the last 24 hours. The voice recognition company, whose technology is used to power Apple Inc.'s (Nasdaq: APPL) Siri, is said to be looking into a sale of the company - possibly to Apple's rival, Samsung.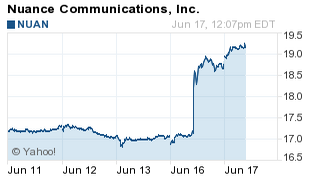 Word of a potential sale by Nuance surfaced Monday in The Wall Street Journal. Based in Burlington, Mass., Nuance's voice recognition technology is used in smartphones, televisions, and GPS navigation devices. Top clients include Apple and Samsung.
Nuance's relationship with Apple, while long assumed, wasn't made public until last year. You see, Apple strongly encourages its suppliers not to discuss any dealings. Most comply with Apple's request, as they don't want to lose $527-billion-market-cap Apple as a customer.
Nuance Chief Executive Officer Paul Ricci, however, confirmed its relationship with the iPhone maker at 2013's AllThingsD conference. "We are the fundamental provider of voice recognition for Apple," Ricci said.
That sparked speculation that Apple would make a move to take over Nuance for $7 billion. Industry watchers maintained it simply made sense for Apple to own the technology behind its personal assistant, Siri, and to cut out competitors.
Indeed, in addition to its own Dragon dictation software and its affiliation with Apple, Nuance works with Samsung, Daimler AG, Nintendo Co., Panasonic, and others to develop voice applications. Nuance also announced last September that its voice and language technologies, already bundled in Samsung's handsets, televisions, and tablets, will be used in Samsung's wearable devices - a red-hot sector.
Surprisingly, Nuance's biggest business isn't in the smartphone market. Its healthcare unit, which produces software designed to digitize patient records, is its largest. The company's mobile unit, with a focus on phones, cars, and tablets, is the second biggest. In its last fiscal year, Nuance booked $1.86 billion in revenue.
Also on Nuance's books is that activist investor Carl Icahn is its biggest shareholder. Icahn owns about 19% of Nuance and has two representatives on the company's board, according to March 31 filings. The billionaire investor is known to use his significant clout to steer public companies' financial policies - and to sharply move share prices.
Icahn also holds a substantial position in Apple, which he just boosted. Following Apple's recent 7-for-1 split, Icahn boosted his stake in the iPhone by 2.8 million shares, worth some $1.65 billion. He now owns 7.5 million shares.
It's not clear where talks between Nuance and Samsung, some of which happened earlier this year, currently stand and whether they would result in a deal, according to The Journal.
But Icahn's considerable stock positions in both Nuance and Apple could be troubling for Samsung and lucrative for those investing in Nuance stock. Icahn's involvement in companies can trigger double-digit returns in weeks.
Even better for investors: As we pointed out weeks ago, there's a lot more to liking NUAN stock than just the Icahn factor...
Why We Like Nuance Communications (NUAN) Stock
Money Morning Defense & Tech Specialist Michael A. Robinson was quick to spot Nuance as the best way to profit from the voice recognition revolution.
Recognizing voice technology is "no longer just a cool 'nice to have' feature," but "an integral part of personal computing," Robinson named Nuance as a stock to buy in April.
Looking into Nuance's potential, Robinson found a thriving multinational software company with some 4,000 patents in voice recognition and imaging technology.
"Nuance services a dozen industries, including mobile, automotive, legal, and medical," Robinson wrote. "The company has more than 1,200 speech scientists. No wonder it has a voice assistant that speaks 38 languages: The company works with more than 2,000 global partners."
And its technology is getting more sophisticated.
Chief Marketing Officer Peter Mahoney said in an interview a few months ago that the company has been working on the capabilities of its virtual assistants to "communicate with humans more fluidly."
Nuance is working on improving its personal assistants to better approximate human behavior. That means it's pushing its own systems to store more data and consider more contextual information before making decisions. Additionally, Nuance is pushing its personal assistants to learn relationships, classifications, and genres, and to also recall previous conversations. All are aimed at providing more proactive recommendation engines.
Sale or no sale, Nuance shares looks like a solid recommendation.
"This is an opportunity to invest in a firm that offers the broadest portfolio of technology in the growing sector of voice recognition," Robinson said.
NUAN stock jumped 2.12% to $19.18 in morning trading, just shy of its 52-week high of $20.01.
More from Michael A. Robinson on tech investing today: Here's How the Latest "Not-a-Gadget" Will Propel Apple Stock 50% Higher
Related Articles: