This isn't on the investing public's radar at all. In fact, as far as most investors are concerned, this place doesn't even exist.
But right now the World Bank, along with a small, publicly traded company that we'll show you in a moment, is on a $1 billion quest to map sub-Saharan Africa's mineral wealth.
That's a big, expensive job, of course, but the inevitable payoff will reach into the trillions.
$1 trillion never came so cheaply.
And we have the perfect opportunity to play along, before anyone else even realizes this is happening...
An Ancient Market Is New Again... and It's Red Hot
The ancients knew Africa as a place of opportunity, of extraordinary plenty, rich in gold, silver, diamonds, timber - a resource investor's dream. And that's still true. It hasn't changed. 
But that immense wealth proved - for a time - to be a curse, as rapacious exploitation dominated the African scene from the 16th century until very recently. That troubled history, and all the ills that followed, have tended to put modern investors off of the immense opportunities Africa is offering - all over again. 
The growing global demand for resources means that a lot of money and energy is being put toward eliminating old obstacles to investing in Africa. At the same time, representative democracy and better government is on the rise in many of the continent's countries.
And that great confluence of trends means that this time, foreign investors and Africa's own people will be able to benefit from the resource rush.
And that rush is starting now. Just look at the chart above. According to Financial Times, foreign investment in Africa will set a record this year, rising to $84 billion, surpassing even pre-2008 crisis levels.
China Is a Huge Player Here... but There's Plenty of Room
China is Africa's largest trading partner, with much of their activity focused on resources. And it's no wonder.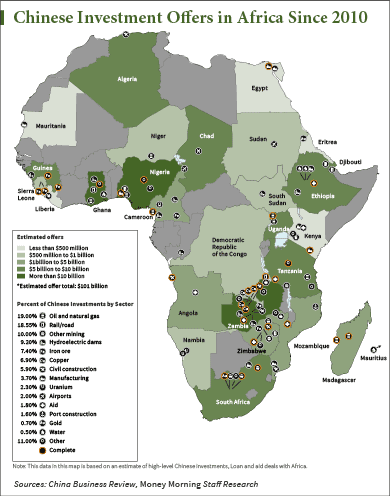 The U.S. Geological Survey has ranked Africa as having the No. 1 or No. 2 reserves of bauxite, cobalt, industrial diamonds, manganese, phosphate rock, platinum group metals, and zirconium.
Now oil is becoming increasingly prevalent as well.
As you can see in this chart at right, the Chinese have earned considerable goodwill on the continent through major investments in infrastructure projects like roadways and power transmission.
A study by KPMG, a global audit, tax, and advisory services firm, revealed that in 2012, 16% of Africa's exported commodities (by value) made their way to China and came from 23 different African nations. Nearly one-third of China's imported oil is African.
Last September China's Tianjin Minerals inked a deal worth $990 million for 16.5% of a Sierra Leone iron ore mine owned by African Minerals Ltd. In 2012, Shandong Iron & Steel Group forked over $1.5 billion to help finance African Minerals' operations.
This Is the Most Lucrative Mega-Project on Earth
So finding ever more resources has become a top priority.
That's why the World Bank has committed $200 million to a five-year fund and has been meeting with mining companies and governments from sub-Saharan Africa. 
The project has multiple goals. First, they want to collect and integrate existing data from the participating government ministries into a universal digital platform accessible to the public. 
The next step will be to conduct gap analyses to figure out which areas lack data. And third, surveys and mapping projects will be done across the continent in order to close identified gaps.
To collect the required data, state-of-the-art technologies such as satellites and airborne surveys will be the main tools.
To be sure, the data will help African governments negotiate more favorable agreements with mining companies. But by the same token, those same mining companies will benefit from better targeting their exploration dollars.
It's not just African governments who've expressed interest, either. The World Bank is in the midst of establishing a multi-donor fund, for which Australia, Canada, and the United Kingdom have indicated their potential support, while contributions may eventually come from mining companies, too.
The approach will resemble that of Australia, Canada, and the European Union, which integrate provincial surveys.
This Is the Best Way to Participate
Like most of the global trends we follow, this one is going to make investors a lot of money.
Here's how...
A macro approach would have you look at an African ETF like the Market Vectors Africa Index (ETF) (NYSE Arca: AFK). 
As Africa continues to grow, all sorts of sectors will benefit. Currently this fund consists of 34% basic materials and energy, with financials representing another 36%. It's trading at a very reasonable P/E of 12, while yielding a nifty 2.53%.
For a more targeted play, consider Tullow Oil Plc. (LON: TLW), with its main listing in London. It also trades over the counter under Tullow Oil Plc. (OTCMKTS: TUWOY).
It's a $13 billion oil explorer/producer that has been active in Africa since its founding in 1985. Tullow has had considerable success in Uganda, offshore in Ghana, and, recently, in Kenya.
But Tullow isn't going to stop there. The company is looking to extend its current "geological plays," that is to say, oil exploration, so they've actually expanded acreage in countries like Mauritania, Côte d'Ivoire, Guinea, and Ethiopia.
Keep in mind that comprehensively mapping Africa's resources could uncover upwards of $1 trillion of new mineral wealth. 
That means it's the perfect time to take a new look at an old, but underexplored, resource-rich African frontier.