The unfolding crisis in Iraq has Wall Street watchers keeping a keen eye on crude oil prices today.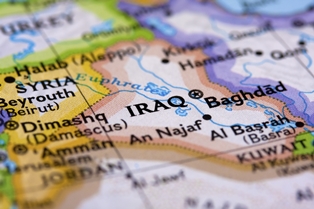 Iraq produces about 3 million barrels of oil per day - 80% of which is exported - and its civil war has market participants on an oil price watch. Crude oil futures ticked a tad lower Thursday as investors digested the supply and export outlook in Iraq, as well as demand prospects from the United States.
West Texas Intermediate (WTI) crude for August delivery slipped $0.21, or 0.2%, to $106.28 a barrel in morning trading. August Brent crude eked down $0.41, or 0.4%, to $113.59 a barrel.
The dips, however, are likely temporary.
As Money Morning Global Energy Strategist Dr. Kent Moors has explained, prices further out on the futures curve are rising much more quickly than anticipated as worries mount over global supply and demand.
"As the next-month rates [August 2014] fell in yesterday's [Wednesday's] trade, oil prices as far out as December 2018 began to spike," Moors said.
Here's what's weighing oil prices down for now - and what's ahead.
Crude Oil Prices Dip Lower Today on These Three Factors
Keeping oil prices in check Thursday were a trio of economic reports released Wednesday.
The U.S. Department of Commerce's final read on first-quarter U.S. gross domestic product was a huge disappointment. Whereas it initially reported that GDP grew by 0.1% in Q1, the figure was revised downward to a negative 2.9%, showing the economy shrank in the first three months of 2014.
A separate report revealed U.S. durable goods orders fell 1% in May, the first decline in four months.
Weekly supply data showed U.S. crude oil inventories increased by 1.7 million barrels to 388.1 million as of last week. Expectations were for a decline of 2 million barrels, according to a Platts survey.
Crude oil prices were also weighed Thursday amid an absence of signs that Iraqi oil production or exports have been disrupted.
Still, the situation in the region remains grave, as this latest news from the conflict shows:
Sunni militants have increasingly expanded their grip on the country's north and now control a wide swath of territory. Meanwhile, the bulk of the country's production and exports in the south have so far been spared in the months-long advance by the al-Qaeda-inspired group.
Insurgents, however, gained full control over Iraq's main oil refinery at Baiji on Tuesday. The Baiji complex plays a key role in Iraqi oil. It refines the country's crude into petroleum for domestic consumption, including for transportation and power stations. Word of the Baiji seizure sparked fears of an oil shortage.
As the situation grows more intense, Exxon Mobil Corp. (NYSE: XOM) and BP Plc. (NYSE ADR: BP) have ordered some workers to leave projects in Iraq. In addition, the International Energy Agency (IEA) just trimmed its forecast for Iraq's capacity expansion to 2019 by 470,000 barrels a day. Iraq will boost production by a "conservative" 1.28 million barrels a day to produce 4.54 million a day by 2019, the IEA projects.
"In a situation like this, I would rather be a buyer [of oil]," Ole Hansen, head of commodity strategy at Saxo Bank A/S in Copenhagen, told Bloomberg. "This is not the time to hand over control to someone else considering markets potentially can react in either direction."
Also likely to alter the direction of crude oil prices is a historic U.S. ruling loosening a four-decade ban on oil exports....
U.S. Set to Export First Oil Since 1970s
The Obama administration has cleared the way for the first exports of unrefined American oil since the Arab oil embargo was enacted in the 1970s, according to The Wall Street Journal.
Additionally, the U.S. Department of Commerce has given Pioneer Natural Resources (NYSE: PXD) and Enterprise Products Partners LP (NYSE: EPD) permission to ship an ultralight, unrefined oil (condensate) that comes from the Eagle Ford region of Texas to foreign buyers.
Shipments could begin as early as August. The news sent PXD shares soaring $11.42, or 5.15%, to $233.07 on Wednesday. EPD climbed $1.03, or 1.4%, to $77.14.
The Commerce Department ruling initially allows for 20,000 barrels a day of new condensate exports. The amount could rise to as much as 200,000 barrels a day, the estimated Gulf Coast capacity of stabilization units, according to a Citigroup report.
The ruling comes as U.S. oil output has grown by 1.8 million barrels per day over the last three years, thanks to the fracking boom. Some 96% of new production is in the form of light or ultralight oil (condensate), according to the Energy Information Administration.
The new move is sure to be met with opposition in Congress. A number of lawmakers maintain Americans would benefit from lower fuel prices if the government upholds the longtime oil export ban.
With crude oil prices comfortably resting over $100 a barrel, Americans are currently paying an average of $3.68 a gallon at the pumps, according to AAA.
But don't expect prices to come down, even if the export ruling is overturned.
While America no longer imports as much oil as it used to, and is on the cusp of exporting oil, U.S. gasoline prices are more influenced now by the wider global market than in the past.
"Once again, we are reminded that how secure the supply of oil is and how much it will cost are two very different issues," said Moors.
Welcome to the new normal for gas prices.
Up Next: The conflict in Iraq is escalating beyond all hope of control - and it's impacting a huge number of investments worldwide. So we reached out to Dr. Kent Moors, one of very few people who have advised both the Kurdish regional and Iraqi federal governments. What he told us was incredible - and potentially profitable...
Related Articles: