Investors are always looking for cheap stocks on the rise because the right ones can bring huge gains in a very short period of time.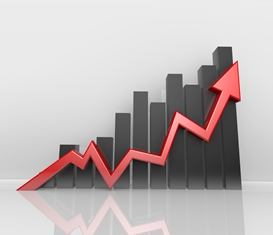 Some cheap stocks end up in the discount bin due to sell-offs in the broader markets. Take RF Micro Devices Inc. (Nasdaq: RFMD) for example. When the tech sector pulled back in early 2014, RFMD stock dropped to $4.50 per share. Investors who bought in at those low levels have seen profits of 117% since January. Today, RFMD trades at $9.76 per share.
Other stocks debut at a low enough price that investors think they are undervalued. Zendesk Inc. (NYSE: ZEN) made its public debut at $9 in mid-May, and quickly jumped to $18.75 - a gain of 108%.
Some of the fastest-moving cheap stocks are penny stocks - which you can buy for less than $5 a share. Because these stocks have small market caps and low prices, they can be very volatile. But investors who are on the right side of the price swings can yield triple-digit gains in just weeks or days.
Regardless of why stocks trade at low prices, cheap stocks have the potential to bring investors big game. Here are five cheap stocks that have already posted big gains in 2014, but still have room to run...
"Must Watch" Cheap Stocks on the Rise
Cheap Stocks on the Rise No. 1: Atlantic Power Corp. (NYSE: AT) owns and operates power generation projects and sells electricity to utility and industrial customers. AT stock has climbed nearly 44% in the past three months, but that may just be the start for the penny stock.
Last week, analysts at Imperial Capital rated AT stock as a "Buy" and placed a $7 price target on the stock. Reaching $7 would be a 75% gain for AT from where it's currently priced, just above $4. Additionally, the analysts at Zacks Investment Research have rated AT stock as a "#2 Buy," the second-highest ranking they provide.
AT shareholders are given a huge dividend each quarter - a yield of 9.9%. Moreover, AT has beaten earnings estimates by an average of 72% in the last four quarters.
Cheap Stocks on the Rise No. 2: Dot Hill Systems Corp. (Nasdaq: HILL) designs, manufactures, and markets software and hardware storage systems. HILL is up 24% in the last three months and nearly 40% year to date, but is still considered a penny stock as it currently trades at $4.69.
This week, HILL was added to the Russell 3000 Index, the small-cap Russell 2000 Index, and the Russell Global Index. The indexes are reconstituted annually based on market capitalization, and HILL's $281 million market cap made the cut this year.
Last week, HILL made news when Roth Capital Partners placed a $7 price target on the stock and rated it as a "Buy." The consensus price target for HILL is $6, meaning the penny stock has room to run.
Those aren't the only cheap stocks with profit potential, check out these three more...
Cheap Stocks on the Rise No. 3: Office Depot Inc. (NYSE: ODP) provides office products and services to customers across the globe. In the past three months, ODP stock has jumped 38% compared to a gain of just 5.5% for the S&P 500 during the same time.
Currently, ODP shares trade just outside penny stock territory at $5.66, but the consensus price target for the stock is $6.15. And that's not the most bullish opinion for ODP stock. Of the 14 brokers polled by Thomson/First Call, one placed a price target of $8 on the stock.
ODP has a market cap of $3 billion, and a 52-week range of $3.84 to $5.85. In the current quarter, analysts expect ODP to post sales growth of 57% year over year.
Cheap Stocks on the Rise No. 4: MAG Silver Corp. (NYSE: MVG) is a silver mining company that has two projects in the Mexican Silver Belt, an 800-kilometer area along the Sierra Madre Occidental mountain range. Mexico is the world's leading silver producer, and the Silver Belt is one of the nation's top silver-producing regions. In the last three months, MVG stock is up 30%. Year to date, it's up 84%.
But that doesn't mean investors can't still make a profit on MVG. Analysts polled by Thomson/First Call have placed a consensus price estimate of $10.41 on the stock, which represents a 10% increase from its current value. The most bullish analyst has a price target of $13.10 on the stock.
Since mid-May, MVG has seen two upward revisions in its earnings estimates. The most recent revision represented a 36% increase in earnings.
Cheap Stocks on the Rise No. 5: Pretium Resources Inc. (NYSE: PVG) acquires, explores, and develops precious metal properties. The company's biggest projects are located in British Columbia. In the last three months, PVG stock has climbed 36%. In 2014, PVG is up more than 60%.
Currently, PVG trades at $8.27, but the stock has a mean price target of $12 - a 45% increase from the stock's current value.
Zacks Investment Research has a "#1 Strong Buy" rating on PVG, which is the highest rating the company gives. PVG has a market cap of $878 million and a 52-week range of $2.70 to $10.14.
What cheap stocks on the rise have made your "must watch" list? Join the conversation on Twitter @moneymorning using #CheapStocks.
Bioscience investing might seem complicated at first, but Money Morning's Ernie Tremblay says it shouldn't be. Here's how he's tapping big profits from a bioscience niche not everyone knows about...