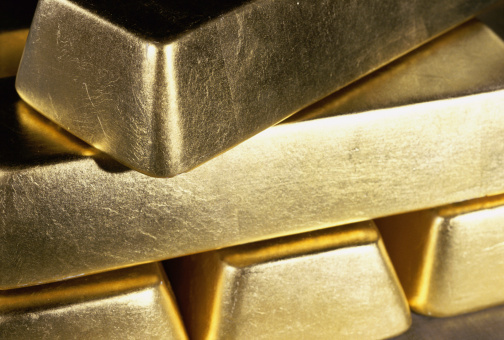 Gold stocks
are poised for an upswing.
Just recently, the European Central Bank (ECB) announced a new policy to promote lending and, ultimately, inflation in the Eurozone. The move sent investors flocking to precious metals like gold and silver.
That's because precious metals tend to move in tandem with inflation. As the value of a currency decreases - which is an effect of inflation - the price of precious metals increases. A declining value of a currency means that it takes more of that currency to purchase an ounce of the metal.
Since there is fear of inflation in the United States due to U.S. Federal Reserve action, and there is a specific attempt to produce inflation in Europe, right now there is upward pressure on the
price of gold. Accordingly,
gold prices
have risen in response to the ECB's June 5 policy changes.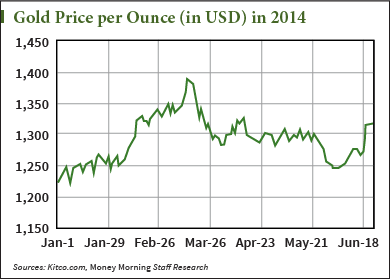 "The medium and longer term for gold is very bullish," Money Morning Resource Specialist Peter Krauth said after the ECB's action. "In fact, sentiment is rough in the precious metals space right now. But that only makes their future that much more compelling. Banks are accelerating their easing ever more."
Besides the uncertainty of inflation in Europe and the United States, new policy changes in India are also bolstering gold prices.
You see, India houses the world's second-highest demand for gold. Together with China, it accounts for more than half of global consumer demand for gold, which is calculated by demand for jewelry, bars, and coins.
And a recent election in April saw the seating of a new government in India. On account of the platforms of these new leaders, the Indian press has indicated to expect a considerable decrease in import duties.
"This would be a major step forward, as duties right now sit at 10%," Krauth said. "Clearly this is likely to be a major shot in the arm for the gold price, and it could happen within the next few months. This, along with geopolitical concerns and negative interest rates in Europe - not to mention sustained high production, consumption, and imports to China - has set the stage for higher gold prices."
With the upward pressure on gold prices, here are three gold stocks that can benefit from a potential price spike...
Three Gold Stocks to Watch
New Gold Inc. (USA) (NYSEMKT: NGD)

New Gold Inc. is a gold-mining company with operations in North America, Australia, and Chile. The company was formerly known as DRC Resources Corp. and changed its name to New Gold Inc. in June 2005.

NGD saw its share prices drop by about 25% between March and April of this year. It's at a low point now, which means that it's a value play if gold goes up. The company also shows strong fundamentals. It beat earnings estimates in April and has a great cash flow statement.

New Gold stock has climbed 18.56% since June 2. It traded at $6.26 per share on Thursday.

NovaGold Resources Inc. (USA) (NYSEMKT: NG)

NovaGold Resources Inc. explores and develops mineral properties in North America and internationally. The company primarily explores for gold, silver, and copper deposits.

Last month NG's stock price just pushed through its 50-day moving average as well as its upper Bollinger Band.

The stock is also seeing some unusual call activity - another sign of potential price appreciation.

NG shares are up a whopping 39.87% since June 2, and traded at $4.21 per share on Thursday.

Royal Gold Inc. (USA) (Nasdaq: RGLD)

Royal Gold Inc., with operations predominantly in North America, engages in the acquisition and management of precious metals royalties, precious metals streams, and similar interests. The company focuses on acquiring royalty interests, or financing projects that are in production or in development stage in exchange for royalty interests.

RGLD has seen some mild price appreciation over the past few months. Shares are up 20.22% since June 2, and 63.66% year to date. This is due in part to the fact the company beat earnings estimates last quarter. In May, Morgan Stanley also initiated coverage of the stock with a "Buy" rating.
As gold prices rise, look to Money Morning's two-part "cheat sheet" that outlines the right amount of gold for your portfolio. You can get that gold investing guide - for free - here.