Silver prices have been sideways this week, cooling off from a mid-June rally sparked by inflation-minded investors wary of the U.S. Federal Reserve's dovish talk.
Prices of the white metal were up just 0.7% by the close of market yesterday (Wednesday) at $21.20 an ounce and were actually trading lower than the week's start on Thursday morning. This was after a rally that began the week of the Fed's FOMC meeting, when Fed Chairwoman Janet Yellen's reticence on inflation prompted traders to pour into alternative investments. Volume was up 129.5% on the day of the FOMC meeting, and silver traded up 6.1% on the week.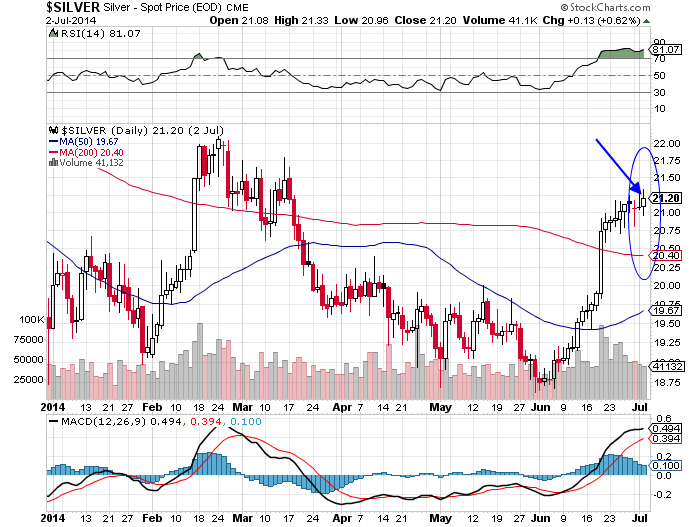 The next week, silver volume steadied and prices saw a very modest 1.3% gain, buoyed by traders who dragged their feet on the Fed momentum. This week it has slowed down even more ahead of the holiday weekend.
Silver has ebbed and flowed this year. Its prices saw big gains in February when it surged about 15% to a closing high of $21.96 and hit an intraday high of $22.18. But all of the year's gains were erased moving into April, with Yellen once again a likely culprit. Her talk of earlier-than-anticipated interest rate hikes spooked investors out of precious metals, and the descent pushed the price of silver down to $18.80 by the start of June.
From that point on, silver "has almost not looked back since, with nary a down day in that time," said Money Morning Resource Specialist Peter Krauth. It has seen its most productive month, tallying a 12% increase in June that has since been blunted by thin holiday trading.
"Very recently speculators were the most bearish in a decade," Krauth said. "I think silver prices have been strong because they've simply lagged for a long time."
Here's where we see silver prices going next.
Slow Summer Trading Could Open the Door for Fall Rally
The summer is historically a weak time for silver trading, Richard Checkan, president and Chief Operating Officer (COO) of Asset Strategies International in Rockville, Md. told Money Morning. There may be a slow gradual rise going into the fall - when it could really begin to start climbing - making now a good time for investors to get in.
"For me, when it stays kind of muted then there's great opportunity where you don't have to rush in but you can step in," Checkan said.
This month silver may have grown too fast and investors may have been a little overeager, Krauth said, which could prompt traders to sell off at these new three-month highs. However, he still sees opportunity for growth.
"I wouldn't be surprised to see a bit of profit-taking as the price may have gotten temporarily ahead of itself," Krauth said. "After that, we could well see continued strength."
The next target for silver, Krauth said, is $22.50, and at this pace it could take out the February highs.
After 117 years the London Silver Fix is finally shutting down in August, unencumbering the white metal from the artificially low price fixes set by a small coterie of banks. With demand for physical silver hitting all-time highs, and market forces overtaking manipulation, now is the time to jump in on the coming silver bull market...read more...