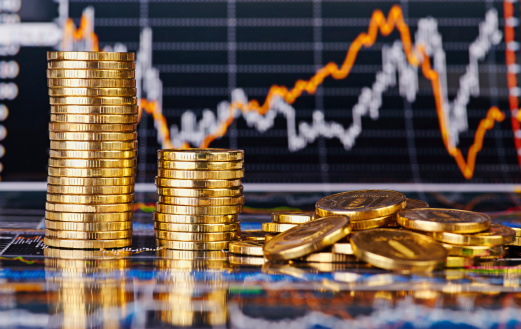 With interest rates at an all-time low,
high-yield stocks
have replaced bonds as the best option to provide a stream of income in a portfolio. What's more, they deliver the added perk of equity ownership for potential growth.
If you're thinking about jumping in on the current bull market to boost your net worth but you're still finding that you're averse to risk, then you should consider high-yield stocks.
The Investing Basics of High-Yield Stocks
Many stocks pay dividends. That's income to the shareholders, typically paid quarterly. These high-dividend yields are greatly sought after by income and value investors.
High-yield dividend stocks are stocks that pay a relatively high income as compared to: 1) their share price, and 2) other stocks.
For example, International Business Machines Corp. (NYSE: IBM) pays $4.40 per share in dividends. Its stock price is $188.07 per share. This gives IBM a dividend yield of 2.34%.
Opinions vary as to the minimum dividend yield that make a "high-yield stock." Some analysts might actually consider IBM a high-yield dividend stock, while others are looking for much higher yields.
Why High-Yield Stocks Are So Attractive to Investors
There are a couple of reasons why high-yield dividend stocks are so attractive to investors.
First, they provide income. Stocks that don't have any dividend can only appreciate in value to contribute to shareholder wealth. Stocks that pay dividends, and healthy dividends at that, contribute to shareholder wealth with a steady income. They have a higher total value.
Second, high-yield dividend stocks provide a hedge against potential downside. If a stock price drops 4% over a year, while that same stock pays a 5% dividend yield to shareholders who bought it at the beginning of that year, then the shareholders actually come out ahead by 1%.
Some Attractive High-Yield Stocks Right Now
The following three are examples of attractive high-yield stocks right now:
AT&T Inc.
(NYSE:
T
) - AT&T has a dividend yield north of 5%. If you're looking for a steady, high-yield stock with a long track record, AT&T - which is still a Dow component - is a great option. On Thursday, T stock traded at $35.74 per share, up 1.59% year to date. It pays a quarterly dividend of $0.46, for a yearly total of $1.84.
MFA Financial Inc. (NYSE: MFA) - Real Estate Investment Trusts (REITs) tend to have outstanding dividend yields. This is not a coincidence; it's a requirement of being an REIT. These special corporations must pay out at least 90% of their earnings in the form of dividends. In doing so, REITs can avoid paying income taxes. MFA Financial stock traded at $8.08 per share on Thursday, and has gained 14.45% in 2014. It pays out a quarterly dividend of around $0.20, for a total annual payout of $0.80 and a dividend yield good for 9.8%.
Banco Santander S.A. (NYSE ADR: SAN) - Banco Santander provides an opportunity for investors to invest internationally while earning a healthy income. It's a bank that's principally based in Spain, but it also operates in the United States, the U.K., Portugal, and in Latin America. SAN is one of the top high-yield stocks, with a dividend yield good for 6.11%. Its quarterly payout of around $0.16 is good for an annual payout of $0.64. SAN traded at $10.61 per share on Thursday, up 17.09% year to date.
The government threat to your assets is growing... again. We've seen it happen in Cyprus, where bank accounts were "raided" to bail-in the country. We've seen it in Argentina, Poland, Hungary, and other nations where private pensions were nationalized to help the countries' ballooning debts and deteriorating sovereign credit ratings.
Well, now a French "economist" is using his best seller as a platform to advance a tax "plan" centered on your wallet. Here's how to stop this threat to your income in its tracks...