Alibaba stock could start trading on the New York Stock Exchange as soon as August, and the Chinese e-commerce IPO is expected to be one of the largest U.S. IPOs ever.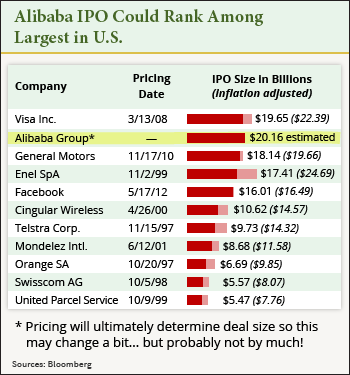 The Alibaba IPO is likely to raise more than the $16 billion that Facebook Inc. (Nasdaq: FB) raised in 2012. Some have even projected a total of more than $20 billion, which would be a U.S. record.
Projections for Alibaba's valuation have continued to rise as well. While many have pegged the e-commerce titan as a $168 billion company, some have valued the company over $200 billion. That includes Piper Jaffray analyst Gene Munster, who just last week valued Alibaba at $221 billion.
But for those who buy Alibaba Group Holding (NYSE: BABA) stock following its public debut, the size of the initial public offering is much less important than the performance of BABA stock.
Of course, there are a lot of factors that contribute to how a newly issued stock performs. To get some perspective on how trading can go, let's look at the performance of fellow monster IPOs Visa Inc. (NYSE: V), General Motors Co. (NYSE: GM), and Facebook...
Alibaba Stock vs. Previous IPO Giants
Visa Inc. currently holds the record for the largest U.S. IPO ever, having raised $19.65 billion in 2008. In the first day of trading, V stock closed at $56.50, which was a 28% gain from its $44 offer price.
While Visa stock did dip in its first year of trading, it has rebounded nicely since the recession of 2008. Investors who bought V stock in its first full-week of trading have banked gains of 235% through today. The stock is up 392% from its IPO price.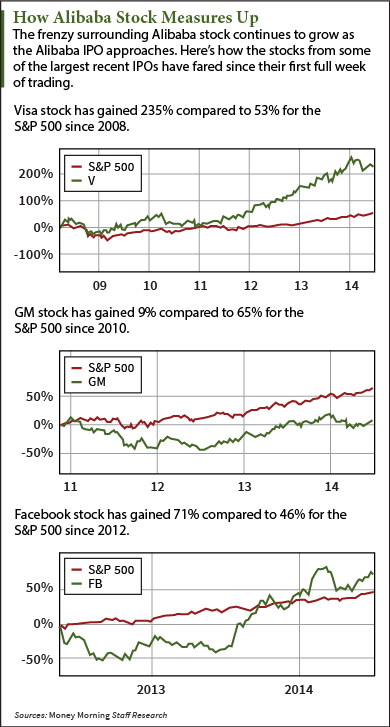 General Motors Co.
currently holds the No. 2 spot on the list of largest U.S. IPOs after raising $18.14 billion on Nov. 17, 2010. GM stock jumped as much as 9% in its first day of trading, before closing with a 3.6% gain. GM had offered shares at $33 and closed its first day of trading at $34.19.
The GM IPO was a special circumstance because the company had been the beneficiary of a $50 billion government bailout just one year earlier. Before the IPO, the U.S. government held a 61% stake in the company, but the offering brought that total down to 33%.
While the stock sputtered through 2011 and 2012, it has regained considerably. Today, shares are up 9% from their first full week of trading and up 13% from the GM IPO price.
Facebook Inc. held the largest Internet IPO ever in May 2012, raising $16 billion. In its first day of trading FB stock had a modest return of 0.6% from its offer price of $38.
After a rough first year, FB stock has had a nice rally in the last 12 months. Investors who bought in following the IPO have banked a gain of 71% since the stock's first full week of trading. That has easily outpaced the gains by the broader markets in the same time, as the S&P 500 has climbed 46% and the Nasdaq is up 52%. FB is up 72% from its IPO price.
While these three notable stocks have brought investors nice returns since their IPO dates, Alibaba could outperform these companies because of the market it operates in...
Check Out These Bullish Figures Behind Alibaba Stock
The first thing that jumps off the page of the Alibaba prospectus was the firm's revenue. In May, the company reported having $5.66 billion in revenue and $2.85 billion in net income for the nine months ending Dec. 31.
In 2013, its most popular site, Taobao, handled $177 billion in transactions. Approximately $70 billion exchanged hands over Alibaba's second largest site, Tmall, during the same time. For perspective, Amazon.com Inc. (Nasdaq: AMZN) handled $100 million and eBay Inc. (Nasdaq: EBAY) handled $54 billion.
The company also reported that its network of sites handles 80% of all online retail sales in China. That's a figure that can't be understated, because the Chinese Internet market is growing rapidly...
"Alibaba is the dominant e-commerce player in a marketplace - China - that's seeing incredible growth in online commerce," Money Morning's Executive Editor Bill Patalon said. "In my Private Briefing research service, we've been talking about this for several years now, and our folks have cashed in on such stocks as Baidu (30%) and Bitauto (60%)."
"According to the latest research I've seen, e-commerce in China is projected to hit $540 billion by 2015, and that's just for starters. By 2020, China's e-commerce market will be worth more than the United States, the United Kingdom, Japan, Germany, and France combined. So we know that growth is coming... and we know that Alibaba is the No. 1 gun."
"Look at it another way: the number of consumers and business folks connected to the Internet in China - whether you're talking about computers, tablets, or smartphones - is bigger than the entire U.S. population. And the government there is actually pushing growth. Beijing has mandated that 1.2 million folks - 85% of its population - will have broadband connections (3G or 4G) by 2020."
As the Chinese Internet and e-commerce markets grow at an incredible rate, Alibaba will be positioned perfectly to profit from that growth, especially considering it already controls 80% of the Chinese e-commerce market.
But BABA stock isn't the only way to play Alibaba. The best news about this looming IPO is that it has created a major profit opportunity that most investors haven't yet noticed... It's happening now, months before Alibaba hits the market...
In fact, this could be your one and only chance to make the kind of gains normally reserved for the high-net-worth investors and bankers. You can learn more about this Alibaba profit play here.
Do you plan on investing in the Alibaba stock when BABA stock hits the market? Join the conversation on Twitter @moneymorning using #Alibaba and $BABA.