Monday brought a flurry of deals across several sectors, sending the Dow Jones Industrial Average to an all-time intraday high shortly after the open.
Those transactions are featured on today's hot stocks to watch list, along with earnings from a big bank, a bullish upgrade for a tech favorite, and more.
12 Hot Stocks on the Move: C, AAPL, KOG, and More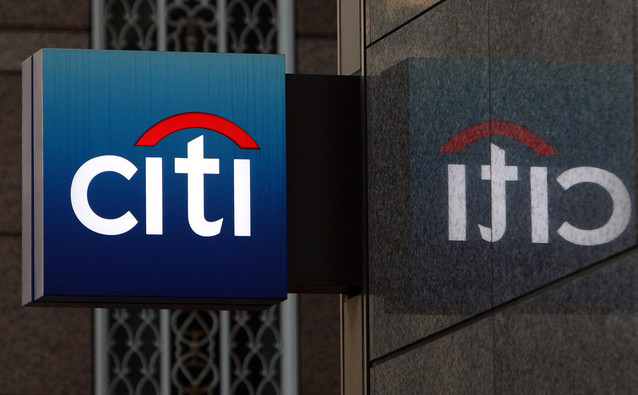 Citigroup Inc. (NYSE: C) kicks off today's hot stocks list. Shares climbed 4% to $48.83 after posting Q2 numbers that handily beat Wall Street estimates. The troubled bank earned (excluding settlement charges) $3.93 billion, or $1.24 a share in Q2. That was up from $3.89 billion, or $1.25 per share, in the same quarter a year ago, and better than earnings per share (EPS) estimates of $1.05. While revenue slipped to $19.34 billion from $20.48 billion year over year, the figure came in ahead of projections of $18.93 billion. Separately, the mega bank announced a $7 billion settlement with the U.S. Department of Justice over mortgage securities sold prior to the 2008 financial crisis. The amount was more than twice what many analysts had expected, but less than the $12 billion the government had originally sought. As a result, Citi will take a $3.8 billion charge against Q2 earnings.
Apple Inc. (Nasdaq: AAPL) shares rose more than 1% to $96.67 after Barclays upgraded the tech giant to "Overweight" from "Equal Weight." The firm said Apple Chief Executive Officer (CEO) Tim Cook has solidified his strategy and regained the confidence of shareholders. In separate Apple news, the iPhone maker is denying charges by China that location-tracking software in its iPhones represents a threat to national security in that country.
Kodiak Oil & Gas Corp. (NYSE: KOG) shares popped 5% to a 52-week high of $15.11 after inking a $3.8 billion all-stock deal on Sunday to be acquired by Whiting Petroleum Corp. (NYSE: WLL). The tie-up will make Whiting the largest producer in North Dakota's Bakken shale oil formation, unseating Continental Resources Inc. (NYSE: CLR) for the top spot. In eclipsing Continental, Whiting is "signaling its desire to become the preeminent player in what is considered one of North America's most prolific shale formations, where more than 1 million barrels of oil are extracted daily," Reuters wrote. "It's going to allow our production at the combined company to grow faster than Whiting standalone did before," Whiting CEO James Volker said. Whiting shares rose 7% to $84.26, also a 52-week high.
Money Morning Members - keep reading. If you aren't already a Money Morning Member, sign up to get the rest of our hot stocks list - and you'll get our free guide: The Absolute Beginner's Guide to Trading and Investing
Abbot Laboratories (NYSE: ABT) shares climbed 1% to $41.95 after agreeing Monday to sell its established generic drug business outside the United States to generic drug maker Mylan Inc. (NYSE: MYL). Under terms of the all-stock deal, Abbott gets a 21% stake worth roughly $5.3 billion in a new company that combines Mylan's existing business with Abbott's developed pharmaceutical market operations in Europe, Japan, Canada, Australia, and New Zealand. The transaction also lets Mylan engage in an inversion. The Pennsylvania-based company will reincorporate in the Netherlands to lower its corporate taxes and free up cash held in overseas entities. Mylan shares rose nearly 4% to $53 in early trading.
Reynolds American Inc. (NYSE: RAI) rose 2% to $62.93 after RBC Capital Markets boosted its rating and price target on the tobacco giant to "Outperform" from "Sector Perform" and upped its price target to $72 from $56. Reynolds is presently in talks to buy smaller rival Lorillard Inc. (NYSE: LO). If successful, the pair "would transform the U.S. tobacco industry and put additional corporate muscle behind the already hot electronic-cigarette market," according to The Wall Street Journal.
Shire Plc. (Nasdaq ADR: SHPG) shares surged $5.82, or 2.32%, to a 52-week high of $254.86. The Irish drugmaker said Monday its board is prepared to recommend a sweetened takeover bid received over the weekend from AbbVie Inc. (NYSE: ABBV), paving the way for a merger. In the latest bid, Chicago-based AbbVie is offering to pay cash and stock equal to roughly 53.20 pounds a share, or about $53 billion. That's up from a prior offer of $51 billion. If completed, AbbVie will reincorporate in Britain, saving millions of dollars in taxes in a process called an inversion.
Alcoa Inc. (NYSE: AA) shares rose modestly Monday morning, yet still hit a 52-week high of $16.25. The aluminum maker inked a 10-year, $1.1 billion agreement with Pratt & Whitney, a division of United Technologies Corp. (NYSE: UTX) for jet engine components. The deal comes less than a month after Alcoa bought UK jet engines parts-maker Firth Rixon Ltd. for $2.85 billion, a move aimed at building out its aerospace business and cashing in on anticipated growth in the commercial jet market.
Nasdaq OMX Group Inc. (Nasdaq: NDAQ) shares rose 2.5% to $40.81 in morning trading. Evercore Partners upgraded the exchange operator to "Overweight" from "Equal Weight" with a $46 price target.
Sotheby's (NYSE: BID) shares jumped 1.4% to $40.41 after announcing a partnership with eBay Inc. (Nasdaq: EBAY). Starting this fall, most of Sotheby's New York auctions will be broadcast live on a new section of eBay's website. The auction house expects to eventually extend the partnership by adding online-only sales and streaming auctions taking place around the globe. The tie-up gives eBay's 145 million customers instant bidding access to the profusion of Sotheby's offerings, which range from fine wines to rare art works.
URS Corp. (NYSE: URS) shares soared 10% to a 52-week high of $57.50 on extremely heavy volume. Sunday, engineering design firm AECOM Technology Corp. (NYSE: ACM) said it will pay $56.31, or about $4 billion in cash and stock, to acquire URS, an engineering and construction services company. The combined entity will boast some $19 billion in annual sales with an employee headcount of more than 95,000. The deal is expected to close in October. ACM shares surged 5% to $33.43.
Weatherford International Plc. (NYSE: WFT) shares jumped 2% to $22.46. The oil field services company has struck a deal to sell Russian and Venezuelan assets to Russian energy producer Rosneft Oil Co. (OTCMKTS: RNFTF). The amount of the deal, which requires a series of approvals, was not disclosed. Last week, Goldman Sachs raised its price target on WFT to $23 from $20.
Western Digital Corp. (Nasdaq: WDC) shares jumped more than 1% to a fresh 52-week high of $99 after Deutsche Bank reiterated its "Buy" rating on the hard drive storage maker and upped its price target to $118 from $100.
Don't forget to download your free Member report: The Absolute Beginner's Guide to Trading and Investing.
Now for Today's Top Story: The planning stage to consolidate currencies is underway, with the goal of creating a single currency for the world. Here's how to prepare for this seismic currency shift - and profit.