A new survey estimating how high Alibaba stock will rise after the company's initial public offering (IPO) highlights how bullish investors are about the potential of this Chinese e-commerce giant.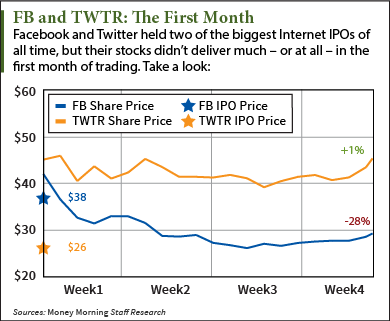 Typically, highly anticipated IPOs can be extremely volatile in their first months of trading. Facebook Inc. (Nasdaq: FB) and Twitter Inc. (NYSE: TWTR) are prime examples.
Facebook watched its stock open at $42 from its offer price of $38, only to fall 9% in the first day. FB stock dipped 50% in its first three months of trading. Facebook shares remained below their IPO price for about 15 months, but have now doubled in the past year.
TWTR shares soared as high as 93% from their offer price in their first day of trading in November 2013, before closing up 73% for the day. TWTR stock tripled from its $26 offer price in its first six weeks of trading - then suffered five months of steady decline that nearly erased all gains. TWTR now trades about 40% above its IPO price.
But, according to a survey from research firm ConvergEx Group,the investing world expects a much better performance from Alibaba stock...
Check Out These New Alibaba Stock Performance Predictions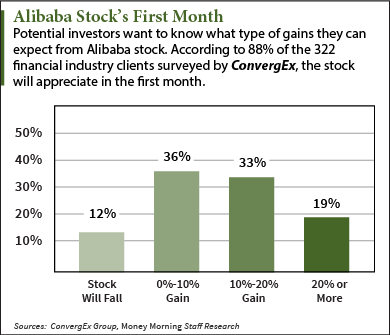 ConvergEx Grouprecently conducted a survey of 322 asset managers, hedge funds, banks, brokers, and other financial industry participants to see how they think Alibaba stock will perform in the first month.
According to ConvergEx, 88% of those polled believe that Alibaba stock will appreciate in its first month of trading. Of those, 33% believe the stock will post a gain between 10% and 20%. Additionally, 19% believe the stock will jump more than 20% in the first month alone.
Looking long-term at Alibaba stock, 15% of those surveyed described Alibaba stock as a "Very Good" long-term (three to five years) investment, 49% described it as "Good" and 32% described it as "Neutral." Only 3% of those surveyed described it as "Poor" and just 1% described it as "Very Poor."
And these optimistic projections from industry experts could lead to an influx of buying once shares are public, sending Alibaba stock even higher.
But this bullish survey isn't the only reason the Alibaba IPO could outperform some of the biggest IPOs of all time. We've compiled numerous industry and company figures that have us very optimistic about the upcoming Alibaba IPO.
Why We're Bullish on Alibaba Stock
Money Morning's Executive Editor Bill Patalon has been keeping investors informed on Alibaba's potential since talk of an IPO started last year - and has been talking about the potential in China's e-commerce industry for even longer.
"Alibaba is the dominant e-commerce player in a marketplace - China - that's seeing incredible growth in online commerce," Patalon explained. "In my Private Briefingresearch service, we've been talking about this for several years now, and our folks have cashed in on such stocks as Baidu (30%) and Bitauto (60%)."
"According to the latest research I've seen, e-commerce in China is projected to hit $540 billion by 2015, and that's just for starters. By 2020, China's e-commerce market will be worth more than the United States, the United Kingdom, Japan, Germany, and France combined. So we know that growth is coming... and we know that Alibaba is the No. 1 gun."
"Look at it another way: the number of consumers and business folks connected to the Internet in China - whether you're talking about computers, tablets, or smartphones - is bigger than the entire U.S. population. And the government there is actually pushing growth. Beijing has mandated that 1.2 million folks - 85% of its population - will have broadband connections (3G or 4G) by 2020."
The fact that China is experience explosive e-commerce and Internet growth is extremely bullish for Alibaba... Because the company dominates the market.
When Alibaba filed its IPO, the company reported that roughly 80% of all Chinese online retail sales take place over its network of sites.
For context, its most popular site, Taobao, handled $177 billion in transactions in 2013. Approximately $70 billion exchanged hands over Alibaba's second largest site, Tmall, during the same time. That easily beat Amazon.com Inc. (Nasdaq: AMZN) and eBay Inc. (Nasdaq: EBAY) which handled $100 million and $54 billion in 2013 respectively.
The Alibaba IPO could be just a month away, and BABA stock isn't the only way to play Alibaba. The best news about this looming IPO is that it has created a major profit opportunity that most investors haven't yet noticed... It's happening now, months before Alibaba hits the market...
In fact, this could be your one and only chance to make the kind of gains normally reserved for the high-net-worth investors and bankers. You can learn more about this Alibaba profit play here.
Do you plan on investing in the Alibaba stock when BABA stock hits the market? Join the conversation on Twitter @moneymorning using #Alibaba and $BABA.