Silver is having a slow week right now, although it got a boost today stemming from fears over geopolitical conflict.
Silver prices fell to about $20.79 at 11 a.m. EDT this morning (Thursday), but surged ahead to $21.23 within an hour. The advance happened after a Malaysian plane crashed on the Ukrainian-Russian border. The Boeing 777 was said to be transporting about 295 passengers from Amsterdam to Kuala Lumpur, The Telegraph reports.
Before that, silver stemmed two straight days of losses yesterday (Wednesday), closing with a 0.2% gain on the day and trading at $20.83 an ounce.
The iShares Silver Trust (NYSE: SLV) ETF is also down 0.7% on the week, while the ProShares Ultra Silver ETF (NYSE: AGQ) is down 2.7%, by the close of the market yesterday.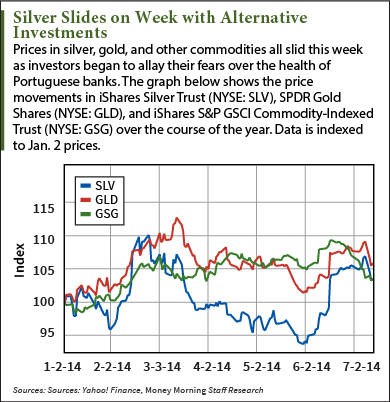 Coming into this week, silver slid as much as 3.5%, as news from Europe allayed investor fears over the health of the Portuguese financial sector.
"Part of [silver's price decline] was backing away from the view that the Portuguese bank problems represented a serious threat to the European banking system as a whole," managing partner at CPM Group Jeffrey Christian, wrote in an email to Money Morning. "Perhaps investors had a weekend to let the news sift through their brains, and realized the sky wasn't falling?"
Concerns arose last week for Portugal's largest lender, Banco Espírito Santo SA, when it suspended shares on the heels of steep losses. These losses were triggered by panic over the financial health of the parent company Espírito Santo International SA, which missed payments to some investors holding short-term commercial paper.
This provided a boon to silver prices, as they were up 1.7% on the day yesterday, and rounded out their sixth straight week of gains. Silver, as well as other precious metals, generally performs well when the markets panic as investors look for a hedge to protect against a loss in other investments.
This six-week period between June and July usually sees weak trading for silver, but as traders covered short positions and the U.S. Federal Reserve remained reticent on inflation expectations, silver has since seen as much as a 14.5% increase at the height of the rally from the lows it hit in June.
Silver Prices Still Poised to Advance Despite Some Profit Taking
While silver was trading as low as $20.63 Wednesday, down from the week's opening price of $21.48, Money Morning Resource Specialist Peter Krauth said this is just a function of the white metal hitting three-month highs and investors taking gains where they can.
"I have to say that I do think this is simply the market's healthy process of profit taking," Krauth said. "It had a good run lately."
Silver joined gold, platinum, grains, and oil in this most recent decline in prices.
Krauth said to watch for silver to hit its next benchmark around $22, a figure it touched a couple of times in February but wasn't able to maintain as silver hit an almost three-month bearish cycle going into March.
"I think we need to see silver close above $22 and remain there," Krauth said. "It's the last high it tried to best twice in February, but couldn't quite beat."
The reign of a small cabal of banks fixing the price of silver is set to end in August, dismantling a 117-year-old institution that kept silver prices artificially low. Here's what it means now that silver's price will be unfettered and allowed to float with the market...