The Alibaba IPO will be one of the largest U.S. IPOs ever, as most analysts expect the Chinese e-commerce company to raise up to $20 billion through the deal.
The hype surrounding the initial public offering has reached a fever pitch as investors look for any updates about the Alibaba IPO date, IPO price, and the company's financials.
But one thing that investors have already learned through the IPO process is that Alibaba has an unorthodox corporate structure - and it's one that will keep power firmly in the hands of the company's founders.
In fact, the way that Alibaba will decide its board of directors will be very different from what most American investors are used to.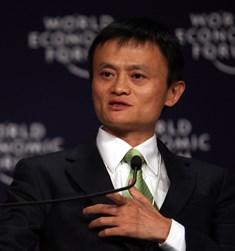 Alibaba Group Holding Ltd. (NYSE: BABA) has 27 partners that will do most of the nominating when it comes to members of the e-commerce company's board. From there, shareholders will vote on who makes the final cut.
While that seems normal at first glance, it comes with a catch...
Many of Alibaba's biggest shareholders - including Yahoo Inc. (Nasdaq: YHOO), which owns a 24% stake in the company - will be required to vote in favor of those nominated by the 27 partners. The combined shares of Yahoo, Executive Chairman Jack Ma, Executive Vice-Chairman Joseph Tsai, and other major shareholders will represent a near majority, thus all but guaranteeing those nominated by the 27 partners will end up making the board of directors.
"[W]e expect the Alibaba Partnership nominees will receive a majority of votes cast at any meeting for the election of directors and will be elected as directors," Alibaba said in its prospectus.
For their part, Alibaba has been very open about the lack of voting power retail investors will possess.
"This governance structure and contractual arrangement will limit your ability to influence corporate matters, including any matters determined at the board level," the company said in its IPO filing.
While the process might seem strange, it's actually just a variation of a strategy that is actually quite common...
Alibaba IPO: Keeping Innovators in Charge
The corporate structure Alibaba employs is meant to keep the people who created the company in charge. Founder Jack Ma and his team have made Alibaba the largest e-commerce firm in the world's largest e-commerce market.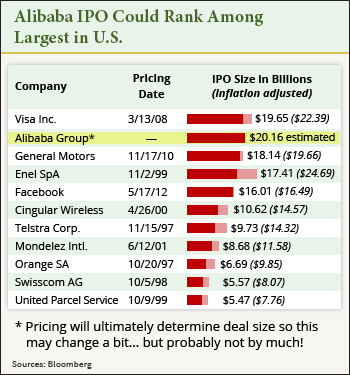 Accordingly, they want to ensure that they are still the ones making the biggest decisions for the company, instead of having new shareholders dictate Alibaba's direction.
That's a sentiment that is shared by some of the most innovative companies in the world.
Both Google Inc. (Nasdaq: GOOG, GOOGL) and Facebook Inc. (Nasdaq: FB) have separate classes of shares for owners and for retail investors. The shares that the owners control come with voting rights, while the ones that are sold to retail investors do not.
Just like Alibaba, these companies want to ensure that the innovators that made Google and Facebook into powerhouses stay at the helm.
Not everyone agrees with the structure, including the Hong Kong Stock Exchange. The exchange requires that listing companies adhere to a "one stock, one vote" model, and Alibaba was not willing to budge.
That led Alibaba to the New York Stock Exchange, which isn't as strict regarding how companies are structured.
While not having voting rights may be a problem for some, most investors playing the Alibaba IPO are far more interested in the company's huge business rather than its board.
"Alibaba is the dominant e-commerce player in a marketplace - China - that's seeing incredible growth in online commerce," Money Morning's Executive Editor Bill Patalon said. "According to the research I've seen, e-commerce in China is projected to hit $540 billion by 2015, and that's just for starters. By 2020, China's e-commerce market will be worth more than the United States, the United Kingdom, Japan, Germany, and France combined. So we know that growth is coming... and we know that Alibaba is the No. 1 gun."
Alibaba handles more money in transactions than Amazon.com Inc. (Nasdaq: AMZN) and eBay Inc. and (Nasdaq: EBAY) combined. It's expected to have a value between $130 billion and $200 billion when it hits the market.
That's why many investors can't wait to get their hands on BABA stock when it hits the market.
FOX News, citing unnamed sources, has reported that the Alibaba IPO date is set for Sept. 16. However, the company has not officially announced a specific date, saying only that it will wait until after Labor Day (Sept. 1) for the initial public offering.
This looming IPO may be a month away, but you can profit now. The best news about the Alibaba IPO is that it has created a major profit opportunity that most investors haven't yet noticed... It's happening now, weeks before Alibaba hits the market...
In fact, this could be your one and only chance to make the kind of gains normally reserved for the high-net-worth investors and bankers. And there are three ways to play. You can learn more about this Alibaba profit opportunity here.
Join the conversation on Twitter @moneymorning and @KyleAndersonMM using #Alibaba.