Sputtering personal computer maker Hewlett-Packard (NYSE: HPQ) posted a surprisingly strong jump in revenue when it reported fiscal Q3 results after today's close - but the HPQ stock price still fell after hours.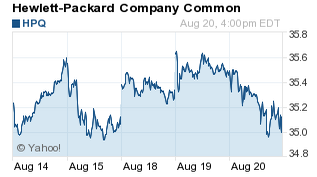 In early after-hours trading, HPQ shares dipped 1.03%, or $0.36, to $34.75.
Here's a quick look at the quarter's highlights.
Hewlett-Packard Earnings
Earnings per share came in in-line at $0.89. Wall Street was looking for HP to post fiscal Q3 earnings per share (EPS) of $0.89, up from $0.86 in the same quarter a year ago. HP has said it expected EPS of $0.86 to $0.90.
Revenue rose to $27.6 billion, handily beating the expected $27.03 billion. Revenue was expected to come in at $27.03 billion, slightly lower than the $27.23 billion reported in the year-ago quarter.
The Palo Alto, Calif.-based company is still working on a determined internal overhaul, aimed at goosing sales and polishing its image. The company's efforts appear to be slowly working.
The company continues to show progress in its personal computer business, which was indeed a bright spot in the quarter.
Over the last couple years, amid an increasing shift to tablets and souped-up smartphones, PC makers have experienced a sharp drop off in sales. But PCs sales are starting to pick up and PC makers are sounding more upbeat.
While tablets have indeed won places in homes, they aren't replacing computers in the workplace due to their limited capabilities.
"Companies are realizing there's a need for a productivity tool that's different than just a tablet," Whitman said last quarter.
Also helping the limping segment is that businesses are starting to replace antiquated computers and software in large part because of Microsoft Corp's (Nasdaq: MSFT) decision to phase out support for its outdated Windows XP operating system.
HP's printing segment, however, remains weak.
The segment has slumped for the last three years. HP's net printing revenue in 2013 was $23.8 billion, down from $24.5 billion in 2012 and down from $26.2 billion in 2011.
Printing net revenue declined due to unfavorable currency impacts, particularly the euro, and declines in supplies and commercial printers," HP explained last quarter.
This time around, the company said profitability in the segment is strong, and it remains committed to bringing growth back to the sector.
"Overall, I'm very pleased with the progress we've made," Whitman said in a statement. "When I look at the way the business is performing, the pipeline of innovation and the daily feedback that I receive from our customers and partners, my confidence in the turnaround grows stronger."
Whitman has impressed Wall Street with her ambitious turnaround efforts.
HP provided an optimistic outlook for the reminder of the year. The company projects full-year earnings per share of a robust $3.74.
With good things ahead for Hewlett-Packard, there is one major reason to expect the HPQ stock price to rise - take a look...
The Secret Weapon That Will Push the HPQ Stock Price Higher
Money Morning Defense & Tech Specialist Michael A. Robinson is bullish on Hewlett-Packard - going so far as to say that a game-changing technology currently in the development stages at HP represents "the future of computing."
The technology is known at HP as "The Machine," and according to HP scientists, it could replace an entire computer data center with just one computer the size of a refrigerator.
Combined with Whitman's turnaround strategy, Robinson believes that The Machine will help propel HP stock to new heights - at least 50% higher, as a conservative estimate.
"If the venture succeeds - and all signs are positive - The Machine will have an enormous impact on the future of computing. And it will give HP a brand-new, hugely profitable piece of hardware that is less of a product and more of a generational step forward," says Robinson. "I recommend you buy in now, before The Machine finds its mass audience."
A number of analysts have similarly high hopes for the HPQ stock price. Among 19 analysts that cover HP, eight rate HPQ shares a "Strong Buy," one a "Buy," nine a "Hold," and only one a "Sell."
Up Next: Stock overvaluation measures are emitting some early warnings signs, but there are protective measures we can take to minimize losses - and even grow our profits. Here's how today's valuations compare to 2000 - and what to do about it...
Related Articles: