The Alibaba IPO is expected to raise roughly $20 billion sometime in September, which would make it the largest U.S. IPO ever, ahead of the $19.65 billion Visa Inc. (NYSE: V) raised in 2008 and the $16 billion Facebook Inc. (Nasdaq: FB) raised in 2012.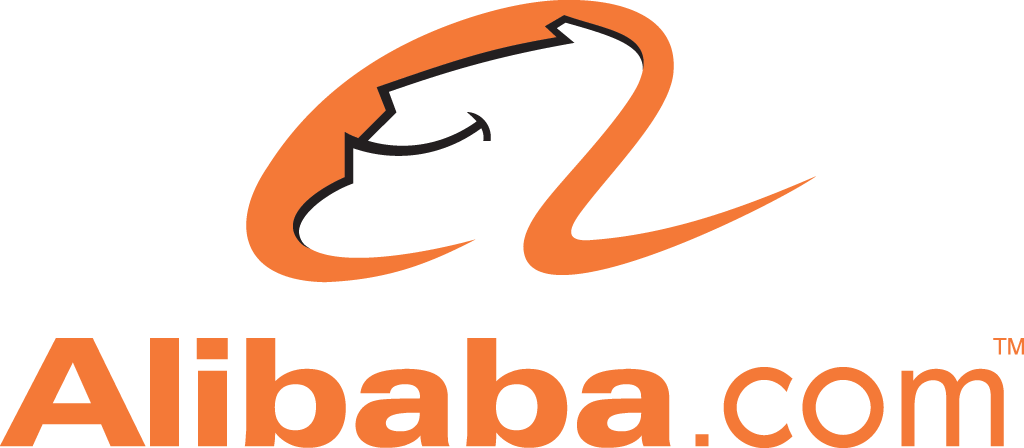 But the size of the Alibaba IPO won't only impact Alibaba Group Holding Ltd. (NYSE: BABA) shareholders and investors. A change in the deal's date is also having a major impact on other companies looking to hold IPOs in the coming months.
Originally, industry followers expected the company's stock would debut in August. Instead, the company wanted to wait until after the slower summer month passed. This gives the Alibaba IPO as much media coverage and exposure to prospective investors as possible.
Now several reports from both FOX Business and Bloomberg, citing unnamed sources, have claimed that Alibaba is eyeing Sept. 16 for its initial public offering.
However, the fact that the Alibaba IPO date was delayed has caused numerous other companies to postpone their public offerings as well...
Alibaba IPO's Effect on Other New Stocks
Following one of the most hyped IPOs of all time could make it difficult for smaller, lesser-known companies to sell new shares - especially if investors are spending big on Alibaba stock.
It's like a high school cover band taking the stage after the Beatles. They may have their charm, but they can't compete with the first act.
"Alibaba is going to get a lot of attention, and people will be distracted by it," Little Bear Investments LLC principal Zachary Prensky told The Wall Street Journal.
One example is the Royal Bank of Scotland Group Plc. (NYSE ADR: RBS), which had plans to spin off its U.S. bank, Citizens Financial Group Inc., in September. However, RBS has decided to delay the deal because of Alibaba, according to The Journal.
It isn't just the size of the Alibaba IPO that's worrying other companies. It's also the number of underwriters Alibaba is employing...
According to Alibaba's prospectus, Credit Suisse Group (NYSE ADR: CS), Morgan Stanley (NYSE: MS), JPMorgan Chase & Co. (NYSE: JPM), Deutsche Bank AG (NYSE: DB), Goldman Sachs Group Inc. (NYSE: GS), and Citigroup Inc. (NYSE: C) are all working on the deal.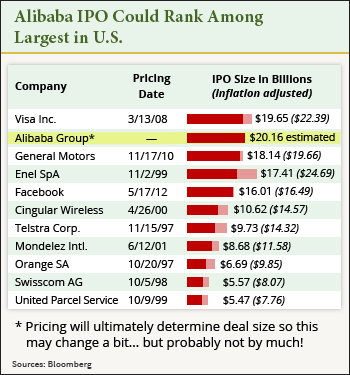 And all of those companies have their work cut out for them. Alibaba is a Chinese company, registered in the Cayman Islands, listing in the United States. It's estimated that it could be valued near $200 billion. That leads to a complicated IPO process.
On top of that, the underwriters will also be attempting to sell $20 billion worth of shares. That's no small feat.
Because of those factors, these banks will be investing an abundance of time and energy in the Alibaba IPO, much to the dismay of other companies trying to hold public offerings.
In fact, according to The Journal, this is another reason RBS will delay its market debut; it shares some of the underwriters for its Citizens IPO with Alibaba.
But waiting until after the Alibaba IPO could actually benefit other IPOs - especially if Alibaba stock is successful in its first month...
The Impact of Alibaba Stock's Success on Future IPOs
A quiet period in the IPO market (ahead of Alibaba) would be something investors haven't seen in a while. According to Renaissance Capital, 189 companies have held initial public offerings this year, making 2014 the biggest year for IPOs since the dot-com era ended in 2000.
However, the average return from IPOs this year is modest, at 13.5%. The success of Alibaba stock following the IPO could jump-start other stocks.
"I might want to get my deal out before [Alibaba] or wait until after the deal, because Alibaba's going to be so big," SMB Capital Management partner Steven Spencer told The Journal. "And if the deal is successful and [investors] feel good about the IPO market, people will have more risk appetite afterwards."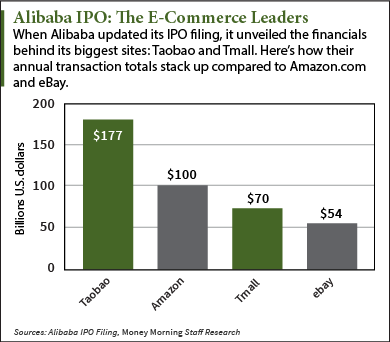 According to Money Morning's Executive Editor Bill Patalon, there are numerous reasons to be bullish on the Alibaba IPO and Alibaba stock.
"Alibaba is the dominant e-commerce player in a marketplace in China," Patalon said. "According to the research I've seen, e-commerce in China is projected to hit $540 billion by 2015, and that's just for starters. By 2020, China's e-commerce market will be worth more than the United States, the United Kingdom, Japan, Germany, and France combined. So we know that growth is coming... and we know that Alibaba is the No. 1 gun."
But it isn't just a dominant player compared to Chinese companies. Alibaba already handles more online transactions than Amazon.com Inc. (Nasdaq: AMZN) and eBay Inc. (Nasdaq: EBAY) combined.
In 2013, Alibaba's most popular site, Taobao, handled $177 billion in transactions. Approximately $70 billion exchanged hands over Alibaba's second-largest site, Tmall, during the same time. Amazon and eBay accounted for $100 million and $54 billion, respectively.
And those figures should continue growing.
"The number of consumers and business folks connected to the Internet in China - whether you're talking about computers, tablets, or smartphones - is bigger than the entire U.S. population," Patalon said. "And the government there is actually pushing growth. Beijing has mandated that 1.2 million folks - 85% of its population - will have broadband connections (3G or 4G) by 2020."
"Online-shopping spending in China reached $298 billion last year, easily surpassing U.S. sales of $263 billion,"he continued. "According to German research firm yStats, China's consumer e-commerce market soared more than 60% in 2013."
"Despite the torrid growth, China is still very much an online market in development - meaning the profit opportunities are huge."
The Alibaba IPO date may be weeks away but investors don't have to wait to begin profiting. The best news about this looming IPO is that it has created a major profit opportunity that most investors haven't yet noticed... It's happening now, weeks before Alibaba hits the market...
In fact, this could be your one and only chance to make the kind of gains normally reserved for the high-net-worth investors and bankers. And there are three ways to play. You can learn more about this Alibaba profit opportunity here.
Join the conversation on Twitter @moneymorning and @KyleAndersonMM using #Alibaba.
Related Articles: