According to multiple media reports, the Alibaba IPO date has been set for Sept. 16, less than three weeks away. 
Both Bloomberg and Fox, citing unnamed sources, reported earlier this month that Alibaba Group Holding Ltd. (NYSE: BABA) will begin the "roadshow" portion of its IPO on Sept. 3.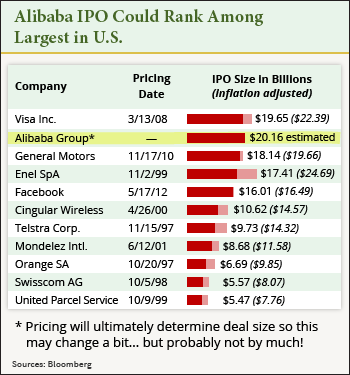 The roadshow will include more than 100 meetings starting in Hong Kong and Singapore. From there, founder Jack Ma and the Alibaba executive team will head to London, before making their first U.S. presentation in New York on Sept. 8. The marketing tour will eventually hit the cities of Boston, Los Angeles, and San Francisco before shares begin trading on Sept. 16.
Roadshow presentations are the primary way for companies to sell their shares before an initial public offering.
The Alibaba exhibitions take on added importance as the company looks to raise upwards of $20 billion. An IPO price that high would surpass the $19.65 billion Visa Inc. (NYSE: V) raised in its 2008 IPO for largest U.S. IPO ever.
Following the roadshow meetings, Alibaba will be announcing a price range for its shares. The day before the stock starts trading, Alibaba will meet with its underwriters one final time and set a final price for its shares. At that point, investors will know exactly how much money the Alibaba IPO raised.
According to Alibaba's prospectus, Credit Suisse Group (NYSE ADR: CS), Morgan Stanley (NYSE: MS), JPMorgan Chase & Co. (NYSE: JPM), Deutsche Bank AG (NYSE: DB), Goldman Sachs Group Inc. (NYSE: GS), and Citigroup Inc. (NYSE: C) are all working on the deal.
Company officials have not confirmed the reports, and another delay is entirely possible if there is any hold up. Jack Ma and the underwriters don't want to rush an IPO this large.
But if everything goes according to plan, we're just 11 trading days from the Alibaba IPO date. Here are the three most important facts investors need to know as we draw closer - plus here's how you can start profiting from this massive IPO today...
What to Know As Alibaba IPO Date Approaches
Alibaba's Market Is Growing Rapidly: "Online-shopping spending in China reached $298 billion last year, easily surpassing U.S. sales of $263 billion," Money Morning's Executive Editor Bill Patalon said. "According to German research firm yStats, China's consumer e-commerce market soared more than 60% in 2013."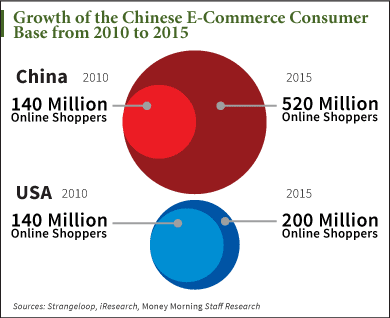 Alibaba is the dominant e-commerce player in a marketplace - China - that's seeing incredible growth in online commerce," Patalon continued. "According to the research I've seen, e-commerce in China is projected to hit $540 billion by 2015, and that's just for starters. By 2020, China's e-commerce market will be worth more than the United States, the United Kingdom, Japan, Germany, and France combined. So we know that growth is coming... and we know that Alibaba is the No. 1 gun."
By 2015, the number of Chinese e-commerce users is expected to hit 520 million - that's more than double the number expected in the United States.
Money Morning members, keep reading for two more must-know facts as the Alibaba IPO date approaches, plus find out how to profit from the Alibaba IPO now...
Alibaba's Latest Spending Spree: Alibaba has reportedly spent more than $5 billion on acquisitions in the year leading up to its IPO, and $1 billion of that has been spent on U.S. tech firms.
But according to Forbes, that could just be the tip of the iceberg. Reportedly, Alibaba could spend another $5 billion to $10 billion on U.S. tech firms following its public offering. That would bring Alibaba further into the U.S. market, and also provide them access to some of the most innovative minds in Silicon Valley.
And while Alibaba would benefit from the new acquisitions, the biggest winners would be these U.S. tech startups. Here's why...
Alibaba Is Impacting Other New Stocks: This massive IPO isn't just a big deal for Alibaba investors; it's having a major impact on other new stocks as well. While August is typically a slower month for IPOs, this month has been particularly sluggish as companies are avoiding IPOs with Alibaba so close.
It's a tough time for smaller, lesser-known companies to sell new shares - especially as many investors are waiting on the Alibaba IPO.
But while the IPO calendar may be empty this month, it's about to pick back up in a major way...
Now: The best news about the looming Alibaba IPO is that it has created a major profit opportunity that most investors haven't yet noticed... It's happening now, weeks before Alibaba hits the market...
In fact, this could be your one and only chance to make the kind of gains normally reserved for the high-net-worth investors and bankers. And there are three ways to play. You can learn more about this Alibaba profit opportunity here.
Join the conversation on Twitter @moneymorning and @KyleAndersonMM using #Alibaba.
Related Articles: