Something unexpected happened earlier this year that altered our prediction that Indian gold demand would soar in 2014...
You see, over a two-month period beginning in April, the Indian general election of 2014 - the largest-ever election in the world in terms of voter headcount - saw the seating of a new government in India.
With that, we expected to see the country's gold demand shoot up almost immediately. That's because the new government had campaigned on a political platform that called for the loosening of the country's heavy gold import duties. These duties have been stifling Indian gold demand since they were imposed in 2013.
But now it's five months past the election, and still, the stringent gold import duties have not been loosened whatsoever. The result: stifled gold demand. 
That's why data released by the World Gold Council (WGC) in August showed that Indian gold demand fell 39% to 204.1 tons in the second quarter. The WGC's report also showed that gold jewelry demand in the country was down 18% at 154.5 tons.
Here's how the heavy gold import duties are weighing on Indian gold demand - and why the new government hasn't lifted them yet...
How India's Import Duties Are Killing Indian Gold Demand
From May 1 to Aug. 20, 2013, the Indian rupee lost a staggering 20%, reaching all-time lows versus the U.S. dollar. This record-low rupee exchange rate pushed the gold price in India up almost 35% at the same time, to new record highs.
Indians were buying so much gold that it exacerbated the nation's current-account deficit, putting it at a record 4.8% for 2012. Short of banning the sale of gold outright, the Indian government tried nearly everything to slow gold purchases.
First, it imposed import duties on gold. Then it hiked those duties three more times - all the way to 10% in 2013 alone. Still not enough, on Sept. 17, the Indian Ministry of Finance raised gold jewelry import duties from 10% to 15%. It imposed an 80-20 rule, by which a minimum of 20% of all gold imported had to be exported before further imports could be made.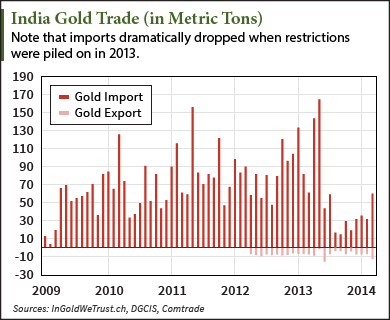 As a result of the government's action, higher rupee gold prices and ever-increasing gold taxes weighed on demand. Indian gold imports fell considerably in the latter half of 2013, dropping to 30% of former levels. The effect has continued in the first half of 2014.
But the elected officials who promised to loosen the import duties have not followed through because of uncertainties over oil prices and U.S. monetary policy.
"What's the point in relaxing everything and being faced with a higher interest rate scenario and higher oil prices," Somasundaram PR, head of WGC operations in India, said to Reuters last week. "Given all that I think (the rules) might extend into the first quarter of next year."
On the new government's first budget in July, the gold import policy was unchanged. Now India isn't expecting to see a duty reduction until 2015.
Still, gold bugs can expect Indian gold demand to rise considerably in the third quarter - in fact, it's already happening...
Indian Gold Demand Will Rise in the Latter Half of 2014
Indian consumers have begun paying a higher markup to global gold prices (known as a premium) from $10 to $13 a troy ounce from zero in July, according to a late August report from The Wall Street Journal. It's a sign that despite the import duties, Indian gold demand is picking up.
There are three reasons why...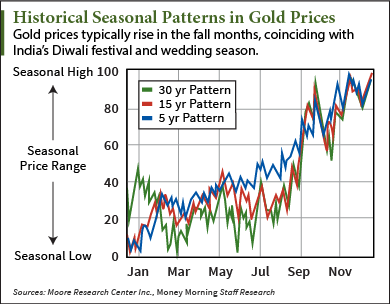 The first is a seasonal affect. During India's wedding season and Diwali festival, demand in the country skyrockets - so much so, that it pushes up the price of gold worldwide.
This period lasts from September through December.
"The fall is typically a very robust gold-buying period. The all-important wedding, festival, and harvest seasons are quickly approaching," Money Morning Resource Specialist Peter Krauth said.
The second reason gold demand is up is because the rupee has strengthened against the dollar - making domestic gold prices drop.
"Demand has risen as buyers have dived in after a heavy fall in prices over the past week," Rahul Gupta, managing director of Indian jewelry chain giant P.P. Jewellers, said to The Wall Street Journal on Aug. 25.
And the third reason Indian gold demand will rise in the latter half of 2014 has to do with the certainty that's been injected into the market, now that the new government's submitted its fiscal budget.
"We are entering Diwali with a slightly better mindset and the consumers are also clear that a price drop or an import duty cut won't happen in a hurry," Somasundaram said. "So the fact that the uncertainty is gone and normal purchasing behavior will return, we expect the second half will be better than the first half."
The WGC estimates that Indian gold demand could rise 27% to 500 tons in the latter half of 2014.
As Indian gold demand picks up, look to Money Morning's two-part "cheat sheet" that outlines the right amount of gold for your portfolio. You can get that gold investing guide - for free - here.
Related Articles
: