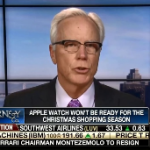 The impressive slate of announcements from Apple Inc. (Nasdaq: AAPL) yesterday (Tuesday) is all the more reason to be investing in Apple stock, according to Money Morning Defense & Tech Specialist Michael Robinson.
"I'm in it for the long haul," Robinson told host Stuart Varney. "I definitely would still be acquiring [Apple stock]."
In this video, Robinson talks what it is about the company's latest products that have him so bullish on AAPL stock...