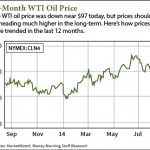 WTI oil prices were down this morning (Wednesday) to a low of $97.06 for September contracts, after the Energy Information Administration (EIA) reduced its 2014 price forecast yesterday.
Citing increased oil production in the United States, the EIA dropped its 2014 forecast for WTI oil prices to $100.45 per barrel. In July, the EIA had projected a price of $100.98 per barrel.
But according to Money Morning's Global Energy Strategist Dr. Kent Moors, oil prices will be heading much higher in the long-term.