Start the conversation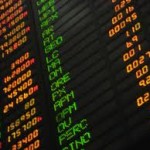 Stock market today, June 23, 2014: U.S. stock markets dipped on Monday as corporate mergers continued to make headlines and the United States saw home sales rise for a second consecutive month. Last month, sales of previously owned homes increased by 4.9%, the fastest one-month gain since August 2011.
The price of West Texas Intermediate crude oil was up 0.83% to $107.26 a barrel. The yield on the 10-year Treasury note remained in Friday's range of 2.61%.