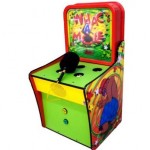 The Eurozone debt crisis that was supposed to have blown over long ago instead has become more like an endless game of Whac-a-Mole, with both new and old problems popping up faster than European leaders can bop them.
As Europe's finance ministers gathered in Dublin today (Friday), they faced at least half a dozen major issues threatening the fiscal health of the Eurozone.
Although Europe's leaders, in concert with the International Monetary Fund (IMF), have succeeded in keeping a lid on each successive crisis over the past three years, that streak can't survive in the face of the new and old fiscal woes that have been peppering the Eurozone.
U.S. investors can't let those past successes deceive them into thinking the Eurozone is no longer a worry.
When the Eurozone debt crisis finally implodes - and sooner or later, it has to - it will hammer stock markets around the globe.