Start the conversation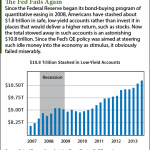 Despite billions in bond-buying "quantitative easing" and near-zero interest rates courtesy of recent Fed policy, Americans have stashed $1.8 trillion in low-yield accounts since the QE program started in 2008.
It's a failed stimulative policy that has left a shocking $10.8 trillion on the sidelines. But when it comes to investing in stocks in particular, the news gets even worse.