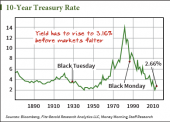 It's commonly held wisdom that stock markets go to heck in a hand basket when interest rates rise. So, the thinking goes, you'd be better off selling ahead of time before that happens.
No doubt it's tempting to head for the hills with rates at historical lows, but it pays to do your research before you hit the "sell" button.
The three companies I'm going to show you today, for example, can actually benefit from rising rates.
First, let's take an "Econ 101" look at the impact interest rates can have on stocks, especially when rates start rising...