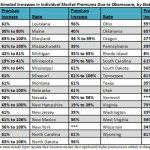 When touting his signature healthcare reform law, the "Affordable Care Act," President Barack Obama promised it would "cut the cost of a typical family's premium by up to $2,500 a year."
But a new congressional study says Obamacare has, in fact, increased the average family premium by $3,000 - and that's before the most costly requirements of the law take effect next year.
"Higher healthcare premiums are the last thing single young adults and working families can afford," the report stated. "Yet contrary to what the president promised, that is exactly what Obamacare is projected to do."