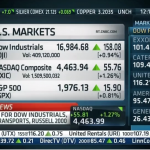 In a Tuesday appearance yesterday on CNBC's "Closing Bell" program, Money Morning Global Energy Strategist Dr. Kent Moors discussed his outlook for the strife in Iraq and what it will mean for oil prices.
"I think the situation in Iraq is about to deleverage, and deleverage quickly," Dr. Moors said. But he also said that certain oil companies were actually benefiting from the recent turbulence in oil prices.
In this video, Dr. Moors talks about why this is happening - and names the companies that stand to gain...