Start the conversation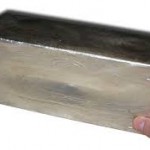 Precious Metals News: Silver prices today could slip if the December jobs report comes in higher than expected.
Silver prices traded in tight range Thursday ending the day a touch higher, up $0.076, or 0.31%, at $19.61 an ounce. But the price of silver fell Wednesday after strong ADP data. The ADP report showed 238,000 jobs were added in December, above the 200,000 expected. The U.S. dollar index edged higher following the ADP report, and metals were clipped.