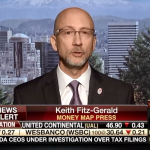 Unrest in Hong Kong could have very bad consequences for the markets, says Money Morning Chief Investment Strategist Keith Fitz-Gerald, including the U.S. stock market.
Reports of pro-democracy demonstrations in Hong Kong overnight was the primary reason the stock market today was lower this morning (Monday), with the Dow Jones Industrial Average down as much as 170 before recovering somewhat later in the day.
In this video, Fitz-Gerald explains how Americans investors will be affected by the riots in Hong Kong...