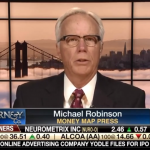 The stock market today (Tuesday) sputtered and was highlighted by a 150-point drop this morning by the Dow Jones Industrial Average. The Dow Jones today traded as low as 16,874.79 after spending much of the previous two trading days above the 17,000 mark.
Money Morning's Defense and Tech Specialist Michael Robinson had been predicting that the Dow would break 17,000 and then experience a pullback. That's exactly what traders are seeing.
Robinson appeared on FOX Business' "Varney & Co." this afternoon and told investors the most important factors to watch and what they can expect from the stock market now.