By Jason Simpkins
Staff Writer
For all of its repeatedly reported strengths as it continues to flex its global muscles, China faces a very significant obstacle in its bid to become a major international power: A serious short-sightedness when it comes to its information-technology sector.
Although China wants to become a global leader in high-technology – and, in fact, sees that as a key to its global-expansion strategies – the Paris-based Organization for Economic Cooperation and Development (OECD) says the country faces a shortage of qualified personnel and must improve upon a marked inefficiency in state-run research and development. In a report cooperatively researched by Chinese institutions, the OECD noted that: "A high-technology myopia pervades current policy objectives and thinking on innovation."
China has put forth a sincere effort to improve its standing but is still falling short. Research and development spending has increased at annual rate of 19% since 1995. But the OECD says that too much of the increased funding has been "focused on the high-technology sector, updating equipment and facilities, and experimental research for new products rather than (on) basic research."
Instead, the OECD said in its report that "more investment is needed in sectors such as services, energy, environmental technology, and basic research."
China has also attempted to streamline government research institutions by releasing tens of thousands of employees. The Chinese Academy of Sciences, the nation's most-prominent state-research institution – and organized in roughly the same way as the U.S.-based National Institutes of Health (NIH) – has been trimmed from 120 institutes to 89.
And yet, despite its best efforts, China ranked only fifth worldwide in its number of internationally cited scientific publications – a key way in which a country's scientists can detail their areas of expertise. Those publications also help establish an informal – but still closely watched – international technology hierarchy.
One problem may be that this state-dominated approach to R&D essentially amounts to a "top-down 'picking the winner' approach" – in which the government identifies the technologies and sectors it wants to pursue, and then determines the funding levels, too. That's a problem, the OECD, since "the government decides on programs and sets priorities, with little involvement of other stakeholders," who are closer to the action, and who might have a better understanding of the best technologies to pursue, and the best ways to pursue them.
To make matters worse, the report concluded, China's yield of qualified scientists has been declining. The proportion of university graduates emerging with science-and-engineering degrees has been falling since 2000.
Lenovo Group Ltd, formerly the IBM Corp. (IBM) personal computer business that's now China's leading technology corporation – as well as the No. 3 computer company in the world – has also taken a hit.
Lenovo is seen by many as the leader of the Chinese push to become a global tech power, and it has certainly been moving forward in recent years. But it's been locked in a to-the-death dogfight with Taiwan's Acer Inc., with whom it's been constantly battling for that No. 3 spot behind industry leaders Dell Inc. (DELL) and Hewlett-Packard (HPQ).
On Aug. 8, Lenovo announced that it was in negotiations to acquire Packard Bell to compete with Acer in Europe. But Acer's move to acquire Gateway Inc. (NYSE: GTW) was essentially a flanking maneuver on Lenovo, because the deal gave Gateway the right of first refusal to buy Packard Bell. Acer has said the company will exercise that right, dealing Lenovo a serious blow.
Also recently, published reports stated that a Chinese technology company has expressed interest in buying Seagate Technology (STX), one of two computer disk drive manufacturers remaining in the United States. Seagate – a highly successful corporate turnaround story – has been heralded for some of its paradigm-shifting industry products – one of the most popular is a miniature, hockey-puck shaped portable hard drive that includes a self-contained USB cable; it was viewed as a paradigm-shifting product offering, spurring scores of "me-too" copies by other companies.
The company's strong management, technology leadership and product innovation is translating into better-than anticipated financial results. When Seagate reported its quarterly financial results a week ago, the company actually boosted its guidance, saying it now expected to beat Wall Street estimates with first-quarter earnings of 57 cents to 61 cents per share on sales of $3.15 billion to $3.25 billion. That compares to an earlier projection of 35 cents to 39 cents per share on sales of $2.9 billion to $3 billion. The improvement, the company said, was due to robust product demand, prices that were holding, meaning steep discounting wasn't needed, and an improved mix of products.
That same day, BMO Capital Markets analyst Keith Bachman raised his full-year earnings estimates from his prior $2.20 to a new target of $2.42. He also raised his price target for Seagate shares from $27 to $29 (the shares closed yesterday [Tuesday] at $25.95).
Of course, in the case of a corporate takeover, the buyout price would likely be much higher.
With the improved corporate prospects, it's little wonder Seagate basically said "no thanks" to any possible suitors, stating it wasn't for sale right now. The alleged suitor hasn't been mentioned by name with certainty, but it's not a bad bet that it was Lenovo.
Even if it received interest from Seagate, a Lenovo takeover of the disk-drive firm could attract government resistance: That's because the merger has raised red flags concerning national security risks. The International Herald Tribune reported that several government officials said the attempted purchase of an American disk drive company would require a security review by the U.S. government.
Disk drives are complex pieces of equipment, which store huge amounts of data. Some of that data – not to mention the whole process of encryption – raises concerns over the safety and reliability of sensitive information. The frosty relationship the United States has with China could create some higher hurdles to clear.
Indeed, Seagate Chief Executive Officer William Watkins told the IHT: "The U.S. government is freaking out." Watkins also pointed out that while Seagate is not for sale, if a high-enough premium were offered, management would have a fiduciary responsibility to shareholders to consider the proposal carefully and fully – possibly making it nearly impossible to turn down. At least for now, however, the buyout seems unlikely given the government red tape involved and Seagate's lack of interest.
Clearly, China faces some significant technological challenges. It needs a more-cohesive national information-technology policy, including an R&D program that includes the input of industry players. And in the so-called "private sector," If Lenovo, and other Chinese tech companies fail to respond to the challenges posed by the marketplace, the high-tech sector is one place where China may find itself a laggard in the globalization race.
Related News and Story Links:
Here Are 10 "One-Click" Ways to Earn 10% or Better on Your Money Every Quarter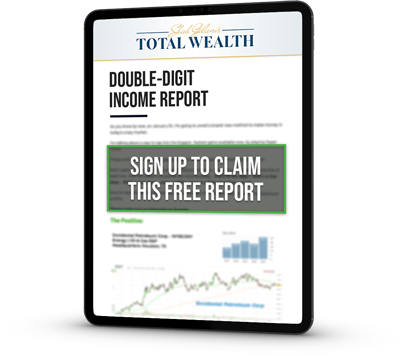 Appreciation is great, but it's possible to get even more out of the shares you own. A lot more: you can easily beat inflation and collect regular income to spare. There are no complicated trades to put on, no high-level options clearances necessary. In fact, you can do this with a couple of mouse clicks – passive income redefined. Click here for the report…