Editor's Note: This is the 17th Installment of an Ongoing Series Highlighting the Global Investing Outlook for 2008.
By Jason Simpkins
Associate Editor
Over the past several weeks, the price of coal has soared to record highs. But few analysts think the run is over, and some believe that the price of coal could double in 2008.
Surging global demand and disruptions in supply have resulted in three straight weeks of record high coal prices at Australia's Newcastle port, a benchmark for Asian demand. Power-station coal prices gained $9.04 per metric ton, or 7.8%, to reach $125.48 for the week ended Feb. 8, according to the globalCOAL NEWC Index.
And the news for coal-users continued to get worse this week.
So-called "spot" prices for the thermal coal used in power generation reached $130 a metric ton this week, boosted by a series of supply disruptions in China and Australia.
The price of coal is up 37% already this year, analysts say. And that's after coal prices rocketed 73% in 2007, Bloomberg News reported.
GlobalCOAL's monthly index for Newcastle thermal coal prices rose $1.71 per metric ton, or 1.9%, to reach $90.87 in January, the fourth consecutive monthly record.
The soaring price of coal comes as coal suppliers and coal consumers enter into negotiations on annual contract prices set to go into effect April 1.
Citigroup Inc. (C), UBS AG (UBS), Goldman Sachs Group Inc. (GS) and JPMorgan Chase & Co. (JPM), have all raised their forecasts for thermal coal contract prices for the 12 months beginning April 1. Both Citi and UBS think the contract price will double to $100 a ton. JPMorgan thinks the price settled upon will be closer to $90 a ton.
Goldman Sachs raised its contract price forecast for thermal coal to $110 a metric ton, which would be a 98% increase from last year's agreed-upon price of $55.65 and a 22% jump from its earlier prediction of $90.
Both Citi and Goldman have predicted that "coking coal" - the coal used to make steel - will also double, reaching $200 a metric ton this year, up 104% from the contract price of $98 that's been in effect over the past year.
The contract prices are lower than the market prices reflected at the Newcastle port because they were agreed-upon at the start of the soon-to-expire contract. Because market prices are not bound by such long-term agreements, they can rise or fall in response to current supply and demand conditions.
Spot prices for thermal coal "have soared in the past few weeks in response to severe coal production and transportation constraints in Australia, China and South Africa at a time when power utilities are holding critically low inventories of coal," Goldman Sachs resource analyst Malcolm Southwood wrote in a research report earlier this week. "We believe that the factors that have driven thermal coal prices higher in recent weeks will have a profound impact on [the] 2008-2009 contract negotiations."
The "Coal Rush"
The catalyst behind coal's record run is all about basic supply and demand. Demand has soared over the past several years, as emerging nations like China and India have undergone a rapid economic and industrial expansion.
"All over the world everyone is looking for coal because all economies are developing … so they need energy … that's why we are in this situation," Exxaro Resources Ltd. (OTC: EXXAY) Chief Executive Officer Sipho Nkosi told the Daily Dispatch.
Coal supplies 40% of the planet's energy needs. Japan - one of the world's largest importers - has been burning through its reserves since an earthquake damaged a key nuclear power station. India has been shipping in more coal, as well, despite already large domestic reserves.
India picked up its coal production by a third over the past decade and half, according to the BP Statistical Review of World Energy, but its consumption has also jumped by a hefty 40% during that period. India counts on coal for nearly 70% of its total energy supply.
Demand even is even burgeoning in the United States, which has several coal-fired electric plants under construction, meaning coal demand might jump by another 50 million tons annually.
However the biggest surge in demand has come from China, home to 1.3 billion people and the world's fastest-growing economy. Coal provides 78% of its energy needs, and coal demand in China jumped nearly 9% - meaning it now accounts for a full quarter of the world's annual coal consumption, according to The Wall Street Journal.
China, which used to be a world leader in coal exports, did an about face in the first half of last year, importing more coal than it shipped out.
Five years ago, China exported 83 million metric tons more coal than it imported, The Journal reported. But last year, the surplus dropped to a meager 2 million metric tons.
The surplus decline of more than 80 million tons is equal to 12% of the internationally traded market for coal.
Vic Svec, a senior executive at Peabody Energy Corp. (BTU), the world's largest private-sector coal producer, referred to China's ability to influence the price of commodities as a "butterfly effect." He told the WSJ that "demand from Beijing can ripple back to Queensland, Australia, or Gillette, Wyoming."
Suicide Squeeze Play
In the face of soaring global demand, the supply of coal has been crimped - and in a big way.
The Chinese government said it had closed 10,412 mines by early January, and has plans to close down 1,100 more.
In South Africa, power shortages and flooding in South Africa have forced the closure of several mines. With such setbacks, the price of coal coming out of South Africa's Richards Bay Coal Terminal, the world's largest, jumped nearly 90% last year.
Several mines in Australia, another world leader in coal production, have also been beset by monsoons and flooding.
Xstrata PLC, the world's biggest exporter of power-station coal said yesterday (Wednesday) that customers could miss deliveries from two mines in Queensland because of rain delays. At least four other Queensland coal suppliers have declared force majeure on deliveries since disruptive weather began taking its toll on the Bowen Basin in January.
Meanwhile, China, a leading producer and consumer, has been devastated by the worst blizzard of the past half-century. Three weeks of snowfall killed at least 60 people and cost the country approximately $7.5 billion.
Major railways and roads have been shut down, making traffic congestion during the Chinese New Year even more problematic for deliveries last week. As a result, less than 25% of the daily demand for coal shipments by rail has been met in the past week.
About 7% of China's coal-fired power plants have come offline. The five biggest electricity producers shut down 90 power stations with a combined capacity exceeding 20,000 megawatts in northern and central China, according to the State Grid Corp. of China.
Zhu Hongren, a senior official from the National Development and Reform Commission, said that no less than 17 provinces have suffered power shortages and 13 provinces have been forced to ration power. The country has been forced to restrict its coal exports to boost domestic supplies.
"China has probably been the key issue; there's been talk of a complete ban on exports and within that light that's another four to five million tons just taken out of the Asia-Pacific market," Gerard Burg, an economist at National Australia Bank Ltd., told Bloomberg. "The market was already hot and that added more fuel to the fire."
Also, like its toy-making companies, China's coal-fired power producers have faced an increasing amount of regulatory scrutiny because of environmental concerns. A study conducted by the World Bank concluded that air pollution from coal-fired plants is responsible for more than 400,000 premature deaths every year. That number was subsequently raised to 750,000, just weeks after the report's release.
China is home to 16 of the 20 most-polluted cities in the world. And last year, the nation became of No. 1 emitter of greenhouse gases on the planet - a title the U.S. held for more than 100 years.
The New "Black Gold"
If you're looking to play the price surge of coal, Money Morning Investment Director Keith Fitz-Gerald has two suggestions.
First, take a look at Yanzhou Coal Mining Co. (YZC). The China-based Yanzhou operates underground coalmines and a railway transportation network for shipping coal. It focuses chiefly on low-sulfur coal products, which are best suited for use in large-scale power plants and in metal production. Low-sulfur coal can be combined with coking coal in a metal-production process known as "pulverized coal injection," or PCI.
In addition to China, this company's customers are mainly in such East Asia nations as Japan, Korea and both Eastern and Southern China.
At yesterday's closing price of $87.86, the stock is trading off its 52-week high of $116.73. Its 52-week low is $41.44.
A good ancillary play on coal is Huaneng Power International Inc. (HNP). Huaneng Power is a major China power producer - meaning it's also a big user of coal.
At yesterday's close at $34.57, Huaneng's share price is near its 52-week low of $31.92 and is well off its 52-week high of $57.50. According to Fitz-Gerald, rising coal prices have played a part in Huaneng's share-price decline.
Fear not, Fitz-Gerald says. China's central government would never allow a major power producer to fail. And the share price will rebound and grow as China's economy advances, he said.
Plus, Huaneng's stock pays a $2.70 a share dividend, giving the stock a yield of about 8%. In a market as volatile as this one has been, owning income-producing shares is crucial for investors who want to maximize their portfolio profits, according to Fitz-Gerald.
This article includes reporting by Executive Editor William Patalon III.
Editor's Note: Money Morning's "Outlook 2008" series last covered Biotechnology. Next up: Sovereign Wealth Funds.
Related News and Story Links:
Forbes:


Coal Prices May Double In Coming Year
U.S. Department of Energy: Office of Industrial Technologies, Energy Efficiency and Renewable Energy:
Pulverized Coal Injection
Here Are 10 "One-Click" Ways to Earn 10% or Better on Your Money Every Quarter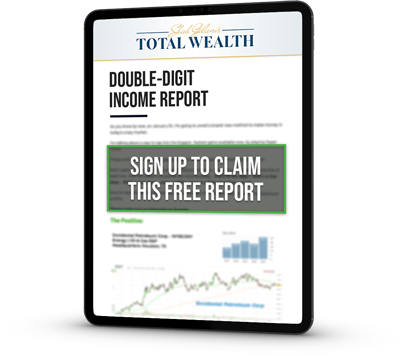 Appreciation is great, but it's possible to get even more out of the shares you own. A lot more: you can easily beat inflation and collect regular income to spare. There are no complicated trades to put on, no high-level options clearances necessary. In fact, you can do this with a couple of mouse clicks – passive income redefined. Click here for the report…