By William Patalon III
Executive Editor
Money Morning/The Money Map Report

How does the prospect of $4 a gallon gasoline sound to you?
Undoubtedly, it doesn't sound all that great.
But what if I said that gasoline prices were headed for the $4 a gallon level, but once they got there, they'd head no higher? Accompanied by that reassuring bit of alleged "certainty," gasoline at $4 a gallon doesn't sound quite so scary. In other words, we know that gas prices are headed higher, but we also know that there's a limit, and we know exactly what that limit is.
Early last week, the U.S. Department of Energy said that it expects average monthly gasoline prices to peak at $3.60 a gallon this spring, since that high price will serve to curb demand and keep prices in check.[although even the Energy Department report said that before prices level off there could be interim price spikes that will take pump prices up over the $4 a gallon level].
With crude oil having spiked above the $112 a barrel level last week on reports of declining oil supplies, grandstanding politicos on both sides of the aisle took the opportunity to bash each other's energy policies [Don't tell me ... it must be an election year]. Seeming to add credibility to the Energy Department's prognostication was last week's weekly inventory report that showed that demand is waning - ostensibly because record gas prices now stand more than 55 cents a gallon higher than they were at this time last year.
But here's the problem.
Story continues below...
The Energy Department is wrong.
Indeed, the federeal agency is just the latest "expert" to make erroneous forecasts for energy prices. Thankfully, that's not true of Money Morning.
Since its inception last year, Money Morning has repeatedly predicted incrementally higher prices for crude oil and gasoline. Invariably, these predictions have proved themselves correct. And we've done more than just make predictions: We've also outlined investment opportunities that would allow investors to capitalize on this advance in energy prices.
In December, for the first time ever, Money Morning Investment Director Keith Fitz-Gerald publicly predicted that oil prices would reach $187 a barrel within three years. In mid-March, he reiterated this projection [accompanied by several suggested ways for investors to profit from this powerful trend]. Not only has this forecast continued to receive widespread play on energy- and investment-related Web sites, we're starting to see similar "me too" predictions being made by some the energy sector's heavyweight experts: Literally only days after Money Morning reiterated its forecast, Wall Street giant Goldman Sachs Group Inc. (GS) said that crude oil prices would reach $175 a barrel in the next two years.
This underscores one of the key mandates for Money Morning. While it's true that we're the hottest global-investing news service in the market today, this case study demonstrates that we're more than just a purveyor of news. Our role is to provide our regular readers and subscribers with the news, of course, but it's more important for us to explain just what the news actually means. To that end, look for us to:
Put the news in context.
To describe how the issue at hand fits in with the handful of powerful global trends that we've ferreted out and identified as the top ones that you need to follow if you're to succeed and profit.
To stay ahead of the crowd by projecting the "end game" - the outcome - for these top trends.
And, finally, to research and highlight investment opportunities that are the best-positioned to benefit from these trends, meaning these represent some of the best profit opportunities in the market today.
Stay tuned: We'll continue to follow the oil-and-gasoline saga as it unfolds, and we'll continue to find ways for investors to profit from this and other top global trends.
Last Week's Market Action

Market/Index

Previous Week
(04/04/08)

Current Week
(04/11/08)

YTD Change

Dow Jones Industrial

12,609.42

12,325.42

-7.08%

NASDAQ

2,370.98

2,290.24

-13.65%

S&P 500

1,370.40

1,332.83

-9.23%

Russell 2000

713.73

688.16

-10.17%

Fed Funds

2.25%

2.25%

-200 bps

10 yr Treasury (Yield)

3.48%

3.47%

-57 bps
If you're of a certain age, surely you remember some of the marketing "slogans" airlines used to burnish their brand names and, hopefully, to attract passengers. attract passengers.
After all, whatever happened to: "We Earn our Wings Everyday," or "Fly the Friendly Skies," or even "Something Special in the Air?"
Last week, however, the more appropriate taglines may have well have been: "We No Longer Overlook Safety," or "Enjoy Your Stay in the Updated Airport Concourse," or even better "When the FAA Talks, We Now Listen." 
As if the escalating gasoline prices have not caused enough hardships for the airlines, in recent weeks, they seemed to realize that they actually are required to abide by government safety regulations. Just last week, American Airlines Inc. (AMR) canceled more than 3,000 flights, thus, inconveniencing an estimated 250,000 travelers because a little faulty wiring "may" cause fires in certain aircraft. While some analysts were astonished at the lapse in judgment exercised by AMR's airline management, others believed this to be classic bureaucratic overreaction due to previous lax oversight. In any case, the airlines undoubtedly will see their future earnings suffer and ticketed customers will experience extended delays [forcing them to seek out the closest Chili's Bar & Grill inside the airline terminal - at least perhaps representing a boon for the earnings for that company].
Earnings season began last week amid some pretty pessimistic expectations. Thomson Financial predicts that Standard & Poor's 500 Index-member companies will report lower profits by 12%, with financials leading the poor performance with average-anticipated-earnings declines of 60%.  On cue, Alcoa Inc. (AA) kicked off the depressing season with a worse-than-expected 52% skid, and chipmaker Advanced Micro Devices Inc. (AMD) announced a downward revision in its projected revenue, accompanying the bad news with a cost-cutting initiative that includes layoffs.
United Parcel Service Inc. (UPS) also disappointed investors, as higher fuel costs cut into its bottom line, while global giant General Electric Co. (GE) posted results well below even the most pessimistic of forecasts.  On a positive note [for a change], E.I. du Pont de Nemours & Co. (DD) issued favorable profit estimates because of the global "Ag Boom."
On the transactional front, Citigroup Inc. (C) turned to private equity firms as it tries to "unload" some underwater debt, while Washington Mutual Inc. (WM) is set to receive a $7 billion capital infusion from private-equity player TPG Inc. [although WaMu also announced a dividend cut and layoffs]. The Yahoo Inc. (YHOO)/Microsoft Corp. (MSFT) saga continued as the one-time Internet darling looked to partner with rival Google Inc. (GOOG) and Time Warner Inc.'s (TWX) AOL in an attempt to fend off hostile overtures from Bill Gates' crew, as well as his new buddy, Rupert Murdoch, through his media giant, News Corp. (NWS).
Initially, investors "generally" digested all the disappointing news [oil/gas prices, airlines, earnings] quite well and seemed somewhat oblivious to the onslaught of negativity.  Then again, soaring energy prices are now old news and the poor earnings season had been widely expected.  The capital infusions at WaMu and Citi lent more credence to the belief that the credit crisis may be moving into its final throes. Goldman Sachs Group Inc. (GS) upgraded some financial services companies this week [although Merrill Lynch & Co. Inc. (MER) warned of "the dangers of bottom-fishing"].  By Friday, however, the bad news caught up with investors [thanks to GE] and the markets sold off to end the week. In the meantime, "We're Flying Better than Ever." [Sorry, just remembered that the PanAm we all grew up with is out of business].
 
A Look at the Economy     
Weekly Economic Calendar
| | | |
| --- | --- | --- |
| Date | Release | Comments |
| April 7 | Consumer Credit (02/08) | Slower pace of borrowing |
| April 8 | Fed Policy Meeting Minutes | Possibility of "prolonged and severe" business downturn |
| April 10 | Initial Jobless Claims (04/05/08) | Worst 4 week showing in 2.5 years |
|   | Trade Balance (02/08) | Surprising increase in the deficit |
| The Week Ahead |   |   |
| April 14 | Retail Sales (03/08) |   |
| April 15 | PPI (03/08) |   |
| April 16 | CPI (03/08) |   |
|   | Housing Starts (03/08) |   |
|   | Industrial Production (03/08) |   |
|   | Fed's Beige Book |   |
| April 17 | Initial Jobless Claims (04/12/08) |   |
|   | Leading Eco Indicators (03/08) |   |
How quickly they forget? With U.S. Federal Reserve Chairman Ben S. Bernanke actually basking in the glow of some praise for the aggressively creative moves he's made in an attempt to stave off a major downturn, his central bank predecessor, Alan Greenspan, returned to the limelight last week. And it wasn't at all pretty. Once deemed the "Maestro" for his monetary-system machinations, Greenspan has emerged as the poster child for "incompetence," as investors, economists and analysts alike now blame him for everything from the housing crisis to the subprime fiasco to a lax regulatory environment.  [Soon the airlines will find a way to blame him, as well. Just watch].
These days, everyone seems to be jumping on the recessionary bandwagon as the International Monetary Fund predicted an even more significant global credit crisis, and the National Bureau of Economic Research claimed that the recession actually began in January.  The Fed released minutes from its last policy meeting, in which policymakers warned of a "prolonged and severe business downturn."
Still, two voting members opposed the decision to cut the Federal Funds rate by three quarters of a percentage point, citing growing inflationary concerns that the rate cut would only exacerbate. On a related note, the Bank of England dropped its benchmark rate to 5% last week, its lowest level in almost a year-and-a-half.
Retailers struggled through a weak March, as same-store-sales activity was reported at its slowest pace in 13 years. An early Easter hampered sales, as consumers were not much in the mood to shop for spring/summer attire when snow was still on the ground.  Discounters Wal-Mart Stores Inc. (WMT) and Costco Wholesale Corp. (COST) benefited from the new cost-cutting mindset, while J.C. Penney Co. Inc. (JCP), The Gap Inc. (GPS), and Limited Brands Inc. (LTD) were among those that reported disappointing results.
News and Related Story Links:
Fox Business News:


Energy Department: Gas Prices Could Hit $4 a Gallon

.
Here Are 10 "One-Click" Ways to Earn 10% or Better on Your Money Every Quarter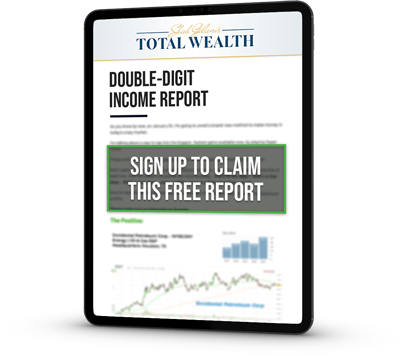 Appreciation is great, but it's possible to get even more out of the shares you own. A lot more: you can easily beat inflation and collect regular income to spare. There are no complicated trades to put on, no high-level options clearances necessary. In fact, you can do this with a couple of mouse clicks – passive income redefined. Click here for the report…
About the Author
Before he moved into the investment-research business in 2005, William (Bill) Patalon III spent 22 years as an award-winning financial reporter, columnist, and editor. Today he is the Executive Editor and Senior Research Analyst for Money Morning at Money Map Press.