By Martin Hutchinson
Contributing Editor
The news that the London Interbank Offer Rate (LIBOR) system of setting interest rates is running into trouble was surprising at first glance.  It seems some banks are giving phony LIBOR quotations that don't reflect the true rates at which they accept deposits. In the perfect financial system, beloved of regulators and academics, this kind of discrepancy shouldn't happen.
In the real world it does, and I'll explain why.
The LIBOR system was set up in the 1960s, when the market for dollar-denominated bank deposits outside the United States grew big enough to worry about. On a daily basis, the British Bankers Association would go to 16 banks, which were thought to be top quality, and ask those banks at what rate deposits were being offered. Assuming an honest reply, the data would be compiled to determine the average rates at which deposits were offered to prime banks. The average of the 16 banks becomes that day's LIBOR - for 1-month, 3-month, 6-month or other period deposits.
Should be a foolproof system, right?
Not quite. To see what can go wrong, let me share a little personal story. Ten years ago, when I was working in Zagreb, Croatia, I advised on the establishment of a LIBOR-type market between Croatian banks for 1- and 3-month deposits in Croatian kuna. We called it the "ZIBOR" market. Realizing that very few Croatian banks were solid credit risks at that time, I suggested that the bankers' association restrict the system to no more than the three top banks.
Naturally, since I was only the advisor, they ignored me and let in all the large members of the association - seven in all.
Story continues below...
The system worked fine for a time, but then a credit crisis struck. NATO got upset about Kosovo and started bombing the neighborhood. Only occasionally did bombs accidentally fall on Croatia, but the bombing played merry hell with Croatia's tourist business. The result was a liquidity crisis in Croatia, and big trouble in the ZIBOR market.
I heard some grumblings that ZIBOR had become unrealistic and been investigated. There were two problems:
First, one of the ZIBOR banks,

Splitska Banka

, was in such horrendous shape that no other bank would offer it deposits at all - not at any rate. Splitska was naturally interested in continuing to participate in the immense honor of the daily ZIBOR fixing, so its dealers would insist on going last. They would ask what the other banks had quoted, and then quote the average. Perfectly sensible solution, as I told everybody, provided none of the other banks took to doing it - it just meant there were only 6 banks really quoting ZIBOR, but six was still plenty.
The second problem occurred as liquidity got worse, and consisted of banks complaining that they were actually being asked to place deposits. Other banks would ring them up and ask them to place deposits at ZIBOR. They complained that this was impossible, since most days, they hadn't any money. Admittedly, the ZIBOR "reference amount" (the amount for which the quotation was supposed to be good) was only 100,000 kuna, or about $15,000. But some days even that amount was difficult to find. They wanted to reduce the reference amount to 10,000 kuna ($1,500), presumably so that if they were asked to place a deposit, the bank's chief executive officer could conceivably raise the money on his credit card!
So much for emerging-markets banking. When I returned to the United States in 2000, I thought I had left all that behind me. Apparently not!
Banks are now apparently making fake LIBOR quotes on the grounds that they don't want to be thought of as a credit risk, from which other banks would then demand a premium. Just like the old days in Zagreb!
But given the subprime mess, some large banks are rather dodgy credit risks, and they should be paying a modest premium for their deposits. In the 1974 credit crunch, some perfectly respectable Japanese banks paid a premium of as much as 2% for their short-term dollar deposits.
In these volatile markets, any whisper of trouble over a bank makes other banks' dealers not want to place money with them. Their feeling is that there's no point in getting fired for doing business with another bank that goes bust, especially as you'd probably be losing your job at the bottom of a bear market, when times are tough. So it's not surprising that the LIBOR system is wobbling a bit.
Despite its troubled history, Croatia's ZIBOR has survived to this day. And it's likely that LIBOR will do the same. However, there needs to be some realistic threat of banks being banned from participating in the LIBOR system if they provide false quotes. There also needs to be some realization that, in a tight market, not all banks will borrow at the same rate.
The real problem is the hundreds of trillions of dollars of derivatives contracts that use LIBOR - $382.3 trillion in interest rate swaps alone at the end of 2007, according to the International Swaps and Derivatives Association Inc. Just a 0.10% error on a six-month deposit, quoting 2.75% when the rate is really 2.85%, may not sound like much, but if it's repeated over $382.3 trillion in LIBOR quotes for interest-rate-swap contracts it comes to a fair piece of change. A lot of change.  To be precise, we're talking about $194.3 billion.
Now that's what I call an accounting error.
It looks to me like it's a major problem. But it's one the world will just have to live with.
And there seem to be a lot of those kinds of problems, right now.
News and Related Story Links:
Forbes.com/AFX News:


Unicredito's Splitska Banka attracts 900 million euro bid from SocGen - Radiocor

.
Here Are 10 "One-Click" Ways to Earn 10% or Better on Your Money Every Quarter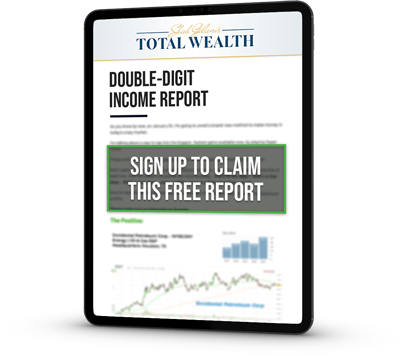 Appreciation is great, but it's possible to get even more out of the shares you own. A lot more: you can easily beat inflation and collect regular income to spare. There are no complicated trades to put on, no high-level options clearances necessary. In fact, you can do this with a couple of mouse clicks – passive income redefined. Click here for the report…