By William Patalon III
Executive Editor
Money Morning/The Money Map Report
It's one of the biggest product-development programs in Asia right now, and it could easily determine whether Japan remains a global industrial powerhouse - or limps into the future as an international has been.
More than 30 years after Japan's only airliner program since World War II ended as a commercial failure, the country is making a multi-billion-dollar bet that it can succeed in the jetliner market.
Japan's Mitsubishi Heavy Industries Ltd. (PINK: MHVYF) has unveiled a plan  to develop a "regional" jetliner for use by airlines all around the world.  The controversial project gained global credibility in recent weeks after analysts began to speculate that Toyota Motor Corp. (TM) - the world's No. 1 automaker by sales - would join the development team. Toyota subsequently confirmed its involvement, announcing plans to take a 10% stake in the venture and injecting $67 million to help get the initiative off the ground. The Japanese government is backing the program.
It's a big gamble for Mitsubishi and its partners: The regional airliner market is right now dominated by Bombardier Inc., of Canada, and Embraer (Empresa Brasileira de Aeronautica SA) (ERJ) of Brazil. And firms in both Russia and China - each with a major U.S. corporation as a partner and co-pilot - already have targeted this market, and have a solid head start on the Mitsubishi team.
Still, the potential payoff is hefty enough to warrant the risk. Such key global trends as rocketing fuel prices, soaring global travel, fast growth in Asia, Latin America and the Middle East, and ongoing problems with major air carriers across the world are stoking worldwide demand for efficient, economic regional jets. And that demand could persist until 2030, many experts predict.
Story continues below...
"In terms of the macro picture, demand is there for this type of jet," Mizuho Investors Securities Co. Ltd. senior analyst Yuichi Ishida told the Reuters news service. "Money-losing regional routes could turn profitable by using them. But the real question is whether there is room left in this market for Mitsubishi Heavy."
To date, the so-called NAMC YS-11 - a turboprop airliner built by a Japanese consortium - is the only commercial aircraft made in Japan in the post-World War II era. The program was initiated by Japan's Ministry of International Trade and Industry in 1954. The aircraft was rolled out in 1962 and production ended in 1974 - hardly qualifying it as a "success" from a financial standpoint.
Toyota's Desire to Fly
Toyota said its motivation was primarily patriotic - the Mitsubishi jet is being backed by the Japanese government, which is searching for ways to for its smallish aerospace business to become more of a global player, especially after losing other industries to South Korea and China.
Toyota - which edged ahead of General Motors Corp. (GM) in the first quarter to become the world's top-selling automaker - said it also would be looking for ways to adapt the technological know-how developed in its aerospace activities to its core automaking business. That's not just an empty claim made to justify its diversification into the aerospace sector: The Mitsubishi MRJ70 (70 seat) and MRJ90 (90 seat) jetliners are to be the first regional jets to make extensive use of high-strength/lightweight "composite" materials, such as those found on the new 787 Dreamliner being developed by U.S. aerospace giant, The Boeing Co. (BA).
Although it hasn't built a commerical aircraft in decades, it is an experienced subcontractor in that area, and is a veteran defense contracting firm. For example, Mitsubishi already is a key manuacturing partner on the long-range Boeing jet. And it has experience building such military aircraft as the F-1 fighter, T-2 trainer - both supersonic jets that the company built on its own - and the F-2 fighter, a Japanese-built version of the U.S. F-16 Fighting Falcon that was produced in partnership with Lockheed Martin Corp. (LMT)., the No. 1 U.S. defense contractor.
Toyota, too, has some experience, and already operates a small aerospace research team. Analysts say that venture could easily take flight and become a major business operation. That's just what happened with Toyota's robotics business, which started out as a fairly tiny research operation, but today is one of the company's better-known businesses outside its core auto operation.
Honda Motor Co. (HMC), Toyota's chief rival in Japan, already has expanded into the aircraft business; its futuristic seven-seater HondaJet light business jet has garnered heady praise for its advanced design and elegant lines. The company was supposed to start taking orders for the airplane sometime this month.
Toyota's investment in the Mitsubishi jet is the largest of any company outside the Mitsubishi corporate network, or "keiretsu" of related companies. Other backers include domestic Japanese trading companies and the government-supported Development Bank of Japan. Foreign suppliers also will be involved.
 To Market, To Market
Why is Mitsubishi - Japan's largest producer of machinery - getting into the airliner business? In a word: Opportunity.
Over the next 20 years, Boeing itself is forecasting that air carriers worldwide will need to acquire 28,600 commercial aircraft of all types - with a potential value of $2.8 trillion. The Boeing forecast is generally viewed as the world's best analysis of the future global market for commercial airliners and cargo aircraft.
The huge revenue potential in the global airliner market - combined with the low number of viable competitors and the high barriers faced by new potential entrants - is a big reason that Money Morning's investment gurus have repeatedly mentioned Boeing as a promising global investment for years to come.
During that same 20-year stretch addressed by Boeing's market forecast, China will have to buy 3,400 airliners, a requirement worth $340 billion. That will make China the fastest-growing airliner market in the world, and will also rank it as the biggest market outside the United States for new commercial airliners. In fact, if you average it out, from China alone you're talking about sales of $17 billion a year for the next two decades.
This staggering shopping list will include the globetrotting tarmac queens being built by Boeing and European rival Airbus SAS.
But global forces also are revving up demand for regional jetliners, like those being dreamed up by Mitsubishi.
According to Mitsubishi, the world's airlines will order 5,000 regional jets over the next two decades as global carriers seek out fuel-efficient airplanes for shorter routes and developing nations expand their airliner fleets to fuel economic growth.
That's not an arbitrary figure, either: The company spent several years analyzing the market and projecting the potential demand for the jet, and designed the specifications specifically around its findings. The plane will be:
Small, so it can fly out of regional airports.
Made of lightweight composites to make it strong and fuel efficient.
Fast (with cruisng and maximum speeds of between 0.78 and 0.82 times the speed of sound, according to published reports).
Profitable to operate, carrying 70 to 90 passengers, depending upon the model.
And with a good range - 920 nautical miles for the base model, although extended-range (1,400 nm) and long-range (1,960 nm) versions will be available.
"Mitsubishi Heavy has always been just a partner of Western aircraft makers," Mitsubishi Heavy President Kazuo Tsukuda said at a news conference that talked up the company's pet project. "Now we want to take advantage of changes in the marketplace such as high fuel costs and a greater need for environmentally friendly aircraft."
But here's the problem: Mitsubishi isn't the only player to see that potential.
And the competition figures to be pretty intense.
Just look at Vietnam: With all the changes that country's economy is enduring, and with all the aircraft that will need to be upgraded to keep pace with global competition, Vietnam could well serve as a case study for the swirling market dogfight that Mitsubishi is accelerating into.
The Impact of Global Change
The over-under action should be interesting. Vietnam's domestic carriers - state-owned Vietnam Airlines and joint-stock Pacific Airlines - will soon be forced to make room on that nation's runways for some privately operated rivals, according to a recent report by the VietNamNet Bridge news service. Vietjet Air will be the first wholly private firm when it launches its domestic service late this year or early next year. When that happens, it will actually be the fourth carrier in Vietnam, joining Vietnam Air, Pacific Air and cargo carrier Vasco (Vietnam Aviation Services Co).
And state-run Vietnam Air is soon to be privatized, meaning it will have to modernize its fleet of 45 aircraft, a mix of aging Airbus, Boeing, ATR and Fokker commercial planes if it's to compete against the new domestic rivals - and the host of foreign competitors that count Vietnam as one of their stops.
"We want to be one of the leading regional carriers," Bach Quoc Thang, Vietnam Airlines' general manager for corporate affairs, said in an interview earlier this year. "Singapore Airlines and Cathay Pacific are the examples we want to follow."
According to some industry sources, Vietnam's main carrier also may look to transform subsidiary Vietnam Air Service Co. into a low-cost carrier, to take on Pacific Airlines, part-owned by Australia's Qantas Airways Ltd., and Malaysia's AirAsia Berhad, now in partnership with Vietnamese shipbuilder Vinashin.
To secure financing for any new planes, Vietnam now has a newly established leasing company - its first - which has been capitalized with $200 million from Vietnam Air, Vietindebank, Petrovietnam and telecom group VNPT.
Here's where it gets interesting. Vietnam Prime Minister Nguyen Tan Dung must soon decide which long-range jets to buy for Vietnam Air; that's why both Boeing and Airbus have intensified their lobbying efforts.
Canada's Bombardier has zoomed into the fray, as well, boasting that its newly launched CRJ900 NextGen regional 90-seater jet could fly domestic Vietnamese air routes and even key Asian routes at the lowest fuel cost per passenger seat - a key industry metric. It even flew one of the jets to Vietnam recently, to put the aircraft through its paces for this possible buyer.
"This would be an ideal feeder aircraft for Vietnam's domestic and regional air transport needs," Trung Ngo, a vice president of Bombardier, told a Vietnam news service, adding that airlines such as Deutsche Lufthansa AG and Air France KLM have used its jets since the 1990s.
That would also be the ideal use for the Mitsubishi jet. But here's the problem for Mitsubishi: Its airplane won't be ready until 2013. That makes it too late for the initial sales push that will be taking place in this market, although experts say there will be many more opportunities in Asia and other parts of the world as markets abroad continue to open up to capitalism.
Big Returns Often Demand Big Risks
Demand for smaller jets is expected to increase rapidly as carriers bolster domestic routes and look to offset surging oil prices with aircraft that consume less fuel and are more likely to have their seats filled.
But Mitsubishi is not the only newcomer in the market.
Russia's United Aviation Co. has teamed up with Boeing to build a jet for 75 to 95 passengers. China's ongoing effort to build a midrange commercial jetliner got a boost recently when the leasing arm of U.S. giant General Electric Co. (GE) signed a preliminary agreement to buy five of the airplanes when they're finished by the state-run venture in charge of the project.
China has broad ambitions in jet manufacturing, starting small with its 70-seat ARJ21-700, reports the trade journal Aviation Week & Space Technology. Flight testing has slipped a bit and now the certification of the aircraft isn't expected until the middle of next year. Russia has a big aerospace sector, and wants into the regional market with its Sukhoi Super Jet 100, which will be in flight-testing soon.
Mitsubishi has set up a special subsidiary to oversee development of the jet. It capitalized the project with an initial outlay of $30 million, although it expects that total to climb to nearly $1 billion over the next year. Two-thirds of that money will come from Mitsubishi.
And that billion dollars is just the first installment.
Total development costs are projected to reach $1.5 billion to $1.8 billion - roughly equal to three years' worth of the company's profits. And that estimate is almost certainly short of what will really be needed, given the company's newness to the sector and the new technologies involved.
Mitsubishi Heavy expects to lose money on the aircraft business for the next decade, and will underwrite the development costs with money from such cash-flow-positive business units as those that make and sell nuclear reactors and turbochargers. Many analysts question the wisdom of the strategy.
"It seems there are various sectors they'd be much better concentrating on, such as nuclear reactors," Takeshi Osawa, senior fund manager at Norinchukin Zenkyoren Asset Management, told Reuters. "There is demand for the planes, but the competition is tough."
Mitsubishi Heavy said it would buy 60% to 70% of the components for the new airliner from suppliers outside of Japan. For instance, it sees the Pratt & Whitney unit of United Technologies Corp. (UTX) as the engine provider.
Ironically, up until now, Mitsubishi's aerospace business has filled that supplier/provider role, developing and making parts for Boeing and Airbus jets. It makes cargo doors for Airbus jets and the composite wing box for Boeing's new Dreamliner.
Support and Opposition Abound
All Nippon Airways Co. Ltd., Japan's No. 2 air carrier, gave the Mitsubishi jet project a vote of confidence recently when it committed to purchases of 25 of the jets. And Steven F. Udvar-Hazy, chief executive officer of aircraft leasing giant International Lease Finance Corp. (ILFC), told Aviation Week that his firm has met with Mitsubishi and has made a series of recommendations for improving the design of the MRJ jetliner. ILFC also has been in talks with Bombardier about buying that company's proposed C-Series jet.
"What I have told [Mitsubishi] is ... if you guys can pull it off and do what Toyota has done in cars, you can be a formidable player," Udvar-Hazy told the influential aerospace-industry trade journal. "But it has to be done right."
Needless to say, Udvar-Hazy's major concern is the price of the airplane.
One potential rival says Mitsubishi can expect to face some real marketplace turbulence. Although it already has one airline backer in Japan-based All Nippon Air, the technology Mitsubishi is offering may not be unique enough to differentiate it from all the other marketplace offerings, Frederico Pinheiro Fleury Curado, the CEO of Brazil's Embraer, alleged during a recent interview with Aviation Week..
When it comes to the Mitsubishi project launch, "the timing is not ideal," Curado said. "It will take a few years to see what should be included on next-generation aircraft, which is not clearly defined right now."
Aircraft with true next-generation technology won't hit the market until 2016 or 2017, he contends. That means the Mitsubishi jets will hit the market a few years before new technology redefines the market that the Japanese firm hopes to capture.
"Even using today's technology and doing everything right, the MRJs will not be materially better than the Embraer 170/190 family. They will be caught between two generations of aircraft," Curado contends.
While conceding that Mitsubishi will be a strong competitor, Curado insists the company is not the kind of threat that could jeopardize Embraer's future. At the same time, however, he sounded concerned about the Japanese government's deep pockets - and what financial backing of that magnitude might do to Embraer.
"And a point we made strongly to the Japanese press is that it would not be tolerable for its government to subsidize the [MRJ]," he warned.
Because Japan is a member of both the World Trade Organization (WTO) and Organization for Economic Cooperation and Development (OECD), there are rules the country must follow - and that includes no subsidies, he stated.
Mitsubishi Heavy said it hopes to have the jet in the air by 2013 and will aim to sell 1,000 over the next 20 to 30 years, grabbing one-fifth of expected new demand in a market that is projected to roughly quintuple to more than 5,000 planes by 2026.
News and Related Story Links:
Here Are 10 "One-Click" Ways to Earn 10% or Better on Your Money Every Quarter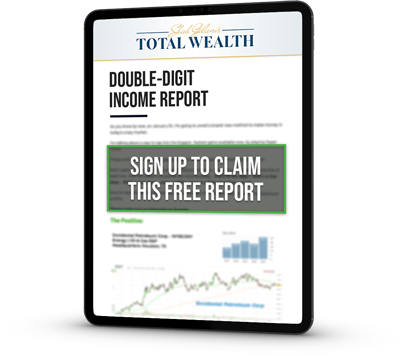 Appreciation is great, but it's possible to get even more out of the shares you own. A lot more: you can easily beat inflation and collect regular income to spare. There are no complicated trades to put on, no high-level options clearances necessary. In fact, you can do this with a couple of mouse clicks – passive income redefined. Click here for the report…
About the Author
Before he moved into the investment-research business in 2005, William (Bill) Patalon III spent 22 years as an award-winning financial reporter, columnist, and editor. Today he is the Executive Editor and Senior Research Analyst for Money Morning at Money Map Press.