Volkswagen AG (PINK: VLKAF), PSA Peugeot Citroen SA (OTC ADR: PEUGY), and Fiat SPA (OTC ADR: FIATY) beat earnings estimates in the last week. At the same time, however, Ford Motor Co. (F), one of the largest industrial companies in America, missed earnings estimates.
By a lot.
Indeed, the Wall Street consensus called for Ford to lose 27 cents per share – instead, Ford lost 62 cents per share. Even though Ford outperformed in its European, South American and Asia-Pacific operations, the massive undertow of its U.S. operations was just too much to overcome.
That's not really a surprise, you see, since auto sales in the United States are the weakest they've been since 1993, reports J.D. Power and Associates.
U.S. auto sales have been shot down by three key factors:
The negative wealth effect of the U.S. housing market.
The credit crunch for the last year or so.
And, lately, the meteoric increase in the price of oil and gasoline.
All of these detract from consumer wealth and purchasing power even as they weaken the general economy.
But there's an additional catalyst for Ford's malaise: While economies of scale in the car industry are very important and volume is critical to allow to keep manufacturing costs down, compensation for Ford's work force is problematic.
For decades, Detroit's "Big Three" – Ford, General Motors Corp. (GM) and Chrysler Corp. (now Chrysler LLC) – which once ruled the worldwide auto industry, have been losing their leadership. Call it the typical story of success sowing the seeds of destruction.
With their global dominance of the auto industry, the U.S. Big Three grew complacent and, despite their market and technological leadership, fell into the trap of granting overly rich compensation-and-benefit packages to their work forces. How rich? The pension plans were super-generous and the health-care plans required no co-payments from workers.
Then came the double-whammy that put the U.S. auto sector on a path to destruction: U.S. health-care costs ballooned and carmakers watched their work forces age, forcing the automakers to assume a massive cost burden – one that they ultimately couldn't afford.
By 2000, in fact, that cost burden was so huge that the companies were no longer making money from automobile production; any profits they were reaping actually came from their auto-financing arms, which finance auto sales.
These longer-term trends left Ford and GM in a highly vulnerable position. And it likely blunted innovation and kept the companies from quicker development of hybrid vehicle lines.
Then came the energy bubble.
The meteoric rise in the price of oil has put an already heavily cost-burdened U.S. auto industry in a near-panic-mode situation, since customers have shifted away from Detroit's line-up of trucks and sport-utility vehicles to smaller, more-fuel-efficient cars and hybrids offered by Japanese rivals.
With Ford, at least, there has been major progress on the cost-cutting front. In the first quarter, under the leadership of Chief Executive Officer Alan R. Mulally, the very able engineer who turned around The Boeing Co. (BA), Ford was able to secure a new contract with the United Auto Workers Union that allowed for reductions in 20% of personnel. This allowed Ford to start the process of discontinuing unprofitable models without having to keep the workers employed.
At the same time, Ford announced cuts of another 4,000 employees in the most recent quarter, and is in the process of starting another round of layoffs of some 15% of salaried personnel.
Ford opted to cut loose Land Rover and Jaguar to raise cash and improve profitability. It's launching new, fuel-efficient cars and has dramatically improved the quality of its products – especially its cars.
To deal with the recent effects of the economy, it has postponed the launch of its redesigned F-150 pickup truck, which has been the industry's standard-bearer for decades. That's a huge move, given that the Ford pickup truck is an icon in the industry, with consumers, with collectors, and even with hot rodders – and has been for generations -- reaching all the way back to the Ford Model T and Model A trucks of the 1920s and 1930s.
Managing liquidity and maintaining enough cash to complete the restructuring plan is a big challenge for Ford, given the shifting market tastes and the highly uncertain economic environment. Should the company successfully navigate these dangerous financial straits, Ford's stock will likely enjoy a major increase, generating huge capital gains for current stockholders.
But there is a significant probability that the company's equity holders will get wiped out and the bondholders will end up owning the company. This reality is reflected in the upfront cost of almost 30% in credit insurance needed for certain Ford obligations.
Therefore, while Ford's restructuring plan seems to be moving forward well and even accelerating in pace, and Mulally has distinguished himself with his execution, the unpredictability of oil prices and the slow resolution of the housing crisis ahead makes this stock very speculative. I cannot recommend it without warning that Ford shareholders must accept a large degree of risk and accept the potential for some pain.
A much better play, yet also with the potential for pain, is to look for convertible debt, with the view that even in a restructuring, bondholders will end up owning the company and capture the huge upside that this franchise will have once it finishes dealing with its problems and is able once more to deliver competitively the high quality products that it was known for.
Action to Take: BUY Ford Motor Co. (but as a highly speculative position). This once-great U.S. automaker may once again find its way, but possibly only after the bondholders end up owning the company. If you are going to buy Ford shares, keep the position small. A BETTER BUY: Ford debt, especially senior convertible issues.
[Editor's Note: Horacio Marquez was working as a vice president of the Merrill Lynch Emerging Markets Fixed Income Group in 1994 when he correctly predicted that both Argentina and Mexico were headed for currency crises - cementing his reputation as an expert on both the emerging markets and on the nuances of global finance. Now Marquez brings that expertise to you with his newly created "Shadow Stock Trader" service. To find out how to subscribe, please click here. "Buy, Sell or Hold" is a brand-new Money Morning feature that so far has covered Cisco Systems Inc. (CS), ABB Ltd (ADR: ABB), Cummins Inc. (CMI), and Chevron Corp. (CVX). We continue to appreciate all the readers who are writing to us, suggesting stocks they'd like to see analyzed.]
News and Related Story Links:
Here Are 10 "One-Click" Ways to Earn 10% or Better on Your Money Every Quarter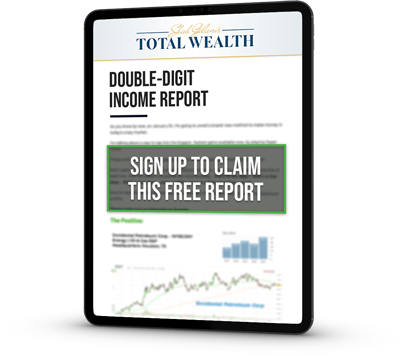 Appreciation is great, but it's possible to get even more out of the shares you own. A lot more: you can easily beat inflation and collect regular income to spare. There are no complicated trades to put on, no high-level options clearances necessary. In fact, you can do this with a couple of mouse clicks – passive income redefined. Click here for the report…